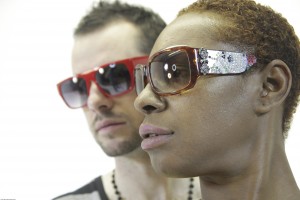 Gay UK based DJ/Producer Paul Morrell teams up with Brit & Ivor Novello Award winning artist Sonique for their forthcoming single "What You're Doin'" .
Sonique shot to fame as lead vocalist of 1980s electronic dance band S Express, racking up a series of top 40 hits including "Theme from S Express", "Hey Music Lover" & "Mantra for a State of mind", before embarking upon a highly successful solo career. In 2001 Sonique scooped a series of prestigious awards including Best British Female at the 2001 Brit Awards ceremony, fighting off fierce competition from Dido, PJ Harvey & Sade. At the 46th Ivor Novello Awards that same year, Sonique also won the "International Hit of the Year" for her single "It Feels So Good",  from the number 1 album "Hear My Cry", which also featured the tracks "I put a spell on you" and "Sky".
In 2009, Sonique was diagnosed with Breast Cancer, and underwent three operations, including intensive chemotherapy in order to finally beat the disease.
"It's all good and they've given me the thumbs up… so I'm just trying not to hang on to that whole thing now," said the 41-year-old.
2012 marks Soniques return to the dance music industry, as she teams up with close friend and fellow DJ/Songwriter Paul Morrell. Morrell, whom was recently recognised by Ministry of Sound club night "The Gallery" as the UKs "Best Breakthrough DJ" has been making waves on the dance scene for sometime, with a string successful of remixes and collaborations.
Out: 26th March on Tidy Trax