Johan's Blog – Home Alone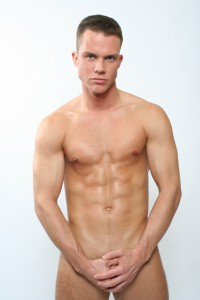 Thank you so much for all the letters and messages, which you've been sending me over the past few weeks and months. It seems that you've rather enjoyed the little reports and sex-tips that I've given you over the years. Why, even my editors have been surprised at the level of success!
Many of you guys have also asked me how you can have fun when you're home alone – and what you need for a nice evening by yourself when you're in bed (or on the sofa).
Well, apart from some strong -arm muscles, a nice big hand and some lube (or if you want the basics –spit), you don't really need that much. Don't use any grease or oil from your kitchen – and under no circumstances use the butter from your fridge or the salad oil that you have somewhere on your shelves. The result would be injuries, allergies and/or infections; and in some cases it will even destroy latex. Instead, just spend a couple of quid and buy some quality lubricant. Of course, this begs the question: water or silicon-based? Online stores offer a large variety of tried and tested products, but we professional adult entertainers always prefer the silicon lubricant, which glides better and lasts long. The down side is that it tends to stain more, and that these stains are quite hard to shift. Why, I've lost count of the number of expensive silk and linen items I've lost due to mindless, animalistic sexual activities!
In addition to using your own hands there's also a lot of mechanical toys which I like to use.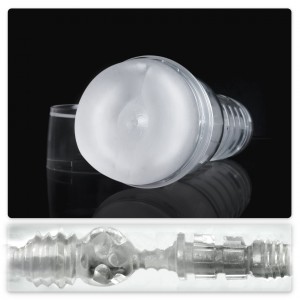 My number one toy is most definitely the legendary Fleshjack – a kind of wank device that's available from www.Homoactive.com. It's basically a tube made of gum with an opening in the form of a mouth or an ass, into which you put your hard cock and start pumping and rubbing. The feeling is quite unbelievably realistic – it's almost like being inside a tight, warm twink ass, if you know what I mean! So when my boyfriend's bum isn't available I always like to use a Fleshjack. As a special gift to myself I bought the transparent ICE-Fleshjack, which allows me to watch my cock as it moves inside the tube and gets a nice massage in the process. That's a very pleasurable extra little kick!
To be frank, though, I'm not a big fan of plugs and dildos. Maybe it's because I prefer the real thing, but a lot of my friends really like to use these intimate plugs. They wear them for hours, either to stretch themselves in anticipation of cock later in the day, or just simply for the exciting and erotic feeling in their bum. I remember many occasions in the past when I had dinner with friends, wondering why they had been sitting so nervously on their chairs – before I realized that they already had a plug inside, stretching them in readiness for the ensuing bed sessions!
Dildos, in comparison, are less discrete and less handy, due to their sizes. In addition, you always look a bit more clumsy using one if you're not experienced in handling them. For those who want to use one on their own I always recommended dildos with suction, which you can stick on the floor leaving you with both hands free for more important action. To be honest, however, I never really enjoy them on their own – though when they're handled by some cute partner it's a completely different story altogether! Indeed, I remember lots of joyful moments in the company of a twink and a plastic toy! Talking of plastic, the artificial smell of these toys, especially dildos, is always a big turn-off for me. Sadly, it's something you just have to put up with; and in the middle of some sweaty, energetic session it's something you don't really notice. Trying to disguise the smell by putting perfume on it is a definite no-no! The perfume could cause injuries inside your bum. Neither should you use anything other than professionally tested toys, including vegetables. I'm told that carrots, cucumbers and bananas are all very popular, but even if you're a vegetarian they should be strictly avoided!
Another toy that's pleasurable to use either on your own or with a partner is a cockring. I'm not talking about the old-fashioned and rather un-sexy gum-rings, but rather the modern, futuristic rings that feature some pre-installed prostate massagers. Once you've found out how to handle and wear them without injuring yourself – and I agree, this can take a little time – these toys can provide you with a lot of fun and bring some distinct pleasure to your sex-life. Unfortunately, however, these items aren't cheap and are not made for everyday use; but they're definitely hot for a special kick, and make a great present for anyone who says that they've seen and done everything already.
But let's be honest. The best instrument made for solo fun is the good old hand, together with a shameful and horny imagination! It certainly did the job for our ancestors for hundreds of years, so it can't really be wrong for us today. Of course that's not to say that it can't be improved – perhaps using a hot porn DVD from STAXUS, with me as an actor in the leading role! In short, a nice wank is still the fastest, cheapest and most reliable option when you don't have a willing man next to you.
Enjoy
Johan