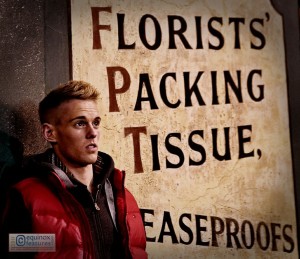 A couple of years ago UK porn company Eurocreme had the idea of forming their own boyband, clever named 'Boy Banned'.  They didn't knock the world of pop apart but they did play well on the gay circuit performing at many gay pride events here and in Europe. Ethan Bourne was one of the four who made up this all singing, all dancing, all pretty cute looking pop experience but now he wants to break out on his own. Ryan Houston got the chance to pose a few questions.
How did it feel for you when you got signed to be part of 'Boy Banned'?
It was a surreal feeling getting the record contract with Boy Banned. I didn't think it was real at first and then it all happened so quickly, the gigs, music videos, photo shoots and stuff, I had such an exciting time. We were always laughing and joking, and the best part was that I got to spend it with some amazing guys who I continue to be close friends with today.
As a band you performed many gigs, as well as at numerous Prides, what was the best gig for you?
We did some massive gigs to thousands of people but I always enjoyed the intimacy of club gigs, being able to interact with the audience.  I think my 'best' was probably Benidorm Pride, not because of the performances themselves but the fact it was practically a lad's holiday out there with the guys and management – there are some stories from there that I don't care to repeat. Let's just say it was just an epic few days!
Having admitted you have a passion for LGBT, do you think that is something that is necessary for your fans to know?
The LGBT side of this year is really important to me, being part of a boy band meant I kind of had to play it down for the PR side of it, but I kind of disagreed with that. Now I've been given more independence and support with my new management, I think it's important to be who I am, be true to myself and show people what I'm about as opposed to something contrived or produced. The LGBT work I'll be undertaking come from a passion to support people who've not had the opportunities I've had. I've been so lucky and I think it's only fair I try and help other people through hard times.
What first got you interested in the music industry?
I loved playing my organ in my bedroom, and although that makes a fantastic euphemism, I do actually mean an electric organ that I first learnt to play on. Since I was young, song writing came to me as a natural way to get things off my chest. Whether it was issues at school or relationships, I just sat writing a song and got it off my chest. So, I've always done it as a means of relaxing.  I was also part of a drama group and did TV and theatre work, so I was always interested in singing and acting and all these elements just naturally coerced me into music!
You are now working with a new manager to produce something new for Spring, what can fans expect?
I'm really exciting about the spring portfolio, and I feel lucky to have been given the opportunity to work on my own songs, as they're really personal to me. I see my songs as basically a diary recording every low and every high over the past few years. I've been releasing little excerpts on my YouTube (EthanBourneMusic) and my twitter (@EthanBourneUK) and I'll be releasing some of the produced tracks nearer the time of the showcase, so I can't wait to show them to all my fans.
Photo:  Equinox Features 2012