DISCLOSED DESIRES
By Roberto Chiovitti
Roberto Chiovitti dedicated his first photo book to the dark side of desire. The enthralling images in Disclosed Desires tell tales of lust and pain, of dominance and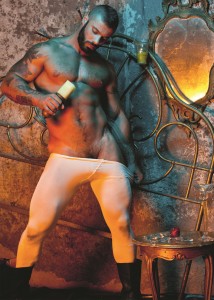 submission. These images are rough and dark, but Chiovitti's works also have a very elaborate approach: The pictures are cleverly staged, provoking and unusual. With his focus on the different variations of sexual fetishes, he takes up one of the most important trends of the last years to develop his very own language.
Bruno Gmunder
BIKE BOY RIDES AGAIN!
By Zack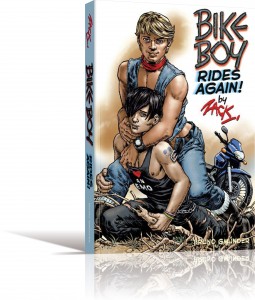 A second spring for Zack! In the 70s his lustful and imaginative work was published in many gay magazines and last year saw the release of  Bike Boy, a collection of extensively recoloured stories, which became a bestseller right away.
It really was no surprise since Zack is not afraid to let all his fantasies become reality on paper, no matter how explicit they are. With Bike Boy Rides Again! he once again gives us a masterfully drawn and stunning new volume of sexy and randy adventures, two of them completely new and unreleased.
Bruno Gmunder
Boys of Vice City
By Roger Kean and  Zack
Gil Graham wanted a job in the movies, but when he enters the offices of James Rosen, one of Hollywood's toughest new-style movie producers, he gets more than he bargained for. Gil soon discovers that he has a lot of what the hunky young men working on the film want and before long he's giving it to them every way they want it. This lusty and carnal tale takes place on the set in Rome… a city of history and vice.
Bruno Gmunder
Mirror Twins
By Charlie Piersol
Jake and Kyle are partners and lovers who were both abused as children. To others, they seem happy and content with their careers and their lives but underneath their successful exteriors, the damage remains and their wounds fester. The lovers follow an unconventional path via a BDSM circle to redemption and recovery.
Starbooks
Tall, Dark & Delicious
Edited by Marcus Anthony
Featuring the hottest writers in gay erotica, these stories will have readers thinking twice about their 'type' and make them pursue a more diverse array of men. These guys hold their own in the boardroom, bedroom and beyond, exuding sex appeal as no one else can.
Starbooks
Why Aren't You Smiling?
By Alvin Orloff
When 14 year-old Leonard decides to quit being a dweeb and instead joins the Burnouts, his 'good boy' persona is abandoned as he embarks on a comically painful journey of self-discovery through his unconventional friendship with Rick, an older Jesus-freak barefoot hippie. Set in the 70s when love was all around and cults were all the rage.
Manic D Press
98 Wounds
By Justin Chin
As the gay majority surges into the mainstream, a social construct has emerged depicting 'Good Gays' and ' Bad Gays'. Endless mythmaking goes into dehumanising the Bad. Barebackers, poz sexpigs, meth-users, sexual libertines and fetishists have been blamed, shamed and disdained. In this book of tautly conceived imagery either all should be damned, or all saved.
Manic D Press