Come To The Cabaret – Part 1 by Adam Lowe
SCOTTEE: EAT YOUR HEART OUT
(. . . and keep on eating!)
Scottee is trashy, funny and camp. He's also a vocal advocate of fast food and a committed 'fat femme'. He has performed at some of the world's most prestigious galleries and theatres, including Tate Britain and Tate Modern, ICA, Whitechapel, the Royal Festival Hall, and the Royal Opera House. He has broken limbs, been questioned by Police and lost countless pairs of high-heels in his queer determination to please and challenge his audience. His brash, clumsy and obnoxious approach to performance has left them confused, annoyed and amused. Live artist, clown or showoff—whatever you think of Scottee, he probably won't care!
Scottee, you're always so busy! Can you tell me what you're up to at the moment?
Everything! I'm genuinely excited about everything I am working on. The next 12 months will see me encouraging fatties to get onstage, exposing my fetish of 1970s television personalities, trying my director's hat on for size, making a community radio show about why old people should be on the airwaves, and experimenting with what makes a good party trick—all this slapped together with a plethora of festivals, regional towns and charity shops! Exciting!
What on earth is Light Art? Can you explain this to me, please?
I invented light art because I was frustrated that I didn't fit in and didn't adhere to the rules of either light entertainment and live art. Both come with their own politics and rules, and I wanted to create a genre that best described the work. I like to make engaging, fun, accessible and pretentious work that's bold and brash but never takes itself too seriously. Thus Light Art was born and I'm happy to lead the revolution.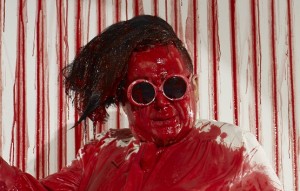 Who are your influences? Who can we blame for your relentless, full-fat assault on the art of performance?
Most people usually think Leigh Bowery, Franko B, Divine, John Walters, etc—but they would be wrong. Although I love the all of the above, my references are as bipolar as me: Hattie Jacques, Dawn French, Dick Emery, Vic & Bob, Tommy Cooper, Les Dawson, Chris Morris, Lily Savage, Beryl Reid, Frankie Howerd, Kenneth Williams, Fenella Fielding, Pauline Quirke, Victoria Wood, Julie Walters, Black Lace, Michael Barrymore, Gail Tuesday, Mrs Mills, Mollie Sugden, Kathy Burke, John Inman, Bruce Forsyth, the Roly Polys—need any more? They are usually working class entertainers from the telly pre-Britain's Got Talent.
Do you think there's something quintessentially British about camp?
Yes. I think the British public have had a long obsession with camp! From Shakespearian actors to Little Britain, we enjoy bold characters showing off. Being camp is averted in the gay scene. We are afraid of it. To be effeminate is fine in an entertainment context, but our sexual fetishes revolve around the illusion of masculinity. Being a fat femme in a world where 'no fats, no femmes' is the du jour of homosexuality obviously only encouraged me to become more outré, and thus Scottee was born. I wholeheartedly embrace my campiness and encourage other femmes to do the same!
Why do you think some forms of queerness are considered more desirable than others?
I think this is largely to do with the image of homosexuality we actively embrace. Our magazines, icons and ideals are fronted by airbrushed pecks of perfection, which encourages a culture of body-fascism that clings to the gospel of PhotoShop. When editors attempt a glance at plus-size queers, it's often masked with muscle bears to make it more palatable. But I don't think I'd feel happier, more included or more accepted with a magazine cover that embraced body difference. Cultural change is further up the agenda than what you stick on the cover of a magazine.
What's the most unexpected thing that's happened at a show?
I fell off a stage during a curtain call at the Roundhouse and split my head open and broke my wrist. I climbed back up and took my bow! It's given me the reputation for giving my all and not caring for the outcome. It really hurt.
And which acts do you think our readers must see before they die?
Bryony Kimmings: she's like a girl version of me with less lipstick.
Amy Lamé (and her new show Unhappy Birthday): it's a riot and she shares my love of charity shops!
Jonny Woo: I've learnt a lot from Woo. He's like the Madonna of light entertainment—always making new work and trying out new ideas.
Bourgeois & Maurice: I think young people would call these my 'homies'. We started at the same time—made some ugly work, made some lush work—but their shows are always wonderful.
Dickie Beau: he has a knack of bringing you to tears by just moving his lips. Go see him!
Ryan Styles: another friend who makes fantastic visual work that only encourages you to try and do better, she's always raising the bar.
Scottee's brand new show Camp (a mixed bill show of camp clichés, television re-enactments and game shows) will be on at the Roundhouse as part of CircusFest 2012. The festival as a whole runs between 28th March and 29th April, and Camp will be on each Saturday of the festival.
His beauty pageant with a difference, Burger Queen, will be held on 1st, 8th, 15th, 22nd and 29th March at 7pm at the Royal Vauxhall Tavern. Tickets are £7, or £11.99 with burger and chips! The search to find the perfect porker has begun – who will become Burger Queen 2012?
Scottee is Artistic Director of Eat Your Heart Out performance collective.