Czech it out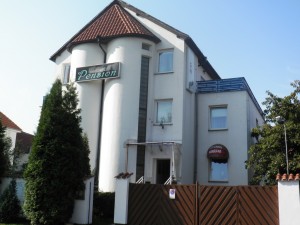 Prague's unique gay resort Villa Mansland is already a pretty cosmopolitan place, welcoming guests and visitors from all over the world as they arrive to explore Prague's famously vibrant gay scene.
"The current Eurozone difficulties mean that many European guys are cutting back on travel further afield in 2012 and deciding that there are some equally attractive – and more competitively priced – destinations nearer home", says Villa Mansland owner Harry Niessner.
"Maybe some of them won't have been in Prague for a few years – and I think they'll be very pleasantly surprised to see how the gay scene here has developed in their absence. "Just this past summer, for instance, the city's first ever Gay Pride event was a huge success and confirmed yet again its position as the gay capital of Eastern Europe."
Nepal Adventures
The LGBT outdoor pursuits charity, OutdoorLads has announced it is expanding its overseas experiences, with two amazing trips to the mountain kingdom of Nepal this November.
The Annapurna Sanctuary trek is one of the world's most iconic treks. After days of trekking through beautiful steep sided valleys, pristine terraced fields, past foaming mountain rivers, across snow fields and through tiny rural villages – you reach your destination – where you will be standing at over 4,100m and surrounded by 6 of the worlds highest mountains. This is a truly awe-inspiring place. To be here is a once in a lifetime experience – and you can do it with OutdoorLads this November.
But the guys at OutdoorLads don't have just one 'once in a lifetime' trip though – they have two!
The Sun Kosi river descent in Nepal is one of the top ten white water river descents in the world.  In addition to out-standing white-water rafting, the Sun Kosi offers varied and changing landscape from terraced farmland to steep gorges and then to sub-tropical jungles. You'll be camping on large, sandy river banks in close contact with wildlife and people from the local villages.
For more info www.outdoorlads.com/adventure
Sitges celebrates
There are some great events taking place in Sitges during 2012… but one of the best and most amazing has to be the annual Sitges Carnival. Although it takes place during the Winter Season, the Village takes on a life more akin to August or Pride! More than 200,000 people will visit Sitges during the Carnival festivities with all of the gay bars open in town, two huge parades on the Saturday and Tuesday and more glitter than you have ever seen!
The Sitges Carnival 2012 takes place from 16- 22 February
Other Sitges events to prepare for:
Bears Meeting – 26 Apr  to 1 May
Sitges Pride – 5 – 9 July
Circuit Festival – 2 – 12 Aug
International Bears Week – 3 – 11 Sep
SPARTACUS App
2580 cities – 24.000 entries – 143 countries
Bars, cafés, clubs, saunas, hotels or simply just a cruising area – the new SPARTACUS app will help you quickly find your way around, wherever you are. And this free of costly roaming charges, as virtually all the functions are also available offline! The great advantage of this app compared to many other electronic guides which are currently available is its worldwide coverage and the tried-and-tested code system – helping you find all the bars with dance floors, all the clubs with darkrooms or saunas with whirlpools in next to no time – the intelligent search functions are fun and do most the work for you.
A feedback function provides direct contact with the SPARTACUS editors and FACEBOOK, so you can let all your friends immediately know which club you're currently into. SPARTACUS agents and our editorial team meanwhile ensure unprecedented topicality for the app users.
The SPARTACUS app is available in German or English in three different versions from $8.99: "Europe", "America, Africa, Asia and Oceania" and "Worldwide". Every version is automatically updated every month for an entire year. A free version for trying out all the features within a selected test country is also available.