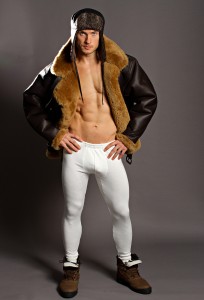 Winter warmers
Men's underwear and swimwear website Deadgoodundies joined forces with another great online business Celtic Sheepskin for a special winter photoshoot. DGU's fantastic Doreanse Thermal Long Johns teamed with a range of fantastic items from the Celtic Sheepskin's range to make the ultimate toasty warm outfit – although we do advise popping on some trousers and a jumper or two if you're going out in public!
£66 – Trapper Hat
£545 – Classic Flying Jacket
£165 – Sheepskin-lined Walking Boots
£21 – Doreanse 1960 Thermal Long Johns
Great sound in a clamshell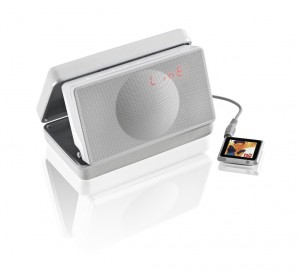 The GenevaSound Model XS is a bijou Bluetooth enabled hi-fi sound system built for travel. It's a beautifully compact clamshell containing an entire system of speakers, amplifiers, radio and alarm clock in a single rechargeable unit. Beneath the grille resides a discrete sound system of amplifiers, dual tweeters and woofer. Model XS features an integrated digital FM tuner with auto search, a digital clock with alarm, and stereo Bluetooth playback. Its sturdy waterproof clamshell case in red, white or black faux leather flips open to reveal a slender piano lacquered cabinet inset with the brand's distinctive domed grille.
£179 www.genevalab.com
Mood lighting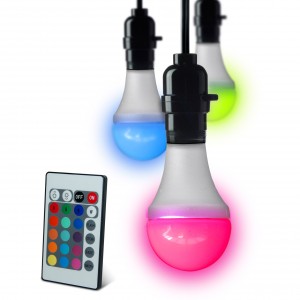 If your idea of mood lighting is hitting the dimmer switch or lighting a couple of candles, this colour-changing remote controlled LED bulb is sure to blow your mind! With 16 colour combinations and 4 separate lighting effects, you can control the ambience of your room with the click of a button – from chilled-out phasing glow to at-home strobe disco without even leaving the comfort of your armchair.
£29.95 www.Prezzybox.com
Duncan Stevens Ring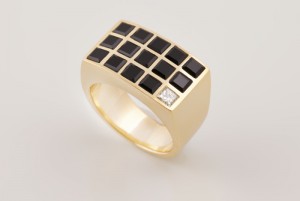 Handcrafted in 18k yellow gold, this polished men's Signet ring has a gently curved top which houses the fifteen specially cut square gemstones. These stones are set into three lines, its grid broken by the solitary Diamond amongst all the Onyx.
Power & Purity for Ears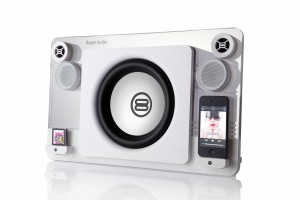 Bayan Audio unveils its premier iPod/iPhone dock with a world-first twin amplifier set-up driving a monster 120W of sound power.
The unique and contemporary Bayan 7 speaker dock for iPod and iPhone delivers balanced, pure acoustics across an impressively wide frequency spectrum. Effectively squeezing the best out of any audio source it blasts music to a new dimension with superior definition, depth and zero distortion even at high volume.
Beautifully designed in the UK, the Bayan 7 is built from an efficient combination of quality, organic materials and sound-enhancing components, which result in a truly natural soundstage.
The Bayan 7 demonstrably outperforms far more expensive speaker docks, with a near-flat frequency range allowing even untrained ears to pick out subtle notes they never knew existed in those all-time favourite tunes.
£299