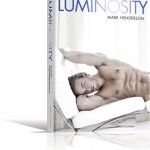 LUMINOSITY
By Mark Henderson
Light, colour and the perfection of the male body— Mark Henderson doesn't need more to create images of an unmistakable style, which are incredibly popular with the audience. Luminosity is already the fourth photo book by the American artist and he sticks to his formula for success. Masterfully reworked images of men who can easily make your mouth water, and of course we're perfectly fine with that. These are men, not Twinks, in all their glory with sexy poses, tackle proud and central to what a man is all about… and after all… isn't that why we love these collections so much?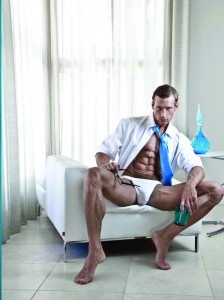 » Of the several contemporary photographers whose focus is the nude male and whose individual work I admire, it's Mark Henderson who has broken out of the pack and established himself as a Jim French for the New Millennium.«— Fred Bisonnes
bruno gmunder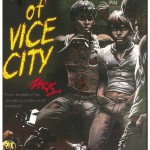 Boys of Vice City
By Roger Kean and  Zack
Gil Graham wanted a job in the movies, but when he enters the offices of James Rosen, one of Hollywood's toughest new-style movie producers, he gets more than he bargained for. Gil soon discovers that he has a lot of what the hunky young men working on the film want and before long he's giving it to them every way they want it. This lusty and carnal tale takes place on the set in Rome… a city of history and vice.
Bruno Gmunder
Boys Will Be Toys
Edited by Richard Labonte
Get ready to fall in love as this collection creates a world of sexy, in-love men who live out their fantasies with memorable results. Young love. Love unexpected.  Lost love. Love interrupted. Rough love and straight love… all teeming with sexual intensity from the sweetly romantic to hot-and-heavy lust.
Cleis Press
Boys Will Be Toys
By John Butler
There is probably something in the water in Greendale, Illinois, or perhaps that it's just in the water at the drinking fountains at Central High School, but there is an unusually large percentage of very handsome, well-hung and horny boys at the school. When one of the boys spies the love of his life through his bedroom window he sees things happening that are both eye-opening and erection-inspiring.
Starbooks
The Unreal life of Sergey Nabokov
By Paul Russell
In his novel based on the extraordinary life of the gay brother of Vladimir Nabokov, the author re-creates the rich and changing world in which Sergey, his family and friends lived a privileged life However, it is the honesty and vulnerability of Sergey, our young gay narrator, that hook the reader. His stuttering childhood in the shadow of his brilliant brother, his opium-fuelled evenings with his sometime lover Cocteau, his troubled love life on the margins of the Ballets Russes and its legendary cast, and his isolation in war torn Berlin where he will ultimately be arrested, sent to a camp and die in 1945.
Cleis Press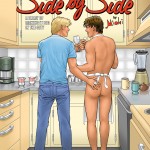 Still Side By Side
By Mioki
In volume one of Mioki's Side by Side the comic artist took us on a journey into the life of Evan and Rick. Best friends since they were kids, they were seen stumbling right into a hot love affair which ended happily with big love. Meanwhile, the two cuties live together in the city.
This one offers hot sex again at every turn, as well as a good dose of sugar for the romantically inclined. Love can be so beautiful… especially when it is illustrated so… cutely.
Boys of Chi Omega Chi Kappa – Freshman Initiation
Edited by Mickey Erlach
Finally away from home and free to be himself, the college freshman cannot wait to sow his wild oats… and what better way than to join a fraternity. It's an American tradition, in the same way as being a fag in a British public school used to be, that has become part of the humiliating way that people treat each other. The fact that what  these hot young college boys subject themselves to for the sake of becoming part of a group is hot, steamy and at times unimaginable, should leave you sweaty and yearning for your own US college experience.
Starbooks
Best Gay Erotica 2012
Edited by Richard Labonte
The latest and boldest edition of the bestselling series features the hottest, freshest and most literary man-on-man fiction to appear in print. From the innocent but oh-so-beautiful boy next door, to the 'seen it all' gritty street hustler, these provocative and potent short stories will grab your attention and erotic imagination of every reader.
Cleis Press