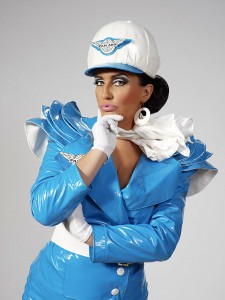 Buckle Up! Adventure Calls bitches! 'It's time to shut the F**K up, sit the F**K down, put your seat belt on and get ready for take-off.  PAM ANN is back and she means business and doesn't mean business class!  Move over Pan Am, PAM ANN the original queen of the skies is touching down and she is going to knock the smiles off those girls' faces, so get packing now and don't miss your flight.
Arm doors and cross check Qantas, Ryan Air, Fly Be, LOT, British Airways, Pam Ann has a bone to pick with you and it's not from an economy meal. "What has happened to the airline industry?" Pam Ann squeals. "Qantas is grounded, Ryan Air are thinking about offering porn on board, Fly Be are losing their landing gear, LOT airlines don't have landing gear and British Airways are encouraging cabin crew to hug a pilot WTF" Pam Ann roars with laughter.
NYC based Pam Ann Multi Award-Winner (aka Australian comedienne Caroline Reid) guides you through the conundrums of air travel, skewers the quirks of some of the biggest international airlines and mixes in a stiff cocktail of camp, humour, glamour and mines the dark side of fabulous in her show 'You F'Coffee'.
Don't miss this opportunity to see her live in 'You F'Coffee'
Pam Ann is touching down in her favourite destination London for a limited season at The Bloomsbury Theatre.  17th April – 5th May
Download Pam Ann's Travel I-app's on I-tunes and experience London, Sydney and New York Pam Ann style.