Camping it up while playing it straight
Lion TV's hit show Playing it Straight appeared back on our screens on Monday 9th January, once again causing its viewers to scream in frustration at the television, "but he's got a tan and bleached hair, surely he's gay!"
For those who never saw the show's original appearance in 2005, a little explanation is necessary. This season the lovely Cara is looking for love and has been whisked away to the paradise that is La Hacienda in Spain. She's presented with eleven gorgeous guys and of course thinks she's done something pretty darn fantastic in one or more of her previous lives to have landed such a sweet deal; but things are not what they seem. Half of the group do in fact bat for the so-called other team, but who? One-by-one she must eliminate the boys down to her final choice. If he's straight they'll share a £50,000 prize, if he's gay he takes all the dough, leaving her with no man, no cash and probably no dignity. It's definitely a toughie.
The sexuality-stereotype defying program returns seven years after former Mr Gay UK Ben Harris duped and dumped the unsuspecting Zoe, by stealing her heart and then revealing he was gay for the full cash prize. To Harris' credit, he felt so bad about lying to her that he gave her some of his winnings and, it's rumoured, they all lived happily ever after.
The show is trash TV at it's best but with a good message. Basically, "you just can't tell". Just because a man moisturises and has been doing ballet since he was three doesn't make him gay; conversely, being a builder who spits on the floor and scratches his balls at any opportunity doesn't make him straight. It's hard to deny that there are straight and gay stereotypes and any show that challenges that idea should be, to some degree, applauded.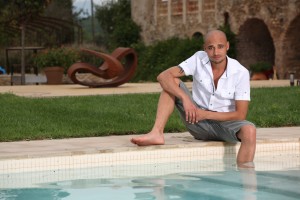 One of the contestant, Leroy Vanzie (28) from Leeds, gave Paul Bloomfield the inside scoop on how things went in the house and what they all got up to.
How did you find out they were bringing back Playing it Straight and what made you apply for it?
I was watching a programme on Channel 4 and it came up with details on how to take part. I went on there and there was a show called Dream Date. I filled in the application for it. They interviewed me over the phone for 45 minutes and then invited me to audition. I went along and I wasn't really sure what they were looking for, it just said it was a dating show. We only got told what the show was when we got accepted.
Were you told which of the guys were straight and which were gay?
No, nobody knew who was what. Only the gay guys were told it was for Playing it Straight, and then I was really interested because I'd seen the previous series.
Did anyone one drop out when they found.
Yeah, Fletcher left. He was one of the straight guys. They told him whilst they were recording and he decided to leave.
Do you think it was obvious which of the lads were straight and which were gay?
I just thought everyone there was really well cast. We were all "metrosexual". I was really shocked when I found about some of the guys
Did you find it hard pretending to be straight all day and all night?
I was just trying to be myself as much as possible. I wasn't trying to be overly straight or anything. I didn't want to come across as fake and I wanted to public to decide after seeing me being myself.
Did you fancy any other guys?
Yeah I fancied two of them.
Which ones?
I thought Dean and Kyle were quite hot.
Did anything saucy go on behind the scenes?
Not while I was there – after that I wouldn't know.
You were eliminated fairly quickly, why do you think that was?
I think I was eliminated because the other guys were talking to Cara. I didn't spend much time with her on my own, the other guys said stuff. But I'm not surprised because at the end of the day that's the name of the game – to out the other people.
How did you feel?
I was pretty gutted, I think I walked off and swore. When she asked me whether I was gay or straight, I told her I was straight at first – then after a second I said, "Only joking, I'm gay"
How did she react?
She hit me in the chest and swore at me, but only in a joking way.
Did you feel guilty lying to Cara?
I didn't really, the show is called Playing it Straight, so that's the idea of the game. It's more difficult for the gay guys, because they have to act all the time. That's why they get all of the money if they win.
How does it feel seeing yourself on the TV?
I was just cringing all the time thinking, "What are they going to say?", "What are they going to show?" Before  one of the big interviews I'd drunk a bottle of wine because I was so nervous, and ended up saying something about having a big c*ck.
Were you embarrassed?
More for my family. I was just feeling a bit drunk. I knew I'd been daft and said it, so I'd sort of prepared myself – not that it's not true. [grins]
What do your friends and family say about the show?
They said I came across as a really nice guy and that I came across as straight. Even my ex said I looked straight.
Have you been recognized since the show first aired?
Yeah, I was in town the other day and a guy made his girlfriend stop the car. He jumped out the car and said "You're from E4, Leroy isn't it" and asked me to take a picture. That was funny.
Has it helped your pulling techniques?
I've not really been going out or on the pull. I'm looking for a job at the minute. I left my last job in London to go on the show, and have moved back to Leeds since. So if anyone knows of any… [laughs]
So obviously you didn't end up with Cara, but do you have a boyfriend at the moment?
No I'm young, free and single – well kind of young
What would your ideal man be?
Someone that's honest, good- looking and looks after themselves – I don't really have a type, I just like who I like. I don't like people who are up there own arses.
Finally, how would you sum up your whole experience on the show?
I think it was a great experience: I got to meet some really cool people. The producers and everyone else did an amazing job. Everyone cast and crew, was really nice.  I'd definitely do it again given another chance, but I'd probably try to act a bit more butch
Playing it straight is on E4 every Monday at 9pm, with final on Monday 27th February