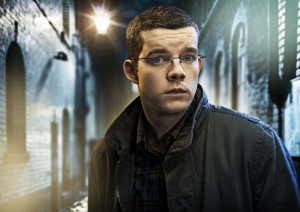 By Alex Wiggan
Oh, you would. You know you would. You know that given half the chance you'd love to take a post-transformation tumble with Being Human star Russell Tovey. As the luscious lad with lycanthropy on the hit TV show, actor Tovey is one hot hunk and is most certainly up there with the fittest werewolves of them all. Seeing him whip his arse out during episodes of the supernatural show is like watching porn; (acceptable porn, but porn nonetheless) and it's helped perk up many a dull evening.
Fans have been treated to Tovey's tight tushie ever since he first bagged the role of George Sands in the cult BBC 3 series and what a treat it has been. As one member of a very sexy supernatural group, he's seen more of his fair share of things that go bump in the night and for three years he even got to work with the gorgeous Aidan Turner (the lucky sod).  Sadly however, in November 2011, Tovey announced that he was finally ready to hang up his claws and a collective sigh was heard amongst the gay community. The news was devastating and it looked as if the world really was set to end in 2012, with fans unable to have inappropriate thoughts about one of the UK's hottest properties.  But fear not, the terrific Tovey is not disappearing off our screens for good, so there's still an opportunity for inappropriate thoughts to continue.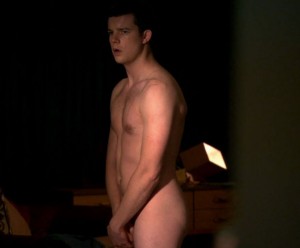 For those not familiar with Russell Tovey, shame on you!  He's that cute guy you've watched countless times on TV; seen on numerous occasions in theatre productions; and heard on a variety of radio dramas.  At the age of 11 Tovey appeared on kid's TV show Mud and he's continued to work like a man possessed ever since.  This has included small roles on some of the nation's best-loved shows and even a little programme that goes by the name of Doctor Who.  It was here that he got to play the part of Midshipman Alonso Frame, in a Christmas special that not only had him working with the delicious David Tennant, but also Dame Kylie of Minogue herself!  If that's not reason enough to bow down before the might of Russell Tovey then what is?  Surely you don't get much gayer than Doctor Who and Kylie?  Actually, correction, you do.  Tovey returned to the role a couple of years later to hook up with John Barrowman's serial shagger Captain Jack. Now that's definitely a gay overload of epic proportions! Oh and former Doctor Who show runner Russell T Davies also loves him. Not only does RTD throw in a good word here and there about Tovey all the time, but he's also suggested that the actor would make an excellent replacement Doctor given half the chance.
At age 18, Tovey came out to his parents and during his varied career he's played a few gays here and there.  It's not gone unnoticed and he recently appeared in Digital Spy's annual Fitty Fitster poll, on the site's gay blog.  Pictures of Tovey in the buff have certainly helped him catch the eye of voters and it's clearly something the 30-year old is all too aware of.  Oh yes, Russell has been known to post saucy pics of himself on Twitter and he's even made promises about getting his kit off on stage during his next theatre production. He's obviously a criminal mastermind that should be rewarded for his cunning use of social networking.
Russell's star is definitely on the rise and he's soon set to provide voice duties on Aardman Studios' The Pirates!, the latest animated movie from the creators of Wallace and Gromit.  Although his Being Human days are almost over, he is set to make a brief appearance during the show's fourth season to explain his character's exit. Tovey will also return to screens for a third series of hit sitcom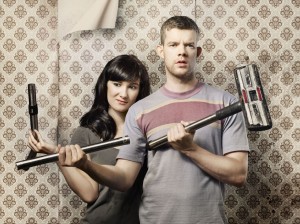 Him & Her during 2012. Oh and not just content with appearing on every bloomin' TV show going, Tovey has also written three plays and a short film, so expect more from his dexterous digits in the future too.
Russell Tovey is the boy next door that you wished actually lived next door to you. Admittedly you'd never get anything done, but you'd definitely enjoy popping round for the odd cup of sugar. As top totty goes he's got a lot to offer and it's different from what's being flaunted by the usual crop of screen queens and macho Marys.  He's the sort of guy you'd love to take out for a drink and then take home for a quick bunk up.  Oh and he's got ears that you could just grab and… well you get the idea. If by now you still don't know who Russell Tovey is then maybe you should check your pulse before swigging back that next double vodka and Coke, after all, he's only human, but are you?
Photos: BBC/Todd Antony/Touchpaper/HartswoodTV/BigTalk Phil Fisk
TOVEY SCRUMPTIOUS
Not sure where you've seen Tovey before?  Try episodes of Poirot, Marple, Sherlock, the Bill, Little Dorrit, Silent Witness and Ashes to Ashes.  He certainly knows how to impress all the drama queens out there, doesn't he?
As well as an impressive TV CV, Russell has also appeared in a number of theatre productions including Henry V, His Girl Friday, Tintin in Tibet and Jersey Boys.
Him & Her isn't Russell's first brush with comedy, he previously had parts in Rob Brydon's Annually Retentive, The Increasingly Poor Decisions of Todd Margaret and Gavin & Stacey.
Russell was expelled from college.  Sadly it had nothing to do with bumming behind the bike sheds, but because of a choice in acting jobs.
Tovey has previously stated that when it comes to his professional career he aspires to be a male Julie Walters.  Well don't we all darling!

Meanwhile, to catch Russell having SEX WITH A STRANGER, you can see him live in the world premiere a new play by award-winning writer and comedian Stefan Golaszewski.
Adam is stuck in a relationship rut.  His over-protective girlfriend keeps him on a tight leash but his mate's birthday is an opportunity to spend a few hours free of the ball and chain, until a chance meeting in a nightclub offers the opportunity of excitement and a test for Adam's resolve. Sex With A Stranger explores what happens when the ties that bind start to strangle us.
www.atgtickets.com/trafalgarstudios
WOLF WHISTLE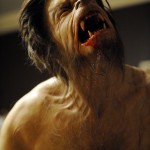 Russell Tovey may have played hunky werewolf George Sands in hit BBC 3 show Being Human, but he's not the only hairy hotty to impresses us Bent boys with the use of his supernatural abilities.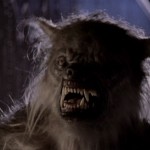 Seth Green – During his stint on cult TV series Buffy the Vampire Slayer, pocket-sized Seth Green caught our attention as the cutest werewolf ever.  Playing guitarist Oz, Green was adorable and we just wanted to hug him forever.  He still shouldn't have cheated on Willow though!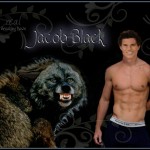 Taylor Lautner – As Ab-tastic Jacob in the Twilight saga Lautner is by far the buffest blockbusting beast of them all.  Every time he runs around in those little shorts we can't help but hope they fall to the ground. However, we don't half wish he'd ditch Bella and take a tussle with us instead!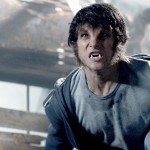 Tyler Posey – New kid on the block Posey may not have achieved the retro cool-factor that Michael J. Fox had in the classic movie, but as the new shape-shifter on hit show Teen Wolf, he certainly has the body we're after.  Watching him take his shirt off is reason enough to tune in. Now if only our school days had been like that.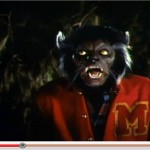 Michael Jackson – Appearing as a werewolf in iconic music video Thriller, Michael Jackson was…  Nah, forget it!