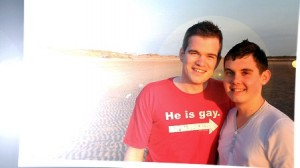 Members of the University of Liverpool's Staff Lesbian, Gay, Bisexual and Trans (LGBT) Network collaborated with students to produce an original short film on the inappropriate use of the word 'gay'.
The idea for the film Gay Is the Word came about when LGBHomotopia, Liverpool, T Network Chair Lee Cooper discussed with Network members Dr Freya Jarman-Ivens and Dr Andy Heath the misuse of the word gay. Freya said:
A few years ago, I started noticing how many of my students would use the word 'gay' in place of where I would have used 'naff' or 'rubbish'. It was clear that students didn't intend for it to be homophobic as such, as they would use the word in front of me, as an out member of staff, and in public environments. But it bothered me quite significantly as I began to understand the word's new meaning.
The result is a funny take on the fact that the three straight guys use the word gay in a pejorative sense and don't appear to understand that their friend is talking about his sexuality. The film was premiered at Homotopia, Liverpool's LGBT Arts festival in November. Since being posted on Youtube, the short film has exceeded over 11,000 hits from across the world and has been embedded in online blogs including the Huffington Post.
YouTube at:  http://www.youtube.com/watch?v=A6-A0uY1b4o