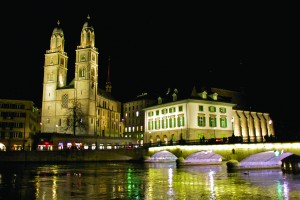 Chocolate and cheese, mountain and lake, money and men: Adrian Gillan is far from neutral about the fab winter wonderland of snow, spas and naked flesh in sexy Switzerland.
Compact, high-contrast Switzerland has it all: invigorating winter sports, relaxing spas and finest food
Arosa
Now in its eighth year, the Arosa Gay Skiweek, attracts hundreds of queer skiers, every mid-Jan, to an avalanche of wintry sport – both the outdoor and indoor variety! All amidst the wonderland setting of Arosa in the Eastern Swiss Alps, just 2-3 hours by rail due east of buzzing Zurich. Apart from all the hot skiing with your new ski-fit pals, enjoy torch-lit sledge-runs; organised walks; drag queen races; classical concerts; plus parties galore! Go for gay snow next year!
Stay at the cosy, simple Hotel Seehof (7050 Arosa;), with its ambient lounge-bar.
Whilst in the village, try your hand at the "Ice Stick Sport" on the local ice rink, Offene Kunsteisbahn Ochsenbühl (7050 Arosa; T: +41 81 378 70 27). Also: take the gondola "Weisshorn" and go up to the Middle Station, to make the short walk to the Mountain Restaurant Tschuggenhütte (7050 Arosa;) for lunch, prior to an afternoon of skiing, or merely to enjoy the sun loungers outside; or to discover the surrounding winter hiking trails, or to check out the sledge run.
Grab some wierdy foot gear at the Snowshoe-School Geeser (7050 Arosa; T: +41 81 377 22 15), prior to a guided snowshoe tour, maybe even trekking up for a fondue dinner at the snug Restaurant Prätschlistall (Hotel Prätschli, 7050 Arosa;) chalet-cum-hut, before heading back down to the village – perhaps for a party at the Kursaal Arosa bar-club, or other fab venue. Lucerne,
Lucerne
Chug over to Lucerne, about three hours west of Arosa by world-class Swiss trains. Stay at the chic, modern, minimalist, white-hued Hotel Astoria (Pilatusstrasse 29, 6002 Luzern;), a short stroll from the lake, boasting no less than three award-winning restaurants plus panoramic retro-style time-warp roof-top bar-cum-club.
Lunch at the pleasant Brasserie Flora (Ameron Hotel Flora, Seidenhofstrase 5;). Take a walking tour of the city, notably the Old Town with its old covered wooden bridge crossing the lake inlet. Then browse the amazing Rosengart Collection, with its selection of modern art, notably Pablo Picasso and Paul Klee, but so much more.
Dine at the wonderfully art deco Restaurant Scala (Art Deco Hotel Montana, Adligenswilerstrasse 22;), in a historic hotel reached by its own private funicular, just up from the lake. Excellent adjoining jazz bar, with amazing whisky selection, too.
Scene-wise, there are a range of weekly and monthly bar or club nights – notably at LGBT centre UFERLOS every Tuesday, plus various Saturdays; at Nautilus Club on occasional Saturdays; and at The Loft every third Friday of the month. Also check out Discus Sauna and Cruising World; plus the Pink Panorama LGBT film fest every Nov.
Weggis
Savour the hour-long boat trip across the lake from Lucerne to Weggis. Stay at the retro-cum-modern glam-chic lake-view 4* Superior Post Hotel Weggis (Seestrasse 8, Weggis;), complete with fab main Dining Lounge, plus two other smaller eateries; and POHO Gym & SPA – amidst Switzerland's "wellbeing region" – with its LED-illuminated pool, sauna, crushed ice room, steambath, solarium, relaxation area and gym. Relax at the bar and, summertime, on the lakeside terraces.
Enjoy the view, and a fab lunch, atop nearby Rigi (1800m) – reached by gondola – before a hair-raising 4km sledge run back down the mountain! Magic in summer too! Visit the local old Kirsch Distillery Fassbind (Kirschstrasse Schweiz, Kirschstrasse 1;) whatever the season!
Zurich
A mere 1½ hours away, back north, reflected in the water of its eponymous Lake, with a magnificent view of the snow-capped Alps on the horizon, Zurich offers a unique mix of attractions – over 50 museums and more than 100 art galleries; an Old Town with churches and cute bridges; international fashion labels and designs; and the most vibrant and lively nightlife in the land.
Stay at new Renaissance Zürich Tower Hotel (Turbinenstrasse 20;) a 4* affair in Zurich West – the revitalized former industrial district, now Zürich's trendiest place to go out! Lunch here at buzzing, informal Restaurant Studers (Hardstrasse 31;).
Discover the Langstrasse quarter in District 4 – famous for its multicultural diversity, red light zone and well-nigh Bohemian vibe. Visit Fabric Frontline (Ankerstrasse 118;) here, which has revived Zürich's medieval silk tradition, taking it into a gloriously colourful and glossy 21st Century!
As is often the way, the gay quarter is largely located in the older part of town. Graze out with the bears at Marion Bistro (Mühlegasse 22), or prowl across the street, to the Predigerhof Bistro Bar (Mühlegasse 15) for a lighter snack or drink.
Old Cafe Odeon (Limmatquai 2) attracts a young, arty crowd; and historic Barfüsser (Spitalgasse 14) is now so hip it almost hurts. Mere streets away is fruity and fresh, tucked-away two-level gay cocktail palace Cranberry (Metzgergasse 3;).
Back near the Marion, try scene stalwart Dynasty (Zähringerstr. 11); if you fancy being 'hustled', try nearby Carrousel (Zähringerstr. 33); or check out the unique and characterful Pigalle (Marktgasse 14).
Next door to Pigalle is the staunch T&M Disco (Marktgasse 14;) whose amazing interior of gargoyles, cherubs, chandeliers and church pews makes it a must for a young, fun crowd who dance to cheese or R&B below, then hike upstairs for trance and tad-smoky darkrooms
Don't forget to try the traditional zürcher geschnetzeltes (sliced veal) at buzzing BÜ's Bistro & Restaurant (Kuttelgasse 15;) in the main shopping district.
SWISS operates daily flights from London Heathrow, London City, Birmingham and Manchester to Zurich. For reservations call 0845 601 0956.
For details of getting around Switzerland on its legendary rail system, not to mention bus and boat – including the great-value Swiss Pass – call the Switzerland Travel Centre on 00800 100 200 30.
Photo credit: 'Boje Ploeg'.