Peter Tatchell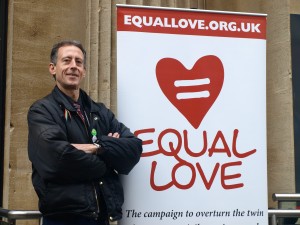 The New Year brings with it a rather important anniversary for gay rights. Peter Tatchell, a man who for 45 years has campaigned ceaselessly on yours and my behalf, reaches the grand old age of 60. Peter, or Saint Peter as I like to call him, has put himself, literally, in the firing line campaigning for gay rights and has done since long before it was fashionable to do so. He has suffered verbal abuse and physical violence as he's gone about exposing the hypocrisy and injustice of many individuals, corporations and governments. He has often been vilified by the very people he has campaigned for and yet, this slim, often unassuming man, continues to seek the human rights of all, no matter what the cost to his own personal safety. On this, his 60th year on Earth, and his 45th year of campaigning, we here at Bent would like to offer our gratitude for the work he has done, and the positive social changes he has without doubt helped to bring about… Gordon Hopps asks the questions.
When did you get started as a campaigner?
My first campaign was against the death penalty in my home town of Melbourne, Australia, in 1967. I was aged 15. I then got involved in the movements for Aboriginal rights and against Australia's support for the US war in Vietnam. In 1969, when I realised I was gay, I began campaigning for LGBT freedom too.
How did the UK get to host the young Peter?
I came to London in 1971 aged 19; planning to stay for a year or two. But I found a good job and a nice flat, fell in love and was inspired to join the newly-formed Gay Liberation Front. I got settled in the UK very quickly and soon lost interest in returning to Australia. Ever since, I've been helping to win equality for lesbian, gay, bisexual and transgender (LGBT) people in Britain.
What motivates your LGBT campaigns?
Love. I love my LGBT brothers and sisters. I love liberty, freedom and equality. The only liberation struggle worth fighting is a struggle inspired by love. Love is the beginning, middle and end of liberation. Without love, there can be no LGBT liberation worthy of the name.
Who inspires you?
My campaigns are inspired by Mahatma Gandhi, Sylvia Pankhurst, Martin Luther King and, to some extent, Malcolm X. I have modeled many of my methods on their direct action tactics – and invented a few of my own, like outing hypocrites and homophobes who condemn LGBT people and who support harmful anti-gay laws. If MPs and bishops are gay in private but anti-gay in public, they are being two-faced and deserve to be exposed.
You are known to be very hard working. What keeps you going?
Idealism, determination and the belief that we can one day have a world without homophobia. My campaigns get positive results. This fires and sustains me. I usually work 12 or more hours a day, seven days a week. Tough but rewarding.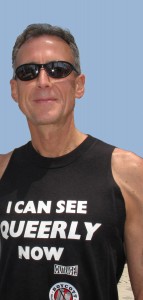 How would you sum up the objectives of your campaigns?
To make homophobia history.
Are you a thrill seeker?
I'm daring and a risk-taker. It is the only way to succeed.  On the rare occasions that I take a holiday, I tend to go for adventure and thrills, such as body surfing big waves, caving and snorkelling in wild remote regions and mountain trekking along narrow paths and rock ledges, with 200 metre drops and no railings.
What prompted the creation of the Peter Tatchell Foundation?
The idea was to establish a small human r ights organisation that would use my particular no-nonsense style of campaigning to challenge homophobia and other injustices, both in the UK and worldwide.
You suffered for what you were trying to do… but to what level?
In the 1980s and 90s, I was one of the best known LGBT campaigners in Britain. As a result, I was targeted by homophobes and fascists. It was like living through a low-level civil war. I was attacked over 300 times in the street, with fists, bricks, knives, iron bars, bottles, sticks, boots and hammers. I had dozens of bricks through my windows, three arson attempts on my flat and even a bullet through my letterbox. Whenever I went out, I was always looking over my shoulder, wondering when and where the next attack would come from. It was a very scary. But I was sort of flattered that homophobic bigots saw me as such a threat. Obviously, I was being effective. Otherwise they would not have bothered targeting me.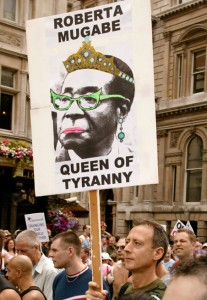 What about the brain and eye damage?
In 2001, I was beaten unconscious by President Mugabe's bodyguards In Brussels, when I attempted to make a citizen's arrest of the homophobic Zimbabwean dictator. The beating left me numb and semi-paralysed down my left side for nearly a week. When I went to Moscow in 2007, to support the right of LGBT Russians to hold a Gay Pride Parade, I was badly beaten by neo-Nazis. These two bashings have left me with minor brain and eye damage. I have problems with my memory, coordination, balance and concentration. My right eye is now quite blurred. These problems don't stop me but they make life more difficult. Nevertheless, I count myself lucky. In many countries I would have been jailed, tortured or executed.
What makes you take these risks?
The knowledge that I am helping, in some small way, to shine a light on injustice, expose human rights abusers and support people struggling for their freedom.
How did Mugabe react when you tried to arrest him in London in 1999?
I was involved with the LGBT rights group OutRage! at the time. We ambushed his motorcade near Victoria station, forcing his limousine to halt in the street. I opened his car door, grabbed him by the arm and told him he was under arrest on charges of torture. His eyes almost popped out of his head. He's black, but his skin turned ashen grey. He later complained that he feared being killed. Well, now he knows how the victims of his violent thuggery feel.  When we summonsed the police and asked them to arrest Mugabe, they arrested us instead. Mugabe was given a police escort to go Christmas shopping at Harrods.
In the early days, you got as much flak from the gay community as you did from the establishment, how did that make you feel? At any point did you think about giving up?
Many times. It is really hurtful to be denounced by your own side. But I have mostly won over my former critics. Many of them are now my strongest supporters.
After 45 years as an activist, how do you feel about the state LGBT rights in the world today?
Great progress has been made in the UK, compared to the 1950s. But more than 70 countries continue to outlaw homosexuality. Penalties range from one year's jail to life imprisonment. Six Islamist states impose the death penalty, including Saudi Arabia, Iran and Sudan. In parts of Nigeria and Pakistan, Sharia law stipulates that 'sodomists' can be stoned to death. In many countries there are also murders by homophobic mobs and death squads. So-called honour killings of LGBT people happen in parts of Africa and the Middle East. We've got a long way to go to win LGBT equality worldwide.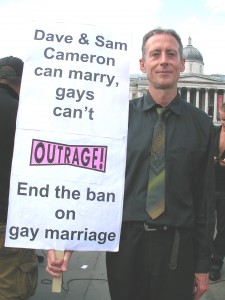 Which campaign are you most proud of?
The campaign by OutRage! against police harassment of the LGBT community in the early 1990s was a notable success. We disrupted the press conferences of police chiefs, invaded police stations that were conducting anti-gay raids and exposed the use of undercover 'pretty police' who lured gay men into committing sex acts and then arrested them. These protests shamed the police into curbing their homophobia. As a result, the number of men convicted of consenting behaviour fell by two-thirds – the biggest, fastest fall ever recorded. We helped save thousands of gay and bisexual men from getting a criminal record.
After the Mugabe incident even the Mail, a staunch opponent of yours, actually wrote something positive about you. How did that feel?
It was a bit embarrassing to be praised by the Mail. But it's better than being condemned by them.
What about relationships?
I've had five significant relationships in my life. Great times, fond memories. I have remained good friends with all my former partners. But in recent years there have been no serious relationships, alas. I work too hard and don't socialise enough to meet a potential partner. In any case, who would put up with me? I am happy and content being single. But a relationship, with the right person, would also be wonderful.
I suspect that for many in the media you are a godsend… so, have you been asked to appear in a reality show… and if so which one?
I have been asked to go on Celebrity Big Brother three times and offered up to £100,000. Even though this is 12 times what I live on in a year, I declined. CBB is just too boring, juvenile and trashy. It would have damaged my credibility as a serious human rights campaigner. George Galloway and Germaine Greer did not come out of CBB looking good. Lesson learned. Not a mistake that I intend to make.
Are you more of a Strictly Come Dancing, X-Factor or I'm a Celebrity Get Me Out Of Here type of guy?
I have briefly watched them all. X-Factor is the better of the three. It includes some decent talent (I'm talking singing, not looks). But none are my thing. I prefer comedies, history and movies.
If they offered you a MBE or a Title would you accept?
I have been sounded out about an OBE, knighthood and peerage. Was it an official offer? I'm not sure. I was asked: If an honour was offered, would you accept it. I said no. The honours system is corrupt. Most major honours go to time-servers, pals of the establishment and millionaire donors to political parties. I wouldn't want to be tainted by association. Besides, I would never accept an honour from the Queen. I don't hate her, but I don't believe in the monarchy. It's outdated and anti-democratic. I'd like Britain to have an elected head of state – low-cost and purely ceremonial – like the Irish.
You've been a parliamentary candidate for Labour in 1983 and the Greens in 2007. Any plans to run for MP again in the future?
No. I can probably be more effective outside the parliamentary system, unconstrained by its limitations. My campaigns make an impact, even though I am not an MP.
Any thoughts about retiring?
I love the LGBT campaigns that I do. It would be crazy for me to retire. I'd be bored. Plus there are so many battles that we still have to win. I'll keep going for as long as my health holds out. My grandfather was active until his early 90s. With any luck I've got his genes. When I'm 95 I might call it a day. I am looking forward to another 30+ years of campaigning got LGBT human rights.
What's your motto?
Don't accept the world as it is. Dream of what the world could be – and then help make it happen.
For more information about Peter Tatchell's campaigns and to make a donation:  www.petertatchellfoundation.org