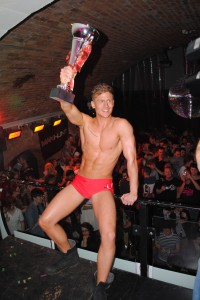 From Bristol to Birmingham, from Derry to Dundee this year saw the return of Mr Gay UK after a three year gap. All over the country heats took place, scouring the nation to find the first Mr Gay UK of the decade. After three months that man was Samuel Kneen, a 22 year-old hairdresser from Cardiff.
Samuel won his heat at Pulse, Cardiff's biggest gay venue, where he beat a bevy of contestants to reach the final. This year the competition was shaken-up and with the help of social media and networking opportunities, an online vote forced a new dimension onto the contestants. Being pretty and pert are no longer good enough to win the title; this time the heat winners were going to have to 'sing' for their proverbial 'supper' and go out and about, campaigning for votes.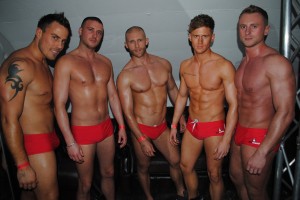 Some pledged on Twitter, some chased through Facebook. There were topless boys out on the streets of the respective towns and cities having photos with celebs, while others had interviews with press and radio stations, all gathering fans and support.
The public voted via the official Mr Gay UK Facebook page by 'liking' their favourite finalist, by using Twitter, going on the website or by phone and text. The race ended on 29th November when the Five Finalists were announced.
The Grand Final was held at Club Mission in Leeds on Saturday 10th December, where the three judges decided on which contender best fit the profile and would win the accolade of Mr Gay UK 2011. When asked how he had felt once his name was called out as the winner, Samuel commented, "I didn't believe it at first. Then I started to get really emotional, because some of my really close friends who had come to support me started to get emotional." He continued, "I felt a real sense of achievement after all the work I'd put in and of course a huge burst of confidence. I just can't believe it"
This year the judges were renowned photographer Jay Eff, Rob Gunns of Manhunt (the event's sponsor) and Kieran Richardson of Hollyoaks and Dancing on Ice fame. "I had a great time, it was really good fun," said Gunns. "Five very hot and very friendly finalists. A big thanks to Terry and the team for organizing a fantastic night."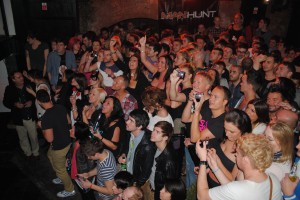 When asked whether he thought Samuel had been a worthy winner, JayEff answered; "I think the right guy won. As a photographer he would be my first choice to shoot, but after talking to him as well, I saw that his personality matched up to his looks"
Kneen has won a professional photo-shoot on location in Morocco, the chance to enter Mr Gay Europe and £2000 – some of which Samuel has vowed to donate to the Terrence Higgins Trust. "It's a charity I feel really strongly about," remarked Kneen, "a friend of mine was diagnosed with HIV recently and he dealt with it with such strength, thanks to them. He's really an inspiration". He has also volunteered to help the charity in any way he can.
After a grueling but exciting few months, Samuel has vowed to enjoy every opportunity as the newest Mr Gay UK. He reflected on the contest with a smile, "I enjoyed it all, especially the photo-shoots and getting to meet the finalists. The best bit though," he continued "was going on ITV's Loose Women, meeting Simply Red and the ladies, and having Bet Lynch sprawled across me. Pretty good going for a Friday afternoon".
On Friday 9th December, Julie Goodyear, in a pre-Christmas promotion for Street of Dreams, a musical based on Coronation Street, met up with Samuel along with two of the other finalists (Greg Lumley representing Middlesbrough and John Wheeldon who represented Leeds) on ITV's Loose Women. They were asked to pamper her in the green room and then later, showing off their fine physiques, walk her bare-chested (them not her) onto the set. "You can tell Christmas is coming up," she remarked when asked how she felt about the boys accompanying her. Before the cameras flickered into action however, she made sure attention was on her with a quick glance at Greg and a cheeky, "Get your hand off your cock and put it on my shoulder".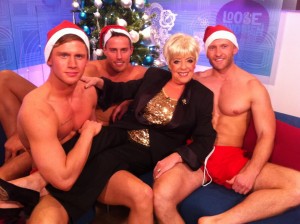 The day after the Grand Final, Samuel was immediately  whisked off for a photo-shoot, he's also being used for an advertising campaign for Lick underwear. On top of all this, he has interviews lined up including Attitude magazine, Gaydio and Boyz magazine and offers for features and personal appearances are coming in from around the country.
The competition may be over, but for Samuel the year is just beginning. "Winning Mr Gay UK has made me feel like a new person: a new chapter with new opportunities and new doors opening. It's like all my dreams have come at once. I can't wait to see what else there is to come."
Photos: Grizz
Terry George.co.uk
Mark Hawkins
Leroy Harding
ITV, Loose Women