Film Review – December by Chris Amos
Happy Feet Two
Out 2nd December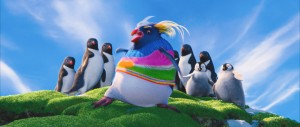 The sequel to Happy Feet, the Academy Award-winning animated smash hit, Happy Feet Two returns audiences to the magnificent landscape of Antarctica this time in superb 3D. Mumble, The Master of Tap, has a problem because his tiny son, Erik, is choreo-phobic. Reluctant to dance, Erik runs away and encounters The Mighty Sven – a penguin who can fly! Mumble has no hope of competing with this charismatic new role model. But things get worse when the world is shaken by powerful forces. Erik learns of his father's "guts and grit" as Mumble brings together the penguin nations and all manner of fabulous creatures – from tiny Krill to giant Elephant Seals – to put things right. Happy Feet Two features the voices of Elijah Wood, Robin Williams, Hank Azaria, Alecia Moore (Pink), Sofia Vergara, Anthony LaPaglia, Magda Szubanski and Hugo Weaving, with Brad Pitt and Matt Damon as the Krill.
Hugo
Out 2nd December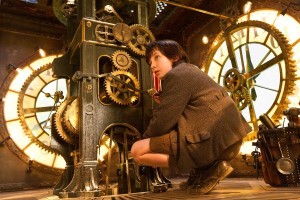 Martin Scorsee leaves behind his violent action gangster movies to create his first film in 3D, a kid's movie. This adaptation of Brian Selznick's best-selling children's novel, centers on an orphaned boy (Butterfield) who secretly lives in the walls of a busy Paris train station and looks after the clocks. He gets caught up in a mystery adventure when he attempts to repair a mechanical man. The Aviator's John Logan provides the screenplay which stars Ben Kingsley, Sacha Baron Cohen, Jude Law, and Christopher Lee.
New Year's Eve
Out 8th December
Pretty Woman and Valentine's Day director Garry Marshall has assembled a mega cast for New Year's Eve. Josh Duhamel, Katherine Heigl, Ashton Kutcher, Sarah Jessica Parker, Zac Efron, Michelle Pfeiffer, Halle Berry, Jessica Biel, Jon Bon Jovi, Abigail Breslin, Chris "Ludacris" Bridges, Robert De Niro and Hilary Swank star in this ensemble romantic comedy. The film celebrates love, hope, forgiveness, second chances and fresh starts, in the intertwining stories told amidst the pulse and promise of New York City on the most dazzling night of the year.
Sherlock Holmes: A Game Of Shadows
Out 16th December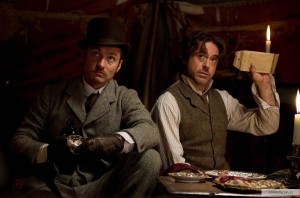 Sherlock Holmes (Robert Downey Jr.) has always been the smartest man in the room…until now. There is a new criminal mastermind at large – Professor Moriarty (Jared Harris) – and not only is he Holmes' intellectual equal, but his capacity for evil, coupled with a complete lack of conscience, may actually give him an advantage over the renowned detective. When the Crown Prince of Austria is found dead, the evidence, as construed by Inspector Lestrade (Eddie Marsan), points to suicide. But Sherlock Holmes deduces that the prince has been the victim of murder –a murder that is only one piece of a larger and much more portentous puzzle, designed by one Professor Moriarty. But the cunning Moriarty is always one step ahead as he spins a web of death and destruction – all part of a greater plan that, if he succeeds, will change the course of history.
Misson: Impossible Ghost Protocol
Out 26th December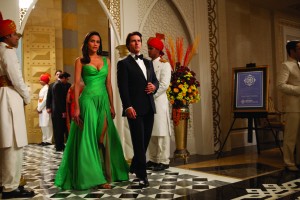 The new film in the series, which has grossed $2 billion US dollars worldwide, will feature a new team: Tom Cruise, Jeremy Renner, Paula Patton and Simon Pegg. This is not just another mission. The IMF is shut down when it's implicated in a global terrorist bombing plot. Ghost Protocol is initiated and Ethan Hunt (Cruise) and his rogue new team (Jeremy Renner, Paula Patton and Simon Pegg) must go undercover to clear their organization's name. No help, no contact, off the grid. You have never seen a mission grittier and more intense than this.
The Girl With The Dragon Tattoo
Out 26th December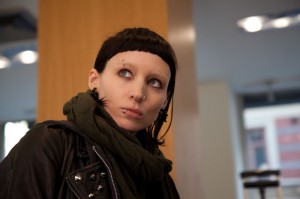 Based on Stieg Larsson's internationally best-selling novel, The Girl with the Dragon Tattoo is a murder mystery looking as far back as 40 years at the disappearance of Harriet Vanger, a scion of one of Sweden's wealthiest families. All these years later, her aged uncle continues to seek the truth. He hires Mikael Blomkvist (Daniel Craig), a crusading journalist recently trapped by a libel conviction, to investigate. He is aided by the pierced and tattooed punk prodigy Lisbeth Salander. Together they tap into a vein of unfathomable iniquity and astonishing corruption.
The Artist
Out 30th December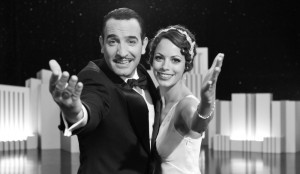 Hollywood 1927. Georges Valentin is a silent movie star who seems blessed: he is handsome, athletic and an excellent dancer. The arrival of the talkies causes Georges to fall into oblivion, alcohol and poverty. As for the young extra Peppy Miller, her star shoots to the heavens. The Artist is tender, touching and never makes the mistake of simply sending itself up. The performances from Dujardin and Bejo are tremendous, with great support from two bonafide Americans: James Cromwell as Valentin's loyal chauffeur, and John Goodman as the glowering producer. The happy ending had me on my feet cheering throughout the final credits. I can't wait to see it again. Also the favourite for Best Film at next year's Oscars.
FILM BUZZ
The director of the final four Harry Potter, David Yates, did an amazing job with them and now he is set to bring Doctor Who to the big screen.
Casting for Quentin Tarantino's slave-turned-bounty hunter feature Django Unchained seems to be never ending, now Sacha Baron Cohen (Borat, Bruno) has joined the cast. The film centers on Django (Jamie Foxx), a freed slave who seeks to reunite with Broomhilda (Kerry Washington), his slave wife, a journey which will see him team up with Dr. King Schultz (Christoph Waltz), a German bounty hunter, to take down Calvin Candie (Leonardo DiCaprio), an evil plantation owner.
Eddie Murphy has stepped down to host next year's Oscars, and Billy Crystal will take his place, this will be the ninth time Crystal has hosted the show. Meanwhile, Ricky Gervais will host next years Golden Globes again.
Joel Edgerton (Animal Kingdom) has had a small coming out party as of late with starring roles in The Thing and in Warrior opposite Tom Hardy (The Dark Knight Rises). He will play an operative in Kathryn Bigelow's Kill Bin Laden and is currently filming the role of Tom Buchanan in Baz Luhrmann's The Great Gatsby. Now it looks like he has the lead in Noam Murro's 300: Battle of Artemisia, the sequel to Zack Snyder's 2007 breakout feature 300.