LIVING A ROCKSTAR LIFE… In South Beach, Miami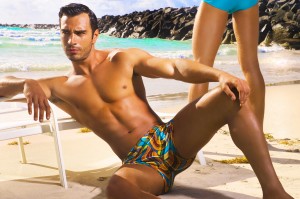 By Randy Myers
"South Beach is a playground for celebrities and fashionistas," proclaims designer Prashant Thakker of the city that inspires his swim brand, Rockstar Swimwear.   "It exudes sexiness and glamour."
His designs aim to unleash the inner rocker in men so that they grab attention poolside, on the sand and at Miami's popular Sunday T parties. "In South Beach, everyone is a rockstar and there is always something to do."
It's knowing when and where to go that's key.  Of course, we've got you covered with the go-to spots for gay men who want to rock out hard on in South Beach this winter.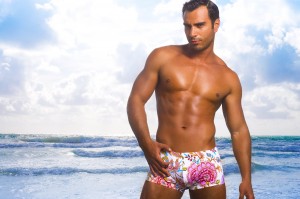 Rockin' Beach Spot
12th Street Beach
12th & Ocean Drive, Miami Beach
The sexiest men in South Florida converge on this sandy spot, sporting nothing more than a teeny, tiny bikini – if anything at all.
Rockin' Brunch
Vida @ The Fontainebleau
4441 Collins Ave, Miami Beach
305-674-4730
Between the hot bar featuring lobster tail and the cold bar featuring sushi, Vida offers a sea-lovers delight.  The best part: unlimited mimosas and bloody Marys!
Rockin Suite
The Delano
1685 Collins Avenue  Miami Beach, FL 33139
(305) 672-2000
With décor inspired by Lewis Carroll's Alice in Wonderland, Delano is the ultimate world-class urban resort.  It's a pure haven of relaxation that attracts the beautiful people, who stay at the famed bungalows, sip pricey cocktails and nibble on sushi.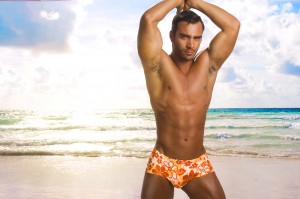 Rockin' Romance
1500 Degrees at the Eden Roc Hotel
4525 Collins Ave, Miami Beach
305-531-0000
After a $220 million renovation, the Eden Roc Hotel is ultra chic and so is its steakhouse restaurant that features creative cuisine by executive chef Paula DaSilva.  It's perfect spot for couples to get cuddly.
Rockin' Friday Night Party
Filthy Gorgeous Fridays at Score Nightclub
727 Lincoln Road, Miami Beach
Always packed with the gorgeous and glamorous, Score's fun beats keep the crowds jumping.