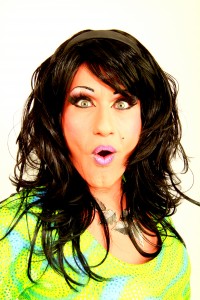 By Adam Lowe
Miss Thunderpussy is the Midlands' last surviving "IT" girl and an international drag star. She performs all over the world, and somehow manages to drag herself back to a twice-weekly slot at the Thompson Arms in Manchester, where she has been resident for the past half decade. She answers the phone with the husky tones of a late-night chat line. I catch her as she's just stepped out of the shower.
'Was it a busy morning or are you a late riser like me?' I ask.
'If it was up to me, the world would start at this time.'
It's 1pm. The rest of the country is already hard at work—except for people like Miss Thunderpussy and me.
'My body clock is reversed,' she continues. 'I'm sure my neighbours think I'm unemployed or something, because I'm always getting out of bed while they're still at work.'
'What does your normal day consist of?'
'First I slap on copious amounts of face cream and play Picasso with the make-up brush. It's an artform to basically make everything look like it doesn't need ironing. Then I pamper and feed the pooches—a boxer and a pug—and do my daily research. This involves watching as much Jeremy Kyle, Judge Judy and Lorraine Kelly as I can. If there's any time left over, I'll watch some porn. I pack my bags and plan where I'm going to be driving that evening. Then I hop into the Pussywagon and take off.'
'Don't most drag queens have drivers?'
'Most of them do. But I work all over the country and if I had to spend six hours making conversation with someone, I'd go crazy. It doesn't matter whether it's a friend or a stranger—that amount of time cooped up together would drive me to wedge a shoe through their eye.'
'What do you do on your time off?'
'I try to go to the gym, but usually only get as far as the Jacuzzi. That basically means I spend five days a week in a frothy man soup, which I think most girls would envy. I like to go shopping for new frocks. I pass Poundland to see what the riffraff are up to and get inspiration for my shows. And if there's any time left I'll spend some time with Mr Thunderpussy.'
'What kind of shows do you do?'
'It's a strange bunch, really. I've had a residency for five years at the Thompson Arms now. But a lot of what I do there is specific to that venue. In other places I do a lot of stand-up comedy which is scripted, as well as improv and ad libs. I've performed at everything from hen parties to military bases. I am also available for children's birthday parties and bar mitzvahs.'
'What's it like performing for the soldiers?'
'It's a very unique experience. I'm out of my comfort zone, so it's more challenging, but I've had a number of soldiers come out to me. That first ten minutes is the hardest because no one knows whether to glass me or shag me. It's traditionally a very homophobic environment. Then they loosen up and I'll be chatting to all the lads for the rest of the night. It's two to three hundred soldiers, all with their arms around me or with me sat on their lap like a colourful big sister they can share their secrets with.'
'That sounds like it might be difficult.'
'The hardest gigs are actually on the gay scene. I love the gay scene but the customers have seen it all a hundred times before. They just stand there, cross their arms, and look at me as if to say, "Entertain me, bitch!" You've got to work a lot harder. I try to avoid being like other drag queens by not doing the typical bitchy thing. There's enough pisstaking on the gay scene and it's not my thing to pick on someone's insecurities.'
'You let them make a tit out of themselves by getting up on stage and singing instead.'
'Well singing's fair game. Someone once went to the trouble of writing a message on my website where they said my singing was appalling and that I should stop immediately. Now I preface every performance with a disclaimer. I've never pretended I can sing; I'm not a harmonist. What I do to singing Harold Shipman did to pensioners.'
'What is the transformation like—from Scott to Thunderpussy?'
'The face takes the most time. That's about 35 minutes. Then the hair and clothes take about 15 minutes. Psychologically I slip into character pretty much straight away. Anyone who's ever done drag before will tell you they're a completely different person once they get their wig on.'
'So no Dutch courage then?'
'I don't drink really. I've only ever been drunk on stage twice. I got a gig at Gran Canaria Pride because they'd seen me performing drunk the first time, so I thought I had to get drunk again. But once they got me on stage I wouldn't shut up. It dragged on longer than Children in Need. It took two Chippendales and a cattle prod to get me off stage.'
'So tell me about Sinderfella. How did that come about?'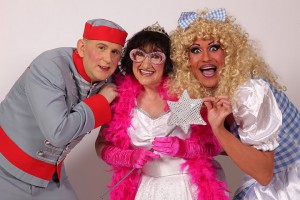 'Well I just got a phonecall from the production company. I think it helped that I was very popular in Manchester already, and they wanted someone who the audience would recognise. I went to the interview in London and I didn't realise the other drag queens were auditioning in full costume. I had a beard and I wore a vest with camouflage pants and flip-flops. Everyone else was dressed up as Cinderella, and I just had to do the best I could.'
'But it obviously worked?' I say,
'Yes. For some reason they liked me, and I got the part. I have to spend the next few weeks in a Big Brother-style house with all the rest of the cast.'
'Will there be cameras?'
'I hope not! You can imagine what the voiceover would say.' She coughs and adopts a Geordie accent. 'It's 12.31pm. Miss Thunderpussy is still asleep. Meanwhile, housemates Alice and Nicksy have broken into her stash of ecstasy and are feeding it to the chickens. I don't think it'd be pretty.'
'What can our audiences expect?'
'It's not your typical panto. The Prince is an absolute pervert who just wants to get his end away. And he doesn't realise Sinderfella is actually a bloke. I'm like Katie Price with a penis, of course. Buttons is basically a loudmouth yob and the Fairy is a sarcastic old bitch. Fun for all the family, if you happen to be the Osbournes!'
Sinderfella is playing between Dec 15th and January 7th at The Dancehouse, Oxford Road, Manchester (thedancehouse.co.uk), excluding Dec 24-27th and Dec 31st-Jan 2nd. Tickets are £18.50. Thunderpussy is onstage at midnight on Thursdays and Mondays in the Thompson Arms, Manchester.