Terry George – Tellin' Stories – NBF (New Best Friend)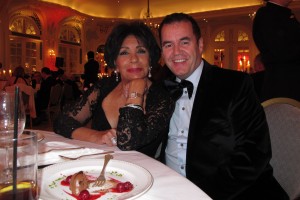 These days I get invited to quite a lot of charity events and I'm often keen to accept the invitation because you never know who else is going to be there. Now call me a star stalker if you like but I just love rubbing shoulders with the famous and chatting to them like they have just become my NBF (New Best Friend). Sometimes this works, sometimes they want nothing to do with me but whatever happens, usually there's a photo opportunity or a story for me to write about.
Last month I was asked by my friend Brian Willett to attend a fund raising auction for his father's charity the Thomas Fredrick Willetts Foundation, which I was more than happy to do. The charity raises funds that encourages and empowers young people to explore the world of music through state of the art facilities, choirs, music workshops, ensembles and education projects and fulfil their own musical potential. A cause than I can relate to as I know how music has broken down many barriers and, if nothing else, lets people get creative if they've never had the chance before. They very kindly seated me at the top table where author and former MP, Lord Jeffrey Archer was holding court (he was very entertaining). However, the person who caught my eye was a lovely giggling lady who was being accompanied to the event by my friend Prady Balan, the man who owns the Balan's chain of restaurants in London and Miami. I thought I recognised her but couldn't quite believe it, this delightful woman, having the time of her life I might add, actually was – no other than Dame Shirley Bassey.
I'm afraid the song 'There is nothing like a dame' began to spin through my mind but I suddenly realised that my gay credentials were seriously flawed – could I hell as like remember which show that particular showtune was from. West Side Story? No. Carousel? No, but still it was spinning through my mind and I was finding it difficult to concentrate on what Dame Shirley was saying. 'There is nothing you can name that is anything…' Good grief, why can't I think what that damn song is from? Oklahoma? No.
I tried to get my thoughts back to where they should be, concentrating on the very special guest of honour. I was sure she didn't want to be totally occupied by Lord Archer calling her Shirl and topping up her glass. She was still giggling and laughing so I thought I'd venture a question. 'There is nothing…' Shut Up and concentrate.
So, this was my first question to probably the biggest gay icon I have ever met.
"How do you feel about all the drag queens that want to impersonate you?"
Yes, fabulous aren't I? I could have talked about her glittering career, her fantastic voice, her Bond movie themes, her life story, which had recently been made into a TV film but no, I talked about drag queens. Am I a pratt or what. No wonder Jeffery was looking a little suspiciously at me. However, Dame Shirley rose to the occasion and said that she'd seen loads of impressionists but thought that most went too far. There she was with hands stiff in the air, face and mouth contorted in mock emotion doing a pretty good impression of someone doing a bad impression of her. She was a terrific sport and the whole table was laughing along with her wonderful anecdotes of some of the acts she'd seen. Only one, she said, had ever captured her completely and she wanted him to be her double. She had been so overcome with his brilliant tribute that she had taken off her wig and offered it for him to wear. I wish I could remember his name but, I was just so excited watching her funny gesticulations as she went into another impression of some drag act she'd seen, unfortunately his name completely escapes me.
This was going better than I thought. '… there is nothing you can name…' Quick, I thought, before I get distracted by that bloody song again ask another question.
"You must get asked to loads of these events and parties and… er… things (eloquent aren't I?), which was the best you've ever been to?"
To be honest I wasn't expecting much of an answer, something like "They are all wonderful darling" or some such reply but she thought about it and said "Monaco darling… it was the best." The lovely, funny, talented and giggling Dame Shirley Bassey then regaled us all with the story of the party she'd had the most fun at. Apparently, she'd been invited to sing at a special event by actress Grace Kelly, who had by then married into the country's Royal Family and become the beautiful Princess Grace of Monaco. Everyone who was anyone at the time was there; Royalty, world leaders, millionaires, film stars of which Elizabeth Taylor and Richard Burton were the star guests… that's the equivalent of getting Brad Pitt and Angelina Jolie to your party these days. Dame Shirley went on about the amount of furs, expensive dresses and jewellery that everyone was wearing except their host, the Princess who wore a simple dress. Wealth dripped from every guest as the amount of diamonds and pearls people had draped around themselves seemed to take over… but the Princess was adorned with nothing glittering at all…that was until she turned around. Then you could see her hair was pinned up and held in place by a selection of beautiful shimmering diamonds that was, as DSB said, simply stunning.
SOUTH PACIFIC! Yes that's where the song is from, South Pacific…
'There is nothing you can name that is anything like a dame.'
On this occasion I couldn't have agreed more.