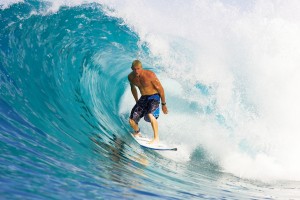 Photo: Newquay PR team.
Who needs Hawaii? Adrian Gillan far prefers the gorgeous surfer boys wafted in by warm Gulf Stream winds all-year-round down in Cornwall's lovely, balmy Newquay!
It's a deceptively long trek down to, and then along, Cornwall's devastatingly beautiful peninsula, in the South West of England. But as your train chugs ever closer, the winds do get warmer, the boys hotter.
Newquay has long attracted an international, cosmopolitan mix of people seeking to combine the great invigorating oceanic outdoors with a party-'til-dawn nightlife, yet all still far from the madding crowd. So it should be no surprise that a broad-minded respect for outsiders and even the odd downright eccentric – not to mention hoards of droolsome surfer dudes – has also made the place somewhat of a gay mecca.
TO STAY
Stay at the dramatically perched 4-star Headland Hotel (Fistral Beach, Newquay; T: 01637 872211;), in a landmark late-Victorian Grade II Listed building overlooking the Atlantic Ocean and Fistral Beach, and boasting two ace eateries, The Restaurant and The Terrace; plus two swimming pools – one indoor, one outdoor. You'll be constantly struck by the hotel's friendly professionalism and thoughtful attention to detail. Over the decades, it has attracted a string of royal visitors including King Edward VII, King Edward VIII, King George VI, Queen Alexandra and, most recently, HRH Prince Charles and HRH The Princess Royal. An RAF hospital during WW2, a fair number of, thankfully benign, ghostly visitors have also been reported! Larger families and groups might consider staying at one of The Headland's neighbouring cosy 'fishing village'-style cottages.
TO SEE, EAT & DO
Newquay is an all-year-round active place. There's all the boating, sailing, fishing, diving. Then there's all the cycling, walking, climbing; not to mention the jet-biking, kiteboarding and kayaking. There are the various beaches – the smaller ones town-side, the mighty Fistral and Crantock just out west. And then, of course, there's all the surfing. All hubbed around numerous activity schools.
Based in The Carnmarth Hotel, near The Headland Hotel, Newquay Activity Centre offers surfing, body-boarding and coasteering throughout the year – even pole dancing! Tuition is hot, not least if you get fetching South African surfer dude Sean, like me!
Other town attractions include the picturesque Old Harbour, still in use; sheltered Towan Beach; iconic 'Island' with its house linked to the mainland by a foot suspension bridge; Blue Reef Aquarium right on the front; Lighthouse Cinema; and Trenance Park & Gardens – home to Newquay Zoo.
Unwind after all your exertions at The Carnmarth C Bar & Terrace boasting fine food and views, before completely indulging at the Fistral Spa in The Bay Hotel on South Fistral, enjoying a swim, sauna and steam before one of their many treatments. Try a tailored aromatherapy massage – stimulating yet relaxing!
Still hungry? Nestled above the cliffs of Pentire Headland in west Newquay, Lewinnick Lodge has vast sea views, a classy modern British menu majoring on fresh fish, and a cosy informal buzz. Or drop into Bodhi's Beach & Café Bistro, a hideaway for locals, reached down steps from Esplanade Road on South Fistral Beach, dishing up fab creative food amidst yet more simply stunning views!
TO BOOZE & CRUISE
There are no gay-dedicated bars or clubs in Newquay at the moment, but ample gay-friendly fun at any of a big clutch of venues, all jostling for attentions, cheek-by-jowl, in the town centre just above the beaches. Notable bars include Red Lion for live music, Belushi's for DJs and Red Square for vodka shots! Main clubs include Bertie's – in fact, the largest club in Cornwall – plus Sailors and The Beach.
NEARBY: ST. IVES
You'd be daft to visit Newquay without making the short trek westwards along the spectacular North Cornwall coast to lovely, culture-brimming St. Ives. It's the amazing light heaped up by the sea that has long drawn artists to these rugged parts – including Turner, Whistler, Henry Moore, Barbara Hepworth and Virginia Woolf; and the warmer winds that have nurtured all those sub-tropical palms and other plants. Reached by a pleasant train ride from Newquay, or nice bus route in summer months, apart from its stunning surfer-brimming Porthmeor Beach, lofty 'Island' peninsula with tiny chapel, hilly cobbled street warrens and film-set harbour, St. Ives also boasts two world-class arts attractions: the Tate St. Ives and the Barbara Hepworth Sculpture Museum & Garden.