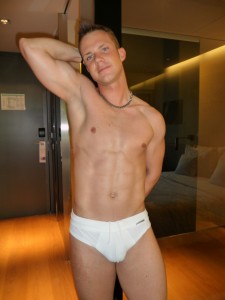 It's a good idea to own your own car – especially in the Czech Republic.
I'm not talking about personal status or even the ability to drive from A to B. That all pretty much goes without saying. I'm talking about having sex in the car – and, of course, a car's pretty much an essential factor when it comes to these kinds of activities! Mind, the model of car always has to be considered. A Smart car is a definite "No Go", given that you should always pay attention to how comfy the seats are or whether there's room in the back; whilst tinted windows are a distinct plus, although they can look a bit "Chavish" and at the moment are definitely out of fashion!
Hitchhiking is still a very popular activity in my country, mainly because we still don't have a very good public transport system. As such, the roads and motorways are a kind of huge "buffet" for guys looking for quick sex! I'm not joking when I say that most of the younger guys who hitchhike don't mind giving a blowjob in return for a free, comfortable 100km ride between some of the Czech towns.  WeCzechs are quite open-minded when it comes to sex. As long as it's enjoyable and satisfying we don't really care if it's with a boy or a girl – or indeed where and when it's done! Almost 90% of my friends call themselves bisexual and have had sex with both genders. Indeed, sometimes I actually feel a bit of a loner for confessing that I only prefer men and don't feel comfortable about having sex with girls!
It's obviously understandable that I like to invite cute hitchhikers into my car when I drive through the country. That's not only because I like to help these guys out, but also because I enjoy some of the sexual adventures which may (hopefully) develop with them.
As such I sometimes stop along the motorways to pick up some nice cute bloke. Mind, I never stop for girls. With the exception of my mother and granny I don't like having women in my car – and even they can be a real nuisance, always complaining about something or another and giving instructions like: "Don't drive so fast!", "You forgot to give way", "Watch out, this is a dangerous turn", etc! Besides, having a boys-only policy increases the chances of getting some satisfying sexual encounter, as happened the other day.
I was on my way to the city of Liberec in my boyfriend's car – a Seat Leon. To be honest, it's a rather embarrassing model, since a Seat never looks very cool. My car was having a service, however; though at least my boyfriend had the sense to choose the turbo version of a Leon Cupa R. in black!
The guy in question was a bit of a scally type – aged about 25, with dark hair – and he was standing along a junction slip-road on the motorway to Liberec. I wasn't really in the mood for anything, to be honest, but he looked an interesting type so I decided to pick him up. He wasn't a very chatty guy, but it was clear that he was enjoying the powerful engine and the overall sound of the car. For all its faults, the deep gruff sound of a Cupra always makes me feel a bit horny, especially if I have a nice bloke sitting next to me. Needless to say, my hard-on was soon showing in my pants; and although the guy didn't actually say anything it was clear to me from his smile that he'd noticed it!
A short while later – and still heading out on the motorway to Liberec – he suddenly bent forward, pulled my cock free of my pants and started sucking me. It all came as a bit of a surprise given that we'd hardly exchanged a word by this point and I was driving at around 160km/hr! Nevertheless, I have to confess that I thoroughly enjoyed it and came within just a few minutes. What's more, he swallowed my entire load, then licked away the few remaining drops of cum as he slurped my cock clean. Thank God for that, is all I can say – after all, I'd have had trouble explaining cum stains on the driver's seat of my boyfriend's car!
I have to confess that this guy did a great job – made all the better by the fact that he asked me to let him out at the next motorway exit. That's what I like: a fast, anonymous and totally uncomplicated release of sexual pressure! If I remember correctly, his request to be dropped off were pretty much his only words at all. I don't know his name, where he came from or where he was eventually headed – but hey, that suits me!
I wish you all a lot of fun on your trips, wherever you go!
Kiss, Johan.
http://exclusive.johan-volny.com/