DJ ARON: BEAUTY AND THE BEAT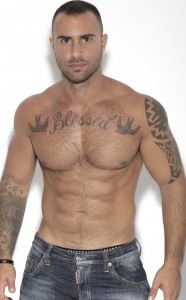 By Max Jiminez
Madrid, Tel Aviv, Milan… Checking in with DJ Aron and his appearances is like following a pop-star on a world tour.  "My sound is sexy and I never play the same set twice," he says.
Today, the Tel Aviv born DJ is recognized as one of the best young spinners in clubland.   He holds residencies at FFF in Israel, Circuit Festival in Barcelona, and he tours throughout Europe with Supermarxte.  He recently teamed with two-time-Grammy-winning artist/producer/DJ David Guetta, spinning Croatia's largest open-air festival.
Aron didn't just happen about the nightlife culture; he was among those submerged in the dance/trance decadence of Twilo and Sound Factory: the big name New York City spaces that drew out the pantheon of turntable Gods.  "I worshiped Junior Vasquez.  I used to stand next to his DJ booth and watch him in awe as he mixed."
Like Vasquez, Aron is not only claiming ownership of the dance floor, he is reinventing club culture by unleashing original remixes. His latest of Adele's "Someone Like You" is currently a dance floor favorite. Hints of Vasquez can be detected, yet Aron skillfully manages to incorporate his own unique sound into all his beats.
His production work opened the doors to the fashion world.  While living in Milan, Aron performed runway shows for DSquared and Frankie Morello, as well as a widely publicized after-party soiree for Armani in Barcelona.
It also helped Aron in his quest to be taken seriously as an artist, something he admits he had trouble with at the start of his career.  Many in clubland viewed the attractive DJ as a flavor of the month.  He recently told an American newspaper, "It was difficult for me to distinguish between those who wanted to work with me because of my talent and those who wanted something else."
His striking looks are hard to miss and when out of the booth, he enjoys letting his hair down and cutting loose.  Yet when it comes to his career, Aron holds firm that he wants to work with people who are attracted to him for his talent.
Would you be where you are today without your good looks?
Looks can open one door, maybe two, but after that, it's up to you to prove that you have what it takes to move a dance floor.  At the end of the day, people aren't coming to the club to look at the dj.  They're coming to dance their asses off.
You have said in interviews that your looks actually held you back in your DJ career.
I should correct that.  When I started my career, my looks were an asset because club owners liked that they could use my picture on their promotional flyers.  It was a good marketing tool.  But I feel it stunted my career because there came a point that I had to fight to be taken seriously.  I had to prove I was more than some model on a flyer.
What makes you a good DJ?
Some DJs do it for the money.  They just play and go home.  I put my heart and soul into my sets, mixing beats with raw acapellas to essentially building a new track in front of a live audience. I always keep my eye on the crowd. I never let them stop dancing.
You've landed some high profile gigs, including playing alongside David Guetta.
I've paid my dues.  I spent many years playing for a half empty floor as the warm up DJ for the main headliner.  It was not very glamorous but like any career, I had to start from the bottom and climb my way to the top.
We detect a bit of bad-ass in you.
Sure, I can be bad-ass but, I think, in a good way. I've been told I look intimidating but truly, those who get to know me realize I'm a nice guy.
What's your fascination with Junior Vasquez?
I wouldn't call it a fascination.
You have said you worship him.
When I started going to the clubs in New York, I would spend hours next to his booth, taking in the sound and absorbing the vibe that only a genius like Junior can create.
You have become known as a master of the mix as well.
I'm trying my best to reach the greatness of Junior.
Is there one remix that you have done that you can say best defines you as a remixer?
My new remix of Adele's "Someone Like You'' is sexy and strong.
Who are some of your favourite pop artists?
Definitely Adele and Rihanna.
Is there anyone you refuse to play on your floor?
I won't count out any artist but if the song is too commercial, I won't play it.
As an international DJ, how would you describe the nightlife scenes in the following cities?
London: London's got a fantastic vibe.
New York: NYC remains the capital of nightlife.
Tel Aviv: New, fresh, exciting…
Madrid: The over-the-top production in their parties simply cannot be beat.
What's ahead for you in 2012?
More remix productions for sure and this is the year I break into Asia!
Find DJ Aron at Facebook.com/djaronnyc.