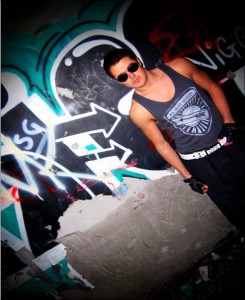 Dee Stokes is a singer-songwriter from Newcastle known for his writing skill and technique as well as his performances at numerous Pride events across the UK. As Dee gets set to take his talent around the UK in tour, we sent Ryan Houston to catch up with him.
I was actually first interested in Musical Theatre from a young age, but after doing it for ten years I started to feel like I needed a new challenge. My voice had always suited pop music better, and after I started learning the guitar and piano at around 18 I knew then that I really wanted to pursue pop stardom. I felt that song-writing and producing original music was a much greater achievement and also a greater challenge, therefore I felt like I would gain more reward through this. Music truly now is my one true passion and I literally do sleep, eat and breath every aspect of it!
Where does the influence for your music come from?
My music has always been commercially viable but I never sit down and say I am going to write a commercial sounding track. I always just write what comes naturally. If I was to sit at the piano and say, 'today I am going to write an amazing pop song', then nothing would happen. My best ideas and inspiration usually hit me when I least expect it! I like to think that I get influence for my music from all sorts of different sources. From locations I have visited, smells and foods I have encountered, people and other artists who have affected my life and of course the stories that I get out of my own personal experiences. I am very much inspired by any artist or person who has come from the shadows and conquered their dreams!
What's the best & worst thing about the music industry?
The best part, especially as an independent artist, is having creative freedom, and being able to create the music and sound that you want your fans to hear. Also it's the performance side, getting on a personal level with your followers and being able to get that buzz on stage! This part I love! The worst part of the music industry, is that its highly competitive, and with so many people wanting to be singers these days, and with so many ways of promoting your music online, you can find it very difficult sometimes to make your name and get your music heard.
You've performed at numerous Pride events around the country but for you where has been the best place to perform?
This may be me being bias as I am from the North East but I still love the crowd reaction I receive when performing at Northern Pride. It's always an amazing turnout, and even though it rained all day this year, there was still a massive crowd with an amazing atmosphere! The year I supported Basshunter and it was particularly special as it was the first Dee Stokes show I ever performed! This is one I will never forget!
What plans have you got for the future?
My plans at current are working towards FIVE potential singles so that I have a product to take to major labels, A&R'S and management, hopefully by Christmas. I am also getting together my live performance show-reel. You can also see from now and the New Year all my acoustic videos that I will be promoting, including reputable covers and original material. There has been a lot of exciting things suggested also about UK Tours etc.                                                              www.deestokes.com