Great Scot!
Adrian Gillan takes the high road for a queer cultural treat in Scottish capital, Edinburgh!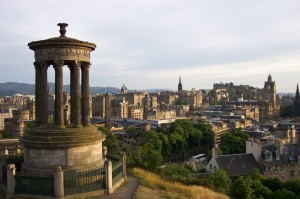 From medieval Old Town with Castle, Vaults and Royal Mile, to Georgian New Town with its stucco squares, this "Athens of the North" blends historic heritage with living culture and even boasts its very own well-nigh "inner-city mountain" – extinct volcano, Arthur's Seat.
SIGHTS
Check out the world's largest collection of Scotch whisky, at the Old Town Scotch Whisky Experience, near ancient St. Giles' Cathedral, the eye-teasing Camera Obscura and Writers' Museum. For art, visit the Scottish National Gallery, Scottish National Gallery of Modern Art and Scottish National Portrait Gallery. For history, try the National Museum of Scotland, Museum of Edinburgh, People's Story, Museum of Childhood, quirky well-nigh gory Surgeons' Hall Museum – or any of a host of informative, oft-spooky, walking tours out touting for trade!
Relax in leafy Princes Street Garden – seemingly a million miles away from all the shops just up on the road – in which park, if you muster the energy, you can also climb the Scott Monument for fab views. Tour the old Palace of Holyroodhouse and new Scottish Parliament nearby; plus check out the vibrant Dynamic Earth exhibition whilst down that way!
Take a leafy stroll along the banks of the narrow Water of Leith – stopping off at the picturesque Stockbridge district, plus the splendid Royal Botanic Garden with its mighty trees, hedges and glasshouses – to quaint old Leith itself, home to the majestically moored Royal Yacht Britannia.
Though Edinburgh used to share Pride Scotia in alternate years, Glasgow has now "hived off" with its own event, leaving the Scots capital to hold the event by itself every two years – normally in May/June. Edinburgh does, of course, host another fairly well known "Festival" – in reality, a clutch of fests – every summer! This may be the world's largest cultural event – the number of tickets sold exceeded only by Olympics and World Cup.
SCENE
Most of the gay action happens in the Broughton locale around folly-filled Calton Hill (with its Nelson Monument vantage) – up which great views abound, and men oft take airs; and, at the foot of which, pubs and bars keep pumping tunes and booze into the wee small hours.
The Blue Moon Café (1 Barony Street; T: 0131 556 2788;) boasts healthy, filling fodder and attitude-free staff serving all a boy could need. Ditto nearby Café Nom de Plume (60 Broughton Street; T: 0131 478 1372), adjoining the excellent LGBT Centre.
New Town Bar (26B Dublin Street; T: 0131 538 7775;) gets pretty busy, not least in its basement disco and 'intimate area'! The Street (2 Picardy Place; 0131 556 4272) sprawls out onto just that all summer long! Stylish Planet (6 Baxter's Place; T: 0131 556 5551) is a bit of an institution that goes head-to-head with buzzing-to-the-rafters Habana (22 Greenside Place; T: 0131 558 1270;) a few doors down.
Away from the main bustle, try Elbow (133-135 East Claremont Street; T: 0131 556 5662;), Frenchies (87-89 Rose Street Lane North; T: 0131 225 6967; ) or The Regent (2 Montrose Terrace; T: 0131 661 8198).
Two-levelled club CC Blooms (23 Greenside Place; T: 0131 556 9331) is the scene's mainstay cheesy bedrock, sure to press all the right buttons, night in, night out. For the more discerning clubber, sprawling basement GHQ (4 Picardy Place; T: 0131 550 1780;) hits the mark pretty much any day, Tues-Sun. Cabaret and drag bar Priscilla (17 Albert Place, Leith Walk; T: 0131 554 8962; ) adds a high dose of glam and glitz, not to mention glitter, to the scene.
Still restless? We doubt if any of the world's great cruising grounds can boast a classier name than the Royal Terrace Gardens – a long stretch of landscaped slope, brimming with lolling men. And few can claim the 360-degree panoramic, aforementioned manly vantage just behind it, up Calton Hill, with stars above and the Scottish capital's own twinkling lamps flickering away beneath. Alternatively, Steamworks (5 Broughton Market, T: 0131 477 3567) is one of several busy saunas in town, just around the corner from aforementioned Blue Moon caf. Ditto Number 18 (18 Albert Place, Leith Walk; T: 0131 553 3222;).
STAY & EAT
Stay at The Knight Residence (12 Lauriston Street; T: 0131 622 8120;) – 5-star serviced apartments, just beneath Edinburgh Castle, in the Old Town. Comfortable pads come in a range of sizes, all with friendly, attentive yet unobtrusive service.
Dine at the Rutland Hotel restaurant (1-3 Rutland Street; T: 0131 229 3402;), just off the western tip of Princes Street. After a drink at the stylish downstairs bar, tuck into reasonably-priced modern tasty takes on classic dishes, all using locally-sourced produce. Stunning service, plus epic views of the castle, and right down Princes Street! A treat!
Visit Edinburgh by East Coast trains, with standard advance returns from London starting at just £29. Why not treat yourself and upgrade to first class for extra comfort and East Coast's celebrated at-your-seat service? For times and fares, plus bookings, visit a staffed station, or call 08457 225225.
See more and save more with the Edinburgh Pass – the must-have sightseeing pass for visitors to Edinburgh – providing free entry to over 30 top attractions in Edinburgh & the Lothians; free transport around the city and airport transfer; and great special offers on sightseeing, shopping, eating out and entertainment.