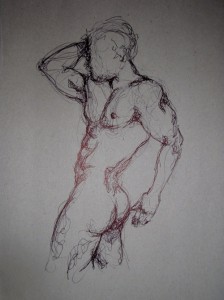 In 1958, when I was 21, a man seeking, by any method whatsoever, to meet another man was considered by the law of the land to be 'soliciting for immoral purposes'; the slightest sexual contact between males was called 'an act of gross indecency', anal sex was 'buggery'. Men were frequently convicted, heavily fined and even sent to prison.
At the time I met a man, 2 or three years older than myself, who told me about the Russian Baths in Leeds. They were part of the municipal swimming baths and could be found all over the city. These Russian Baths sounded like a dream come true. The very thought of seeing a man completely naked, whilst being naked oneself filled me with anticipation, as did the possibility of sexual contact in the steam room. My new friend offered me some reassurance when he said that "Cum just disappears in the sweat, steam and general wetness". The Russian Baths were a fairly civilised affair with tables and chairs from which you could order refreshments. There were relatively few bathers, perhaps ten in all, aged from late-teens to around 50. In those days most men sat on their towels rather than wrapping them around their waist. I feasted my eyes as two guys, completely naked, walked towards the shower-room door. A lovely sight! Beyond the shower room was a further door leading to the steam room. Over it there was a severe notice, advising bathers that anyone behaving inappropriately would be reported to the police, whose premises were just next door. The steam room was large enough for about 20 customers but as I peered through the heat and damp I noticed that only a few people were using the room. Soon I was alone. Then in came a lad, naked of course, who sat down right next to me. We talked.
He was twenty-one as well and delivered milk for  Co-op Dairies. Our knees touched… our hands wondered and my friend was correct – our cum simply disappeared. The whole visit had been a wonderfully liberating experience, in spite of the care and vigilance one had to show with every move. That was the start of my visits to Russian and Turkish baths, a sort of precursor to the current gay saunas, and my visits continued for forty years.
Eric, Leeds (edited)