Tellin' Tales – Terry George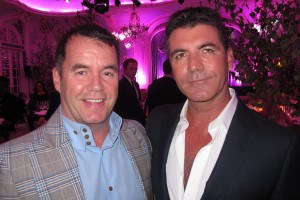 Some say that you should never meet your heroes because you may be disappointed, so it was with a good deal of trepidation when I met one of my all time heroes.
I'd been invited to a charity event at the Grosvenor Hotel in London to help raise funds for the Katie Piper Foundation an organization I knew something about but in all honesty, not a lot. Katie was a former model and television presenter whose career came to an awful end when she was the victim of an acid attack, an attack arranged by her ex-boyfriend and his accomplice. She was blinded in one eye and her face left badly burned and disfigured but thankfully, a team of brilliant surgeons rebuilt her face with skin substitute and a skin graft. You may have seen her recently on a Channel 4 programme called Katie: My Beautiful Face and her foundation now raises money and awareness to help other burns victims. Patron of the charity and co host at this event was none other than Simon Cowell a man who has been a hero of mine for some time and, like a little kid on Christmas day, I was keen to meet in person. Despite any doubts that were lingering in the back of my head we were introduced and he was – simply terrific. We chatted for a while and had a couple of photographs taken together. Once that trend was set, then everyone wanted their photo taken with him and, guess what, he could not have been more accommodating. He was smaller than I imagined him to be, and without being rude, looked exhausted, which I suppose isn't that surprising if you're one of the most famous people in the world and jetting all over the place. In the States he may have to be surrounded by minders but here, well he was superb, giving everyone time and a photo, eventually having to be dragged away by the organizers to eat his meal. I was impressed that at no point did he feel it was either beneath him or that he felt put upon and my estimation of the man rose with each passing second he gave to other people attending this fantastic occasion. Leona Lewis and the lads from One Direction were there to offer their support but, and heaven knows why I should have felt this way but, seeing Simon in his position work like that when, let's face it, he doesn't really have to, made me so happy and proud that he was one of my heroes. Especially when I think of some C-list celebs I've met who think they are someone and so full of attitude, The man is a proper gentalman and, the event raised £100,000 for the foundation.
Beautiful, (the book) by Katie Piper, is published by Ebury at £6.99.
To make a donation to the Katie Piper Foundation, please go to www.katiepiperfoundation.org.uk.
you can watch My beautiful face again at http://www.channel4.com/programmes/katie-my-beautiful-friends/4od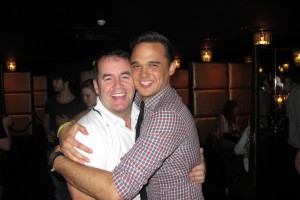 Back in my hometown of Leeds I was having lunch at Nando's when I spotted a face that I knew walk past the window. I followed him into the shop next door, and thought it would be funny to grabbed him by the arm and demanded, in my best store detective -like voice, to inspect his bag. The startled figure was my old friend Gareth Gates who I couldn't help but think I'd set him back in his work to ease his famous stutter. I could see the shock on his face, as he lifted his arm I though he was going to hit me but instead he hugged and kissed me and introduced me to his father and his beautiful young daughter, who I have to say is as gorgeous as his mother and father.  I felt awful as he struggled to get his word out. He was in the region to open his new theatre academy  in Bradford called Gates&Wilkes, both he and Robbie William's chum Jonathan Wilkes decided to form the academy as their wives had worked together as dancers for stars such as Beyonce, Robbie and Cher. He seemed very happy with the way his career was going and what the future held. I can only think of it as reveng as revenge because the next I was woken from my bed at 3am by a telephone call from Gareth he had just fineshe playing a gig at Leeds uni and thout it would be nice to bring a group of family with friends to my club, Mission, it was a bit random for a Monday night but I must say they all enjoyed the VIP lounge until the wee small hours and gareth reassured me I hadent permananty brought back his stutter back.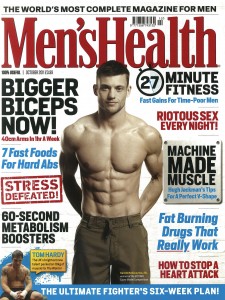 Talking of Mission, no this isn't just publicizing the venue, I want to say a big CONGRATULATIONS to Ned who was once the manager at the club. Ned, a nice but no one could call a well-honed hunk, is the cover star of the current Men's Health magazine. His real name is not Ned but Gareth Nedoszytko but because we already had a Gareth working for us simply became Ned, however, since he left us things have changed. He joined the police force in Scunthorpe and after once trying to restrain somebody and getting thrown to the ground, he decided to join a gym and start honing his body. After regular sessions at the gym and an even more hectic dieting regime he entered a competition run by Men's Health to find a cover model and he won. He looks superb and I can only advise everyone to grab a copy of the mag and see what this delightful, shirtless man has done to his body. He looks brilliant and I've decided that if I'm going to be arrested, I shall head for Scunthorpe and hope for the best. Well done Ned.