Chocolates and cheese, mountains and lakes, money and men: Adrian Gillan is far from neutral about the fab hiking and eating around Interlaken in the Jungfrau region of central Switzerland.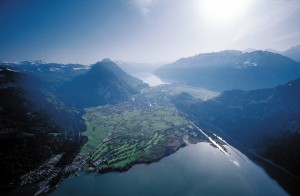 Not just one lake, but two! Not just two iconic mountain peaks, but three! Then dozens of fab eateries! Plus hoards of gorgeous local men, all shimmeringly healthy and aglow with their fine Alpine rearing!
In the very heart of Switzerland, nestling between two luminously blue lakes – the Thun and the Brienz – Interlaken (568m) is gateway to the whole Jungfrau Region, the ideal starting point for rail and hiking excursions on and around the world-famous Eiger (3970m), Mönch (4107m) & Jungfrau (4158) peaks.
Wintry fun on the white stuff is all well and good, but few things can compare to the blue skies and flower- and cow-speckled majestic mountain greenery – the breathtaking views, fresh air, and unspoilt nature – in store on these wonderfully summery Swiss slopes, every May-October.
Interlaken
Settle into the imposing 5-star Lindner Grand Hotel Beau Rivage (Höheweg 211; +41 (0)33 826 7007; www.lindner.de/en/LGHBR) near the main rail station; or arguably even more ravishing old-world 5-star  Victoria-Jungfrau Grand Hotel (Höheweg 41; +41 (0)33 828 28 28; www.victoria-jungfrau.ch).
The best, most thrilling and quirky way to get your bearings around Interlaken is on a Segway (www.segway.ch) tour, flitting back and forth across the gushing river and through the old town.
Mountains
Want to get up a high mountain? Then let the train take the strain!
Hop on the amazing Jungfrau Railway system from Interlaken Ost to Lauterbrunnen and, via Kleine Scheidegg, right up to Jungfraujoch (3454m) – Europe's highest railway station, celebrating its 100th anniversary in 2012. Disembark to enjoy ice sculptures in the chilly glacial Ice Palace plus restaurants galore – there's even an Indian one, to really hot things up! There's a special area for year-round snowy hill-top japes at the Snowfun Park, plus new attractions are opening all the time!
Take the lift up to the 'Sphinx' complex (3571m), whose viewing platforms afford great vistas of 'the big three' peaks, plus the 23-km-long UNESCO-World Heritage Aletsch Glacier – Europe's longest.
Factor in a short downhill hike between rail stations on your descent. A spot of solitary walking is truly the only way to 'feel the mountains' – maybe popping into the tiny 'Eiger North Wall' museum en route, which explains an intrepid, oft tragic and still-evolving, climbing history, with its sad rock memorials just outside, commemorating, quite literally, 'the fallen'.
Other top tips for great views of the entire Jungfrau region include the Schynige Platte (1967m), reached by easy train; and Harder Kulm (1322m) – Interlaken's 'home mountain', perched just north of the town, and reached via funicular, offering forest trails, a hotel with restaurant (www.harderkulm.ch), and panoramic views to die for! Put away your cameras! Photos could hardly begin to do this justice
Lakes
So much for the mountains! Be sure to check out at least one of the two big lakes. Hop on a Lake Brienz ferry from Interlaken Ost to Giessbach – ascending the world's oldest funicular, dating from the 1870s, to view the spectacular multi-level Giessbach Falls whilst sipping a drink on the terrace of the historic and atmospheric summer-only Hotel Giessbach (www.giessbach.ch), before returning to the ferry by a soothing forest path. Then hop on the ferry again – maybe even an old, renovated pre-WW1 paddle steamer – across to the town of Brienz itself.
A short bus ride from Brienz lies the incredible Ballenberg open-air museum (www.ballenberg.ch), featuring more than a hundred old buildings re-assembled from all over Switzerland, some dating back to the 14th Century. Demonstrations of local crafts evoke a vivid impression of rural life in days gone by.
Food
Take the Jungfrau Railway system from Interlaken Ost, via Lauterbrunnen, to Winteregg, to visit the small Staubbach cheese dairy to see how cheese is made, buying some to sample – taking lunch on the restaurant terrace there, slap bang in front of 'the big three', before enjoying a bit of local hiking.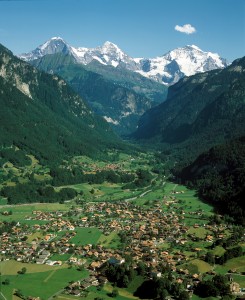 Back down in Interlaken, tuck in to local tucker at central Grand Café Restaurant Schuh (Höheweg 56, Interlaken; T: +41 (0)33 888 80 50; www.schuh-interlaken.ch); or at Hotel Alpenblick (Wilderswil/Interlaken; T: +41 (0)33 828 3550; www.hotel-alpenblick.ch) – boasting tasty cuisine from friendly Michelin-starred chef, Richard Stöckli. Try a nice 'rösti' (fried grated potato)!
The local guys are so handsome and charming, careful not to mistake such alluring friendliness for a romantic advance! Best fix an online hook-up first! Unless you're already happily married, that is!
For more information on Switzerland check out www.MySwitzerland.com or call the Switzerland Travel Centre on freephone 00800 100 200 30; alternatively, visit www.interlaken.ch or www.jungfrau.ch
SWISS operates daily flights from London Heathrow, London City, Birmingham and Manchester to Zurich. For reservations call 0845 601 0956 or visit www.swiss.com
For details of getting around Switzerland on its legendary rail system, not to mention bus and boat – including the great-value Swiss Pass – call the Switzerland Travel Centre on 00800 100 200 30 or visit www.swisstravelsystem.co.uk
Photos: 'Interlaken Tourism'