By Alex Wiggan
Slipping on underwear nowadays requires more thought than just a quick rummage through the 'undies' drawer in the dark.  In fact depending upon the sort of mood you're in, any downstairs stirrings that rise above six on the Horny-O-Metre will no doubt heavily influence what banger-hanger you opt for.  Going commando used to be the ultimate thrill when it came to teasing all the boys on crotch watch, but that was before switched-on fellas realised the true power of titillation thanks to the jockstrap!
Arguably the filthiest piece of clothing ever, the jockstrap is a modern marvel when it comes to providing a penile pulsating offering that gives just as much as it takes away.  Just think about its design, which is a piece of material that firmly grabs a lad by balls, whilst at the same time leaves plenty of room round the back to show off the perfect pert package.  It's like emergency underwear as it doesn't need to be removed and offers easy access for those wanting to get in and out without the hassle of having to tackle the tackle.  Oh claims can be made that the jockstrap was designed to offer sportsmen support in all the right places, but clearly this little knickerbocker glory was really invented so that saucy sports boys could show their arses off to one another (the lucky buggers).  With its 'no back to cover the crack' design it's like having x-ray vision without getting eyestrain and offers gift wrapped gonads and peachy posteriors all in one place.  In fact it's cheeky, mucky and just a little bit camp, making it the underwear equivalent of Barbra Windsor!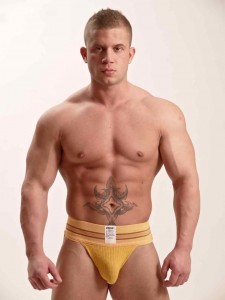 Obviously this type of wonder wear has transferred off the pitch and into the home and so it's no surprise that boys are choosing to pick up a schlong-thong instead of just boxers and briefs.  For this reason there are now many different types of jockstrap to choose from; from rough and tough nut-huggers for leather lads, to pouch pinching penis enhancers for guys who want that little bit extra where it counts.  Jockstraps also come in a range of different colours, but boys new to wearing jockstraps should be cautious about showing off their primary coloured pants to just anyone, as certain colours carry sexual connotations.  So for example, fuchsia is ideal for those who like spanking, whereas gold is all about having fun with a couple of friends.  Red is sure to bring a tear to the eye, yellow could require a towel and as for brown, well I'll let you work that one out, as it is what you think it is.  Whatever the intended use of the jockstrap there's one thing for sure; it's underwear that's more than just a place to store your nuts for the winter.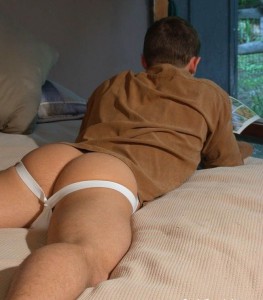 JOCKSTRAP TOP 5:
5 – Wearing a jockstrap keeps you cooler when working out as sweat evaporates more freely, allowing you to work up even more of a sweat than usual!
4 – The jockstrap is designed to offer support exactly where you need it during 'physical activity', so encourages you to get rough and ready with the boys.
3 – With different designs and colours jockstraps allow you to let your chosen strap reflect your changing mood (you kinky bugger).
2 – Having a jockstrap on increases the potential for your ass to be spanked by 100% (this is not a guarantee, but it's worth a shot).
1 – Wearing a jockstrap doesn't half make you feel one dirty little bugger.