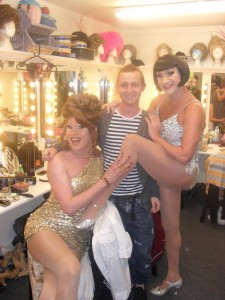 Drag Legends
Two of the country's top drag performers come together to celebrate the first birthday of Newcastle's Boulevard, where cabaret meets Broadway. Miss Rory, who has taken the Newcastle scene by storm as the face of Northern Pride working with a crowd of 16,000, will be the host and compere. The indestructible Betty Legs Diamond, a drag legend across the UK, leads the cabaret part of the show and is the lead choreographer at the venue. We sent Ryan Houston, minus his wig, high-heels and sparkly dress, to investigate.
What first got you involved in performing and drag?
Miss Rory: For me it happened by pure mistake, I met Greta LaMore, another Newcastle scene legend, and she pushed me into putting on a dress and performing. She really helped me and through progression as I got older… I am what I am today.
Betty Legs Diamond: I've been in this kind of environment since being 11 years old and I've been on the West End stage since 12. When I first started the money for touring drag queens wasn't very good so I decided to put an act together. I went to a club and said: "Book me". They of course said: "Haven't heard of you". So I made a deal saying if I don't get a standing ovation then they get a free show. They all agreed and at the end of show they all paid.
Betty what inspires your choreography?
Having worked with a lot of good people, you take something from each of them – it's not about copying what they do it's about taking different ideas and seeing how you can create something possibly better.
What would you both say to people that say drag is just about a man in a dress?
Miss Rory: To many people it is. There is no basis to back it up and it's just a guy in a dress playing music behind a dj box in a club, but fortunately that doesn't cut it anymore and that kind of act certainly doesn't last long. There's a huge difference to a performer and a drag act.
Betty: Everyone has their own opinions, the main problem is that people tend to see a really poor drag act and we all get tarnished with the same brush. For me it's a uniform and it's a job that I get paid quite well for. All I can say is; give it a chance and you might be surprised, there's so much that can be offered from a drag performance.
Betty if you had the chance to go back and do things differently as a career would you?
I really don't think I would change, there's such a brilliant team here at Boulevard and I've been able to work with some amazing people like Lily Savage and of course Miss Rory, who I honestly believe will become the next Lily Savage she is so talented. It's just a brilliant thing to do, no two nights are ever the same.
What's next for Boulevard Rory?
We have the Boulevard Summer Show, which runs until the 30th October so plenty of time for readers to come down and enjoy that. Then we have a special performance on Halloween, 31st October and then finishing off the year we have our Christmas Show, from November 17th until 15th January 2012.
For more information on Boulevard or to book tickets to one of the upcoming shows visit http://www.boulevardnewcastle.co.uk/