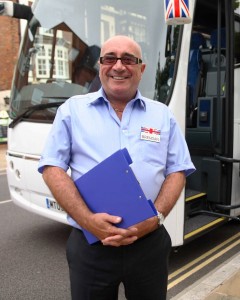 Out and about with Brendan
Brendan Sheerin is the much-loved tour guide star of Channel 4's teatime hit show Coach Trip, which is now into its seventh series and regularly attracts 2.5million viewers.
Brendan has won fans of all ages through his enthusiastic and comical role as the tour guide on Coach Trip and Celebrity Coach Trip. Packed with laugh-out-loud tales described in Brendan's unique voice, his autobiography is warm and charming. He spent thirty years travelling the globe as a tour guide before unexpectedly finding fame on Coach Trip. Bent grabbed the man before he embarked on the coach for the filming of his eight series to chat about his life, his book and of course…
How did you get the job?
I was working for Scarborough Council in their tourism department and ended up running the Spa, which is a big conference, concert venue… I was in my element as a gay guy running a complex like that, dealing with people you know what we're like… airline stewards are the same. Anyway, my old boss had received an email from a production company asking for people who worked as tour guides or theatre managers and she insisted that I apply saying she thought it was right up my street.
I filled in a huge application form and shortly after there were requests to go to London for an interview. At the time they were only thinking of a pilot because no one knew if it would work. In those early days no one had put cameras in a coach before or put sound equipment in before. We didn't know if it would be too noisy, whether the camera positions would work or anything really. Anyway the production company liked what I did but the tape was sent off to Channel 4 for their approval.  They said I'd hear back by Friday but on the Wednesday I was on my way back home and changing trains at Doncaster station when I got a phone call from the production company saying they'd found the person they want. I said I was pleased for them and thanked them for the opportunity to audition and said that if ever anything else ever came up let me know. She said, "No, no, no… it's you… it's got to be you." So, there I was at the station in a bit of a daze and my stomach churning and I suddenly thought "Oh God… what have I got myself involved in?"
How has the programme affected your life?
I was recently at Leicester Square Tube and the guy in the ticket office said; "Brendan we love the programme, I absolutely love it." And the thing is everyone loves the programme so I do get a lot of recognition. I always pose for a photograph and they always tell me their favourite bit of the programme or episode or remember who was a cow on which Coach Trip.
Who has been the biggest let down on the coach?
Well, we had two party girls from London who I thought were going to be a load of fun but they wanted to start drinking vodka at noon and I wouldn't let them. I told them that they couldn't be pissed for the vote as the other passengers could have objected wondering if it was how they felt or whether it was the drink talking. Anyway, we were in Vienna, one of the most beautiful cities in the world, and all they wanted to do was drink so… they fell out with me and left after twelve hours.
What about celebrities? David Van Day?
The Cheeky Girls were a lot of fun, the Chuckle Brothers are genuine blokes but David Van Day… he drove me nuts because every time you said anything he'd start singing a song about it. He drove everybody nuts but he was partnered with Tony Blackburn, who was such a nice guy but, when David got voted off poor old Tony had to go as well.
Is it just our perception or is there an abundance of gay guys on that bus?
We like a cross-section actually and we do have a lot of gay fans who watch the show so we get a lot of applications from gay and lesbian couples. We'll take any body (laughs) to me it doesn't matter it's nice to have a good representation of the people who watch Coach Trip. I only have to walk down Old Compton Street in London and I get screamed at by all the queens; "Hello Brendan we love the show."
What's the most outrageous thing you or your coach trippers have had to do?
I don't think it was outrageous because we do do a lot of funny things. Dressing up as a Roman soldier… that was fun…
Did you keep the gear?
All the leather gear (sigh) no I didn't… I had to give it back but I looked lovely as an Emperor … and apparently I have lovely legs… well so the girls said. The mud baths in Greece, they were funny. We did Burlesque in Holland and I had to ask the girl to put something over her breasts because she was just going to wear these tassels on her nipples and swing them around. I said; "We can't film your breasts love… you'll have to put a bra on." We do a lot of fun things and active things. I mean I feel incredibly butch when I'm white-water rafting or abseiling down a cliff.
In your book you talk about your early years growing up in Leeds. Can I ask you – you were a pretty, young, gay, catholic altar boy… do you think God was testing you and the priests?
No. The priests were really lovely. Cared and worried about their flock offering comfort and really getting to know everyone – who had a job, who was out of work, who might need a bit of help… everyone used to look out for everyone else. Don't get me wrong. The Catholic Church has got a lot to answer for but I can honestly say there was never a hint of anything like that where I grew up.
At what age did you realise you were gay?
Oh I think from about 11 or 12 I knew I preferred men to women. You know, when you watched the telly and these heroes would be on… Starsky and Hutch… or the gorgeous David Cassidy. I used to steal the David Cassidy poster out of my sister's Jackie magazine.
So, who was the first guy you kissed?
That would have been John, he was beautiful … stunning… a ballet dancer and we met in the reference library. I was about 15 and he took me down to the end of the books, away from the lady librarian and kissed me first… and I knew then. I felt ever so guilty on my way home on the bus I was sure everyone knew I'd been snogging with John and they were all looking at me.
You also talk about the man who you were together with for 25 years… the love of your life Les who was 15 years older than you. Did the age gap ever concern you?
No it never worried me. He was interested in travel and so was I and we seemed to have so many interests together but don't get me wrong, his friends warned me off a few times because I was a little chicken and thought I was just after him for what I could get. But it didn't work out like that. We fell in love and age has never been a problem… it's only a number and was never an issue with us.
Coach Trip series 7 is currently being broadcast on Channel 4 at 5pm, a series 8 is now under production and two special Celebrity editions are already in the can and waiting to be broadcast.
Brendan's autobiography "My Life" is published on 1st October from Michael O'Mara Books priced at £14.99