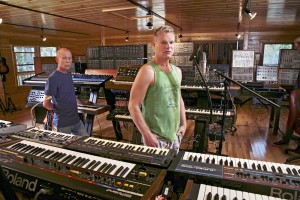 BENT ON… ERASURE
By Alex Wiggan
In the grand scheme of things, there are some moments in time when the stars align and we all become aware that certain iconic gay events were just meant to be.  Take for instance the moment when someone suggested that mixing gays with showbiz would be an award winning combination; it was a moment of pure genius!  Now think about that point in time when the first scally whipped off his T-shirt and donned a pair of trackies to create the perfect ensemble; it must have been a truly momentous occasion.  They were both magnificent achievements in the history of the gay world, but there was once a day unlike any other, when destiny truly went out of its way for something incredibly special.  It was a day when a chap called Vince crossed paths with a fella named Andy and shortly thereafter the world was treated to an electro-pop explosion, the likes of which had never been seen before.  That day took place in 1985 and ever since for over a quarter of a century the world has been fortunate enough to witness art, creativity and an ABBA themed drag routine all come together in one perfect pop package.  With hits such as 'Love To Hate You', 'A Little Respect' and 'Blue Savannah', this once in a lifetime occurrence could only have been for one group and that is the dynamic duo of Erasure!
Fun, colourful and camper than a week spent in a tent with John Barrowman, Erasure are the ultimate electro super group who have come a long way since their debut single 'Who Needs Love Like That' was first released.  To date they've sold over 20 million records, had 13 studio albums, four live albums and with the exception of the Transformers and David Hasselhoff's career, Erasure are one of the few great things to have survived the '80s unscathed.  Although their debut single didn't ignite the charts upon release, the talent of front man Andy Bell and writer/keyboardist Vince Clarke shone through regardless and the group continued onwards and upwards.  Their fourth single 'Sometimes' reached number two in the UK charts and it was at that moment that Erasure really broke through into the big time and found the success they deserved.  Like Beyonce belting out a tune, there was no pausing for breath and into the '90s they continued releasing song after song after song which also meant releasing a variety of bonkers videos.  Oh Lady Gaga might be the current queen of bizarre videos, but the floating blue hand in 'Blue Savannah' surely ranks as one of the strangest moments in pop history.  It was kind of like watching the appendage of a dismembered Smurf let loose in a Derek Jarman movie, yet 'Blue Savannah' was also one of their biggest hits!  This wasn't the only slightly obscure video the guys released, just check out their cover of ABBA's 'Lay All Your Love On Me', which saw the boys riding around a forest on gold motorbikes.  It was like a camp scene from the film Return Of The Jedi, only minus the Ewoks.  Come to think of it, if Luke Skywalker had half as much fun zipping through the trees as Erasure had then he might have embraced something a lot more fun than the dark side!  As for the video 'Always' Andy dressed in a kimono and danced around like an extra from Crouching Tiger, Hidden Dragon to one of their most beautiful songs ever.  It was captivating, emotional and it was exactly the reason why Erasure are a group unlike any other, because Andy and Vince were born to produce great music.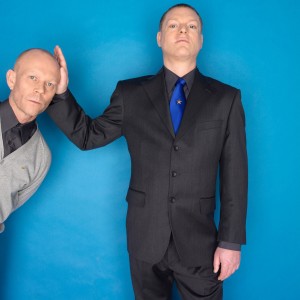 As time moved on Erasure continued to release new material, as well as the odd cover version here and there; they also toured a fair bit and amassed a huge following across Europe.  As well as this they produced a country & western album, Andy found time to work on a couple of solo projects and more recently he appeared on reality show Popstar To Operastar.  This has kept the pair very busy for the past 25 years and so it's no surprise that their fans remain loyal, with a work ethic like that the pair have put in more effort than a rent boy doing overtime.  However they're more than just men for hire, they're instead the quintessential British pop group; a mix of flamboyance, class and a heck of a lot of nudging and winking.  Without Erasure the electro '80s would have been less vibrant, the pop-filled '90s would have been less theatrical and the '00s wouldn't have had a cover of 'Solsbury Hill'.  Together Andy Bell and Vince Clarke are a powerhouse; an example of everything that is great about music, imaginative videos and watching two blokes having fun doing what they do best.  The stars don't align all that often but when they do they really create something special.  Oh and seeing Vince Clarke dressed in drag queen is surely a gift from the gods.
New Album – Tomorrow's World out 3rd October
ERASURE AND REWIND:
*In 1985 Vince Clarke posted an ad in the music newspaper Melody Maker looking for a lead vocalist to join him on a musical project.  That ad was seen by Andy Bell and before anyone could say electro-pop anthems, Erasure was born.
* Prior to the formation of Erasure Vince was a founding member of Depeche Mode and wrote the classic track 'I Just Can't Get Enough'.  After leaving Depeche Mode he later worked with Alison Moyet as a member of Yazoo, where he wrote 'Only You'.
*To date Erasure's only number one in the UK was courtesy of their 1992 EP titled ABBA-Esque, which featured cover versions of four Abba tracks: 'Take A Chance On Me', 'Lay All Your Love On Me', 'SOS' and 'Voulez-Vous'.  It's often believed that this was one of the catalysts behind the big ABBA revival of the 1990s.
*In 2007 Erasure toured with Cyndi Lauper, Blondie singer Debbie Harry and many others for the True Colours Tour to help provide support for the LGBT community.
*Throughout Erasure's career, Andy has always been open about his sexuality and in 2004 he publicly announced that he is HIV-Positive.
Erasure: Tomorrow's World Tour
12 Oct   Leicester, De Montfort Hall
13 Oct   Glasgow, Academy
15 Oct   Edinburgh, Corn Exchange
16 Oct   Newcastle, Academy
17 Oct   Grimsby, Auditorium
19 Oct   Nottingham, Royal Concert Hall
20 Oct  Manchester, Apollo
21 Oct   Preston, Guildhall
23 Oct   Wolverhampton, Civic
25 Oct   London, The Roundhouse
28 Oct   Southampton, Guildhall
29 Oct   Bristol, Colston Hall
30 Oct   Cardiff, St David's Hall
1 Nov    Cambridge, Corn Exchange
3 Nov    Reading, Hexagon
4 Nov    Brighton, The Dome
Photos: Dierdre OCallaghan/David Wade