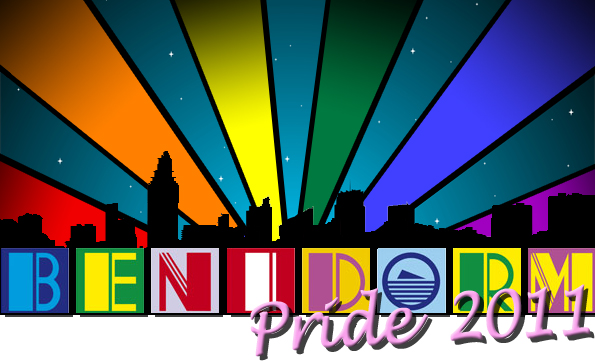 For those of you still hankering after further pride celebrations but perhaps in the sun – Benidorm – one of Spain and Europe's top gay destinations is to host its first Gay Pride scheduled to take place next month from 21st – 23rd October under the auspices of the Benidorm Gay Business Association (BGBA) and Benidorm City Council.
The BGBA, specially formed to organise the event Benidorm Pride – On the Beach ! – comprises many local bars and businesses and a host of volunteers, who plan to make this a major fundraising event for various Spanish charities.
Rather than have the event concentrated in one single location, activities will be spread throughout the Old Town area of the city. A main stage on the beach, adjacent to the "gay village" will be the entertainment focal point for the event, with several satellite stages set up in other accessible parts of the town, centred around the many gay bars, restaurants and a host of other businesses, each with their own programmes of entertainment and special offers, throughout the weekend.
With the inclusion of high profile acts from Spain, the UK, Holland and Germany, Benidorm's first Pride promises to be a truly spectacular international event!
The organisers, who anticipate an influx of around 5-10, 000 visitors said: "Benidorm has everything one could wish for, for a Pride event of this sort – miles of beautiful, award winning beaches, a fabulous climate, great scenery, uniquely 3 massive theme parks in the area, and a host of international restaurants, tapas bars, and pubs."