ALL THAT GLITTERS IS NOT GOLD…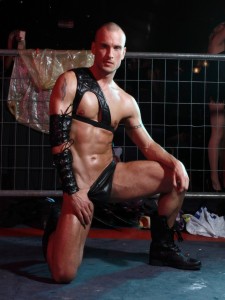 Following the massive success of the Justice Vogue Ball in 2010, Renowned Dance Company House of Suarez return with 'RUNWAY – The Death By Glitter Vogue Ball', which will stomp into the Black-E, Great George St, Liverpool on Saturday 1st October.
For one night only club culture meets high art in a dazzling battle for supremacy on the Runway. If you thought Harry Potter and Lord Voldermort had the ultimate fight to the death, you were wrong. This is the fiercest fight that you'll see in 2011 and it'll be the most magical one of them all.
Hosted by the one and only Rikki Beadle Blair, the Death by Glitter Vogue Ball promises a feast to the eyes and the senses. Glitter is the one thing on this menu, so get ready to splurge.
Filled with seriously sexy human specimens, bizarre creatures, lady-boys and everything else in-between when the Vogue Ball rocks up to put the bass back in your walk in what promises to be Liverpool's most glittering event of 2011.
A dance form popular in the 1970s and 80s, Vogueing began in the New York gay scene as a non-aggressive battle between two feuding individuals or group (houses) who chose to use dance instead of violence to settle differences. Vogueing often imitated the perfect lines and flexibility of model poses seen in fashion magazine such as Vogue, from which the dance got its name. No touching was allowed during vogue challenges, even though dancers would often become intertwined in each other's extended arms, legs and hand moves. The Voguer with the best dance moves was declared the winner of the battle. There were different styles of the vogue, including pantomimes or moves imitating the challenger. The Death By Glitter Vogue Ball will showcase this stunning form of dance, which is now synonymous with Madonna's massive 1990s hit 'Vogue'.
For a short video introduction to Vogueing and the Vogue Ball, check out http://bit.ly/oRwgbA