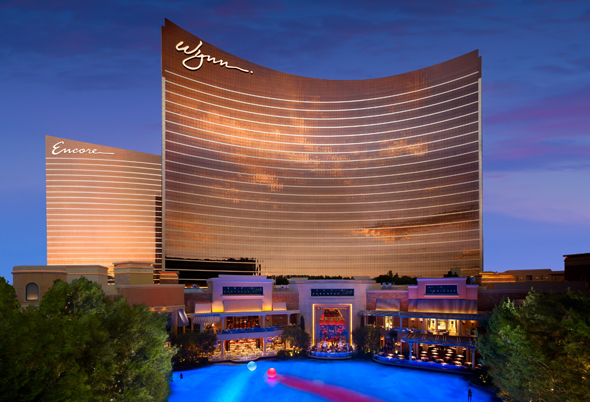 Words and photos by Mark Hawkins
At the very top of my imaginary list of perfect holiday destinations was a place unlike any other, a place where you can go to the top of the Eifel tower, ride a gondola down the canals of Venice, see the pyramids and even become a pirate all within one city… yes the glittering lights of Las Vegas were calling to me.
This is a place for grown-ups and I was damn well going to enjoy myself. My journey began with a 10-hour flight from London (LHR T5) as Pam Ann would most likely point out. She would have been overjoyed as the plane filled with copious amounts of young men out on Stag do's with free In-flight booze… this could get interesting. So much so that half-way through the flight they announced they had run dry due to the excesses of the young and restless.
Nothing can prepare you for the most staggering part of your arrival… the heat. When you see the city it's easy to forget you're in the middle of the desert but 35-40 degrees hits you like you've been thrown into a hot oven.
However, you soon forget about the heat when you arrive onto The Strip and see the magnificent hotels, well just to call them simply hotels I think would be an insult.
I had the extreme pleasure to be staying at the Encore Tower Suites where each guest is treated as if they had just won a million dollars in the casino. The suites are stunning with a view of the Strip to match. Encore, along with its sister tower Wynn, is a fantastic resort complex with casinos, delicious restaurants, designer shops, theatres, world famous nightclubs and the only 18-hole golf course on the strip.
Meeting my fellow journalists for breakfast, pancakes and maple syrup in "Society Café" at Encore was a real treat, yet another place that reflects the quality of the hotel. It didn't take long for polite conversation from us all to become hilarious yet totally inappropriate. We all seemed to get on so well, I knew this trip would be – faaaabulous darling!
Another fascinating treat – we were given a resort tour from "Roger Thomas" who designed both Wynn and Encore. In addition to this success, his designer portfolio consists of most of the major resorts on the strip making him the Flamboyant Gay Man who was friends with Sinatra… and designed Vegas.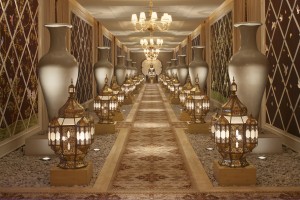 All this exhaustive hard work meant we needed a break and the Spa at Encore seemed the perfect solution; from the moment you enter you feel relaxed, it's the closest I've ever come to paradise. We were offered a 'Senses of You' massage; 90 minutes of pure bliss, I never wanted it to end. I was slightly startled and titillated to discover the spa was a bathing suit optional facility, plenty of looking but no touching still… all this in the name of journalism.
But there was work to be done. The limousine waited to whisk me off to the next titillating encounter; Caesars Palace adultesque acro-cabaret variety show "Absinthe". This is a must see if you laugh when someone makes a penis joke or you just want to see two men in Lycra shorts contorting themselves into homoerotic positions, I will let your imaginations fill in the rest. It sounds a strange concept but I have never been so excited watching a show in all my life. Meanwhile, keeping things moving, there was a woman attached to a man with a rope around his neck, while he spins her… while roller-skating… on a small stage… very fast… it was fantastic. Like I said, a 'must see show!'
One of the latest additions to The Strip is 'The Cosmopolitan' and the name says it all. If your casino winnings can't reach you to the heights of exclusive Encore Tower Suites, then The Cosmopolitan is the place to be. I felt so comfortable here. The atmosphere felt electric with such a young clientele; a superb modern resort that bypasses the traditions of Vegas life and brings you contentedly into 21st century.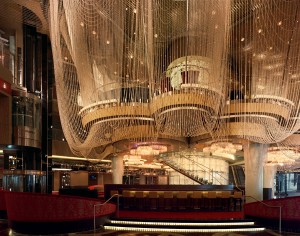 The resort also offers an extremely unique bar "The Chandelier" a 3-floor floating balcony bar surrounded by draped crystals that gives it its name. You can receive table service with an impressive and imaginative selection of cocktails but just gawping at its sparkly splendour was enough for me.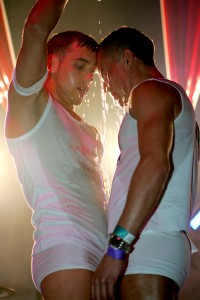 From the elegant to extremely cool; "Krave" at Planet Hollywood, has to be the best gay nightclub in Vegas, be prepared to queue for the privilege but it is so worth it! From the funky house music to the go-go boys on stage who look great in their Speedos but even better when they are wet from the shower-show they perform – you can't help but let your imagination run riot. But with the plethora of cute boys around you won't have to let it run far. This is truly the throbbing heart of Las Gaygas.
As the club is open until the very small hours you may still be awake at breakfast like a few of my new found journalist friends were. A perfect morning-after pick-me-up would be "Payard Patisserie" at Caesars Palace where in addition to the fabulous selection you get a little chocolate truffle treat at the end of your meal.
You may be asking yourselves about the debauchery associated with Vegas and all the famous 'drunken' weddings? Well, you may be surprised to know it's not how it's portrayed on TV. Weddings are taken very seriously here as we found out on a little trip to the "Viva Las Vegas Wedding Chapel" where we were kindly given a tour by the gay couple who own and run the chapel. With the opening line of the tour, "I've just got changed as 5 minutes ago I was dressed as Mr. Spock for the last wedding." You may think as gay marriage is not currently legal in all of the US, why is this important. Well, a high percentage of their customers are commitment ceremonies between gay couples and yes, Elvis himself could be the one presiding over your special day.
Now if you enjoy the drag diva glitz and glam of Cher, Madonna, Whitney or Celine to name but a few, Frank Marino's 'Divas' at the Imperial Palace is totally camp and fun to watch.
Finally, what better way to end a stay in a fabulous resort than at the extraordinary "Official Flaunt Party at Encore Beach Club" on a Sunday afternoon? Dressed in those all important Speedos, this gay friendly, sexy afternoon club-night, has the best atmosphere and man-candy for your ultimate viewing pleasure.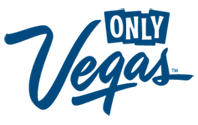 With Thanks to

Las Vegas Convention and Visitors Authority (LVCVA)

T: 020 7367 0979
Flights
British Airways offer daily flights from London Heathrow to Las Vegas from £867.93 per person (15 July to 21 August 2011), £688.93 per person (22 August – 23 October 2011) or £654.93 per person (based on low season from 24 October onwards).
Accommodation:
Encore Tower Suites
3131 Las Vegas Boulevard South
Las Vegas, NV 89109
T: 001-702-770-7300
Best Places to Eat
"Society Café" at Encore
"La Cave" at Wynn
"Sage" at Aria
"Border Grill" at Mandalay Bay
"Jaleo by Jose Andres" located inside The Cosmopolitan Hotel
"Payard Patisserie" at Caesars Palace
"Sugar Factory" in Paris Hotel
I travelled from Leeds to London by rail with East Coast Trains: advance return fares, booked online, start from £26 Standard Class or £79 First Class.
I would also like to say thank you to R&R Partners, Rooster PR and Leila Stocker for inviting Bent magazine on such a fantastic trip.