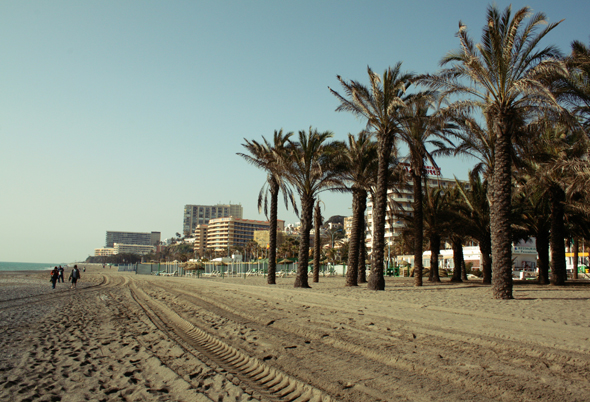 Roll over Gran Can, make way Sitges! Adrian Gillan has his preconceptions shattered in overwhelmingly gay-bloke-teeming Torremolinos – Spain's "big gay secret"!
Inland hills swoop down to an old town, itself nestled on cliffs above Mediterranean beaches! Jewel of the Costa del Sol, just west of Malaga in southern Spain – a stylish haven for the likes of Sinatra until the jet-tourist boom of the late '60s – Torremolinos is more intimate than nearby, larger Marbella.
More to the point, Bent is delighted to report that Torremolinos is, in fact, Spain's "big gay secret" – brimming with mucho macho locals in-the-know, perhaps the Spanish mainland's third largest scene after Madrid and Barcelona! Though maybe not as picturesque as Sitges or Ibiza Old Town, it boasts year-round sunshine and amazing beaches, plus loads of bars and horny Spaniards – and all just a 10 minute direct rail ride from Malaga airport! Perfect, even for a mere long weekend!
TO STAY
4-star Meliá Costa del Sol (Paseo Maritimo 11; T:  +34 902 144 440;) hotel is situated on the classy, central Playa de Bajondillo, slap bang on the waterfront, with all 500+ rooms boasting a fab sea view. Ace pool, restaurant and spa centre too. Close to scene, beach and rail.
TO SEE 'N DO
Beaches – take your pick! Try Bajondillo, Playamar or Los Alamos with beach-bars for the young, mainly local hunks; or try the tad more family-orientated Carihuela stretch, awash with eateries.
'Old' Town – Romans, Moors and Christian knights may well have been in the area centuries back, but 'old' now mostly hardly predates the 1950s! That said, you'll find a medieval watchtower dominating cutsie Plaza Miguel. Watch out for a local history museum, set to open within months.
Botanic Gardens ('Molino de Inca') – peaceful haven, away from the beach, full of lush plants, old mansions plus working water mills! The nearest thing to being out of town without leaving it!
Battery Park – recently-renovated parkland, complete with old artillery guns that used to defend the bay. From the viewing tower, spy the Sierra Nevada – even Gibraltar, plus Morocco, on a clear day!
Aqualand & Crocodile Park – just inland, a tad north of centre, for kids and the young at heart!
TO BOOZE 'N CRUISE
Gay life in Torremolinos is hubbed around one eminently strollable central Nogalera district block – a kind of 'mini-Yumbo', and no less nice for that. Whether a bear, a drag, or just plain trendy: there's something for all! And think local! Less of those dodgy tourists you find hogging Sitges, Ibiza or Gran Can! Brace yourself for some serious Spanish passion! As ever in Spain, disco nap first – then dine from 10pm, booze from 1am, dance from 3am! With at least two-dozen venues, here's a mere taster…
Start off at the El Gato Lounge, a buzzing waterfront gay bar that sprawls right over into a terrace on jokingly-named Banana Beach, itself generally brimming with shirtless gay male torsos. As night falls, head under 5 minutes' walk back up the steps towards the Old Town and the gay Nogalera block to check out the likes of minimal style-bar Wow, cosy B-Bar run by friendly couple Neil and Dave, cruisy Men's bar, bear-brimming Bacchus or drag-teaming Morbo's – to name a very few!
If you fancy a bop into the early hours, start at youthful Parthenon club, with its basement disco; then move on to spacious, recently-open Home, before ending at massive Passion. Dark rooms all-round!
"Restless" by day? Then, apart from aforementioned El Gato and Banana Beach, let off steam at Sauna Miguel (Av. Carlota Alessandri 166). Otherwise, Guadalmar Beach, back towards Malaga, is full of male nudes. Contramano (Calle Danza Invisible, 3) shop sells boy-toys, vids and things.
OTHER USEFUL CONTACTS
Leading leisure airline Monarch offers year-round flights to Malaga (just 10 minutes by rail between Malaga airport and Torremolinos) from Birmingham, London Gatwick, London Luton and Manchester airports with fares, including taxes, starting from £37.99 one way (£61.50 return). In addition to year-round low fares, Monarch also offers a great range of products and services, both on the ground and in-flight. All customers are allocated a seat at check-in but, for those wishing to select where in the cabin they sit, seats can be pre-booked at £7.99 per one-way flight, to avoid the last minute free-for-all experienced on some other airlines; or, for only £17.99, extra-legroom seats are available, which offer up to six inches of extra space. Passengers travelling on scheduled flights can also avoid the queues at the airport and take advantage of online check-in which is available between 18 days and 4½ hours prior to departure. A wide selection of tasty hot and cold meals can be pre-booked or purchased onboard, with prices from £3. In addition to flights, Monarch also now offers a huge range of great-value holidays, hotels, car hire and travel insurance.
---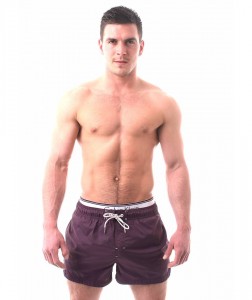 Calvin Klein Men's Swim Short – Aubergine
£45