Sauna: First Time July 2011
Bent asked its readers if they wanted to share their experience of that first ever visit to a gay sauna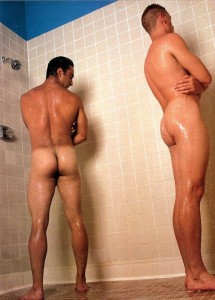 My First Time
My first experience of a gay sauna was in Austria. It was about 10 years ago and the place was fantastic, over several floors, with nooks and grannies, dark-rooms and the usual assortment of showers, saunas and Jacuzzi's. I was 25 at the time and although it was my first ever visit I was fairly confident about myself and had explored and enjoyed a few of the things (and people) on offer. Eventually, taking a break, I wandered into the TV area for a bit of a rest. There was only one other guy sat there watching some porn, he was quite hunky, had a great body and was just wrapped in a little towel. I nodded to him as I sat down next to him and he nodded back. After a few minutes of vaguely watching what was on the screen I noticed that his towel had 'dropped' open to reveal a thick and semi-hard dick. To be honest, I was bloody impressed, he was a lot bigger than me and I noticed he'd noticed me looking. His smile told me I could explore further so got down on my knees, you know, just to check it out even more. It didn't take long to get it fully erect and he was more than a mouthful for me. He suggested we adjourn to a private side room where he pulled on a condom, theatrically lubed it up until it was shiny and slippery in the light, then lubed me up. Fifteen or so minutes later he'd finished with me but I was still as hard as nails. Smiling at my still hard dick he wondered off leaving me like that. As I wondered out of the room a young, slim hunk caught sight of my excited state and pushed me back into the room, lubed himself up and insisted (without using any words I might add) I shag him. I was more than happy to plough his little butt for about half an hour. It was a pretty good introduction to the pleasures of gay saunas and I've used them all over the world thanks to that first and hectic first time.
Simon, Cambridge
---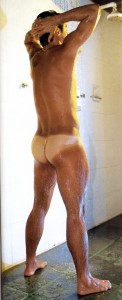 My First Time
My first time at a gay sauna was not as successful as your other correspondents. In fact it was bloody awful because I was just so nervous.
Like most guys it took me a while to pluck up the courage to go to one in my home town. This was quite a number of years ago and the place was an absolute dump. I stuck to the manky wet floor in places and wasn't sure if it was just damp or something else. Thank god Health and Safety and real investment has gone into today's saunas, they are absolute palaces in comparison to that first experience.
Then, I paid my £10, collected a rather thin and tatty towel and shoved my clothes in a locker, which I have to say appeared to be the only thing that worked because, even though there was plenty of guys (I like my men older and hairier than me) on offer, my dick just refused to rise to the occasion. No matter how much stimulation was offered, and there seemed to be plenty of guys around offering a helping hand or mouth, I just couldn't maintain a hard-on. It was strange that as one guy gave up, another, confident soul would step forward and give his all but alas to no avail. I think I became a bit of a project by the other punters and I thank them for their persistence but because I was so scared it was never going to happen. After about two hours of trying and failing one guy, brandishing a bottle of lube, suggested I just flip over and let him try a different approach. I ran out of that place so fast I hardly had time to pull on my pants.
Thankfully, my second, third and subsequent visits have all been quite exhilarating and I even met a past boyfriend in the Jacuzzi. That was the start of a whole new exciting episode in my life.
Paul, Leeds
---
Send your first time experience to: editor@bent.com