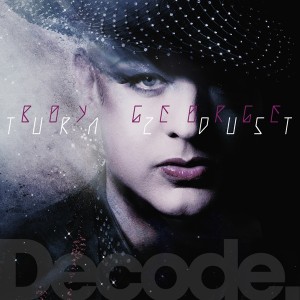 Boy George releases a re-mix version of his Ordinary Alien album track Turn 2 Dust on the 5th September followed a week later on the12th with the release of the reggae remix package.
On this political and highly emotional track Boy George sings "Chi Chi man everywhere you turn" – addressing the growing lack of tolerance towards gay men and women and asking for all hatred and ignorance to 'Turn To Dust'. Says Boy George: "I like to write songs that have a message and not just put your hands in the air kind of stuff. I still believe a great song with a strong message can be life changing!"
Now his record company Decode are to release the remix package of Turn 2 Dust – consisting of mixes from rising superstar DJ/Producer David Jones, and up and coming producer duo Bootik (Bartosz Brenes & Timofey Reznikov) – with additional remixes arrive from scene star Kris Di Angelis who delivers his own diverse slant on George's original.