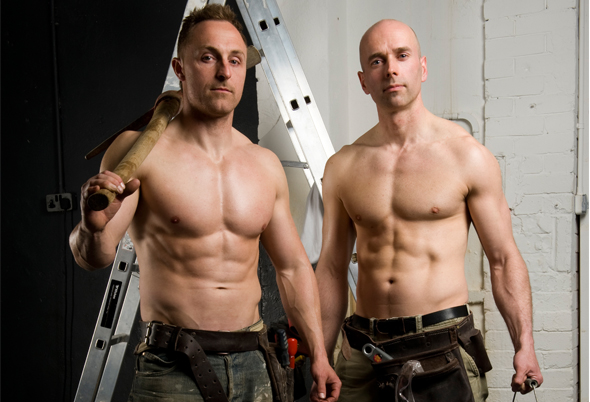 For many gay guys the fantasy of hot, sweaty and gorgeous workmen is just about the epitome of manly lust. Muscles bulging, chiselled features creased under the intense concentration as they go about their business, but all the time, the hint, the thrill, the hope that maybe… just maybe…
Let us introduce you to "Buff Builders" who are – Stephen Cranford, 39, a former career police officer during the 90s but who has been working in the construction industry since 2000. He once entered Mr Gay UK, and came second in the Brighton heat. He lives with his long term civil partner Paul, and their rescue cat Henry. His on the job partner is Pete Stone, 34, originally from Leighton Buzzard now lives near Worthing with his partner and their young family. Together, and with the occasional small team of helper, they make up Buff Builders a Sussex based group of guys who can provide DIY, gardening and light building work on an hourly basis… with their tops off. Needless to say, this type of service has been very well received. So, who exactly came up with the idea?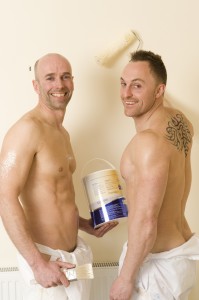 "I came up with the idea," enthuses Steve. "I used to work part time for a company called "butlers in the buff" – where I used to work virtually naked serving drinks and nibbles to drunk women at hen parties! Many of the clients (who were usually women) would ask me whether I worked full time as a butler. When I replied that I worked in construction, many of them thought this was wonderful, and asked whether I could work for them "dressed like that", i.e. with no shirt on. I also knew the attraction of handsome tradesmen: I remembered when my partner and I had a tree surgeon round to cut down a tree in our back garden. He was stunning, muscular and blond and worked bare-chested. We couldn't believe our luck and ogled him through the kitchen window. So I knew it would be appealing to provide a bare-chested handsome muscular handyman service. So with a friend Pete (who I knew from my gym) – Buff Builders was born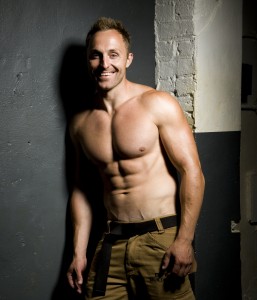 Were you already 'buff' or did you have to work on it?
I had been a gym goer since I was 18 – I used to be a police officer before I left to work in construction – but since being a Buff Builder I've focussed a lot more on the training and dieting. When you know you're working with your shirt off, it does provide you with an incentive!
Do you have a fitness regimen?
It's mainly weight training. I aim to train 4 times a week, with a structured weights programme. I don't tend to do any cardio work – with a physical job we don't tend to need it!
Do you travel all over to work?
We're based in Sussex, but would travel further. We have done jobs up in London, but most of our customers are in the Brighton area.
What are your rates?
We charge £30 per hour, per man. It's actually competitive compared to other handyman services – and with us you get a skilled gay or gay friendly handsome bare-chested tradesman – no other service and offer that – plus we invite you watch and take photos!!
What else do you get asked to do?
We are very strict that there are never, ever any "extras" – and there never will be. We have a scrupulously clean reputation. One of our guys was asked to work naked in someone's garden. The price kept going up and up, but we continued to decline! However, we can perform other duties if you don't have any handyman work to do. We get asked whether we can help out at parties, serving drinks for example, when customers simply need some bare-chested hunks!
Since your appearance with Alan Carr… how has things taken off?
Ha ha! Appearing with Alan Carr for Comic Relief was one of those examples when we were hired for our looks – so the viewers didn't know we were the "buff builders"! We did star in a Channel 5 series last year called "White Van Man" – we were expecting to be inundated with work after that programme, but we weren't!!
Have you thought about franchising the idea?
One of the first things we did was to trademark "Buff Builders" with the government's Intellectual Property Office… we have had a few work enquiries from around the country, but so far it hasn't been enough to warrant setting up a franchise, although it's certainly in our thoughts. Our biggest battle is to find suitable guys to work with us. Obviously the handsome looks and fit muscular body are a given, they also need to be skilled … but the biggest concern is that they're the right personality too, charming and gay friendly. Because most of our clients are gay men, we pride ourselves that Buff Builders are genuinely 100% gay friendly. If anyone thinks they're a potential candidate, get in touch!
Buff Builders… what else can you knock up for me?
We get asked to do all sorts of things – usually we can oblige. If there any jobs we can't do, or don't have the correctly skilled guys we won't do the job. Try asking us and see what we say!
OK, so you've got your shirts off but what undies can we see as you bend over or stretch for that just out of reach item?
Both Pete and I like the tight trunks/hipster style. Pete's favourite brand is G Star, Mine is Calvin Klein. You can often see a glimpse of a branded name band popping up above our trousers! We tend to wear the same at work as we do for pleasure. Sometimes though, if the weather's really hot I have been known to go commando!
Buff Builders mobile: 07988 298 387