Terry George – Telling Stories – Kirkpinar Oil Wrestling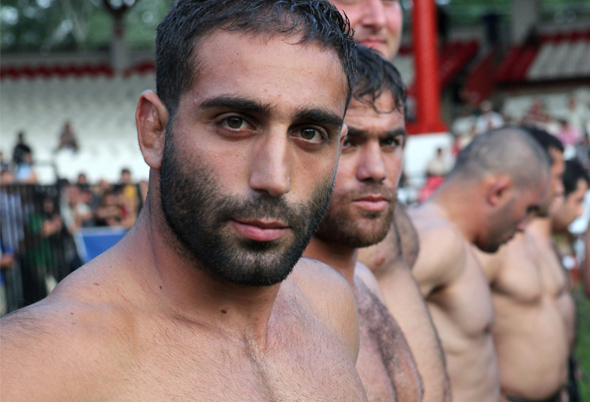 It's deemed as one of the most unusual sporting events in the world but I love it. Although unfortunately I don't think we will see it at the 2012 London Olympics.
I'm talking about the 650 year-old tradition that is, the Kirkpinar Oil Wrestling Tournament. It's where Turkish men get together and toss each other to the ground. I seem to have become fascinated about this annual event and couldn't resist another trip to Edirne in the North-west of the country to photograph and enjoy this spectacular.
Edirne is a fascinating place and was awarded the title of European Tourist Destination of Excellence by the EU Commission. So after the Turkish Oil Wrestling it's worth a day seeing the sights.
This is a competition where the young (and not so young) men of Turkey come to prove themselves in the arena by a series of challenging wrestling events. What makes this infinitely more spectacular than anything the WWE can offer, and is as tough as cage fighting, is that it involves hundreds of athletic competitors in peak condition, wrestling in bespoke leather shorts (often customised with engravings and studs) while covered in olive oil.
For the uninitiated the rules may be difficult to fathom but basically you grab your opponent, at any advantage point you can, try and lift him up and throw him to the ground until they submit. Wrestling clubs from across the country send their best men and boys (yes they start them young here) to compete because such is a win in this particular arena, fame is guaranteed and the club profile is dramatically enhanced.
The week-long event also features music, food and a few other sports but it is the oily men who attract the crowds. At times it may all seem a bit haphazard but it is a sport that has great honour for the winners and for the ultimate, the man who conquers all, he wins a gold belt that has been paraded through the town, to cheering crowds, before the event.
Each year the festival seems to get much bigger, with more and more visitors desperate to witness this oily clash of the Titans and as such, it becomes even more difficult to get access to the wrestlers themselves. This year the President of Turkey paid a visit so security was unbelievably tight but, you know me, never let a restricted area stop you getting that all important photo… I managed to click off some remarkable images.
---
Heathrow Express is the fastest, most frequent way to travel between Heathrow Airport and Central London. Trains depart every 15 minutes from London's Paddington station with a journey time starting at just 15 minutes to get to Heathrow Terminals 1 & 3 and a further 6 minutes to Terminal 5. Journeys to Terminal 4 take 25 minutes. Tickets start online from £16.50.
[photospace]