Sauna: My First Time – Harrogate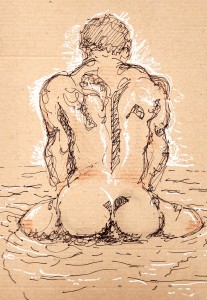 I've only recently started to go to a brilliant place near my home town. I'd read online about these places and the idea really appealed to me but I thought that they'd be awful dives and the only good ones were abroad or in London, so was pretty made up when I found one so close by. I was worried at first that I'd see someone I knew, or even worse that someone would see me and tell my family. I'm 18 and still live at home but eventually I got over that and thought that they'd be there for the same reason I was so what did it matter.
Anyway, after the guided tour I was amazed at just how many guys there were around and was even more surprised that I'd got nods off quite a few guys as I'd looked around. In the sauna I happily took my lead from the four other men laying there and removed my towel and spread myself out. I closed my eyes and within minutes felt a hand stroking my body. The warmth was really nice and the touches were gentle and I got a hard on. Lips serviced my dick as fingers searched my body and I was in nervous ecstasy right off. After that I toured more of the complex and everywhere there were men, some cruising and hoping, others who had already succeeded and were enjoying a sexy session. One guy asked me to go to a little room with him but I said no as I wasn't ready for anything in private (I was worried that something might happen to me that I couldn't get out of) but we still managed to play around in a sort of public communal room where I experienced my very first rimming.
Terry, Harrogate