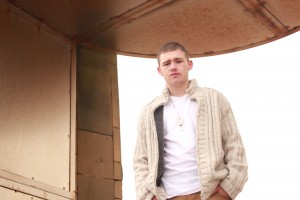 Rob Eagle is a talented young singer/songwriter from Blackpool. He has set his hopes high with his new album, The Clue to Life, and we at Bent thought we'd catch up with him to chat about ambition, inspiration and fame.
You're quite young, aren't you? How do you think fame and success might change a young person?
I am 17. I understand that fame at a young age can change a life. Not least because of how busy it would make you. But I hope I'd be strong enough not to let it control me.
If I was to become very successful I'd deal with it the way I do now by continuing to work hard and by bringing good music to people. I believe no one is perfect and that you can only get better at what you do by taking each step as it comes, no matter how big you are. Right now I need to concentrate on getting my music heard. I need to keep working as hard as I possibly can to reach that dream.
When did you first realise you wanted to make music?
When I was 10 I attempted to write my first song, which I never finished. Then again at 14 I had another go and this time I finished. This I recorded at a local studio when I was 15, which gave me my first taste of life as a recording artist. I uploaded that first track to YouTube as a promotional video clip, to see if anyone was interested in what I had to offer as a singer. I've continued to write my own music, which I believe is very important. I have since returned to Bluebird Studio to work on the project that would become The Clue to Life album.
Who are your musical inspirations?

I am a huge fan of Chris Brown and really like all his work. He's a very talented dancer as well as a singer, and he has learned from his mistakes. He kept going even when he was hated and picked himself back up, which I respect him for. He knew he did wrong and he paid for that. He got punished and then bounced back, just as Rihanna did. I think it's made both of them stronger as artists, and I appreciate that. I think as an artist you have to be willing to admit your mistakes and grow from them, but it's important also not to let them drag you down.
I also like male solo artists like Usher and Michael Jackson, and I love The Script's style of songwriting. The feeling with which The Script write and the depth of their lyrics are really inspirational to me.
What are the last three tracks you listened to on your iPod?
'It Girl' by Jason Derulo, 'Dirty Dancer' by Enrique ft. Usher & Lil Wayne, 'Heart Skips a Beat' by Olly Murs.
Where do you see yourself in five years' time?
I hope to be a major recording artist performing at big arenas and collaborating with major artists. That's a big dream, but you have to dream big if you hope to get anywhere.
Photos: JKRPhotography