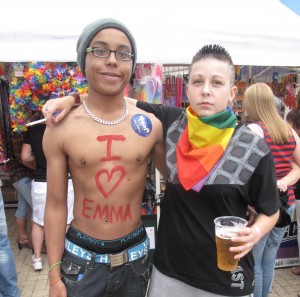 Pride on the move
This year Doncaster Pride has moved from the Racecourse and will be taking the event to the Keepmoat Stadium. Some thought that last year's brilliant Pride was perhaps a little straggled under the immenseness of the venue so -visitors will have the Lakeside area in which to picnic; great shopping at Lakeside Village only a 3 minute walk away and at the same time there will be a smaller defined area for Pride – suitable for the expected crowd numbers and helping to recreate the kind of atmosphere the organisers had when they first conceived the city's first Pride 5 years ago.. There will be the usual great Main Stage and all the things you've come to expect from Doncaster Pride.
The format of the event will be as usual
Walk of Unity – this year much more VISIBLE with a route through the Town Centre
Pride Gates open 2pm
Main Stage 3pm
Pride Close 10pm
VIP Experience – check online for details
Market Stalls
Bigger and better Funfair
Bars and Food – with a range of provision
Entry fee is £3 with under 16's free. The entry fee is vital to the future of Pride and last year's gate money has been used to help finance this year's event.
Doncaster Pride 2011 will take place on Saturday 20th August at The Keepmoat Stadium, Doncaster
www.doncasterpride.co.uk
---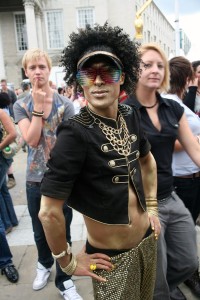 A Great Day Out
The Leeds and wider Northern Lesbian, Gay, Bisexual and Trans (LGBT) community are gearing up for our biggest party of the year. The Glitz and Glamour theme of Leeds Pride 2011 not only promises to exceed the 23,000 revellers of last year but to be even more of a spectacle! The fun kicks off at noon with the opening of the Real Radio Main Stage on Millennium Square. Headlining the main-stage is a rainbow of talent including top 10 chart sensation and the hottest girl band around, ' Parade', not to be outdone on the eye candy stakes the boys have upped the ante with the gorgeous boys from Eli Prime. Joining them are some of the country's most amazing divas; Stacey Jackson, Novena, Tameka and queen of the Yorkshire Gay scene, Kira…. And no Leeds Pride would be complete without the awesome sight of Bears Aloud grinding their ample haunches .
At 3pm the centrepiece of Leeds Pride – the Parade, takes to the street. Expect glitz and glam, outrageous costumes, and everyday day folk showing their love for each other and support for the LGB&T community.
The Pride Parade makes its way through the city centre to the pedestrianised Call Lane and Lower Briggate part of town, where the party of parties is waiting for the huge crowds. Top DJs, over 20 bars, a funfair, market stalls and more international cabaret acts than you can shake a feather boa at on the 3 outdoor stages: Blayds Bar, The Viaduct Showbar and Lower Briggate Pride stages. Expect a high octane mix of high energy and cheese from the oldest LGBT venue in Leeds, the New Penny, whilst next door at the Bridge, dance yourself dizzy with camp chart tunes.
Queens Court, Fibre and Mission present 'Meat in the Street', the biggest, best and bangyest courtyard party of the year. For those of you with an endless supply of energy and Monday off work Homo and the Back Door Disco are hosting the official after Pride party keeping the revellers up until 4am.
For more details about Leeds Pride including a parade pack visit our website www.leedspride.com like us on Facebook and follow us on Twitter: @LeedsPride
---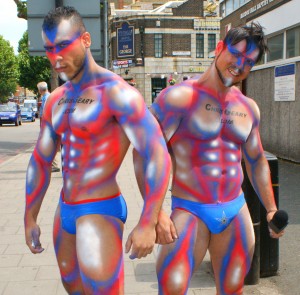 Pride London 2011 by ChrisGeary.com
Pride London is the largest outdoor event in the UK, with an estimated 1 million people attending. With a year to go till London is the focal point of the world; not only is it London World Pride ( www.interpride.org ) on Saturday 7th July 2012, but also of course the London 2012 Olympic Games (27 July-12 Aug).
The main Pride Parade was held on Saturday 2nd July with a "Carnival of Love" theme. Leading the parade was the Smirnoff Miami Mix float, complete with a DJ playing the best Miami tunes and an array of dancers and performers to entertain the crowds including a team of Miami roller-bladers. Many of Her Majesty's service personnel and Police also joined the parade; while other great floats included British Airways who teamed up the boy band Blue, GLUG (The Gay, Lesbian Under Water Group), Battersea Dogs and Cats Home featuring the winner of this years Pride Dog Show competition, Plus thousands of walking percipients: colourful drag queens, butch lesbians, gogo boys and creative people in inspiring costumes.
The Main Stage at Trafalgar Square featured a special X-Factor/Britain's Got Talent live show staring Lloyd Daniels, Rachel Adedeji and Stavros Flatley, as well as a special line up of up-and-coming talent, including Chelcee Grimes, boy band Twenty Twenty and Six D the 6 -piece dance pop act currently on tour with JLS. There were a few speeches, which appeared to attract little interest. Perhaps, for some of the youthful audience, the battles that gay people have fought for since the very first Pride event have all now been achieved and now these events are just an excuse to party and be out. Hopefully they are correct but it's best never to get too complacent and that this yearly festival is a reminder to many that we here, we're queer… get used to it.

---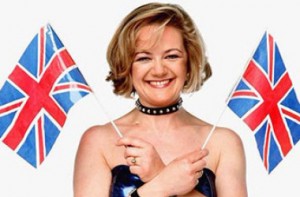 Not prejudice
Wakefield Pride not Prejudice will celebrate all of our diverse cultures and lifestyles and not just the LGBT, it will challenge the stereotypes that our mixed cultures have, break down barriers and hope to build bridges within the increasingly differing peoples that now call the City home. This diversity pride event will take place on the precinct in the city centre in front of the iconic cathedral. This is where Wakefield Pride first began in 2005 and it will be great to see the event back and raising money for chosen charities in the process. With a main stage, stalls and headliner acts throughout the day plus much more it's going to be one not to miss. The event kicks off at noon with the main stage acts including, Eurovision's Nicki French, Pink tribute act Missunderstood, Lady Gaga tribute Sarah Cave plus a host of others all set to entertain from 12.30.
Wakefield Pride Not Prejudice – Sunday 14th August
---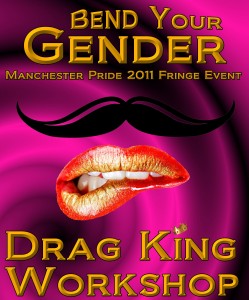 For King For Pride
The world is familiar with Drag Queens; now let's hear it for the Drag Kings! For one night only, as part of Manchester Pride Fringe, free Drag King workshop 'Bend Your Gender' is taking place at Via, Canal Street, from 7PM – 11PM on Tuesday 23 August.
The UK's number one Drag King, Valentino King, is hosting a workshop that will give women from the LGBT community an opportunity to explore their masculinity and bend it a little. Following an introduction to the world of the Drag King, Valentino King will demonstrate and educate participants about his hints and tips on what you need to know to transform into a Drag King.
This entertaining evening is free of charge and all required materials will be provided for participants upon arrival; however, to complete their new alter-ego, it is advised that participants bring a change of clothing.
Meanwhile, a short film featuring some of the cast of the hit TV show Shameless has been commissioned by Manchester Pride to celebrate the 21st anniversary of the festival. The film entitled 'First Time On Canal Street' follows a boy venturing out on to the famous street to celebrate his 21st birthday. There, he interacts with some of the area's famous faces, is seen in iconic bars and gets involved with LGBT groups showing the diversity of what the Village has to offer. The film opens with Ciaran Griffiths (Mickey Maguire) from Shameless, out with his girlfriend and being 'eyed up' from the birthday boy. In turn, Mickey finds it flattering and offers advice on where to go on the famous street. Then cutting to Queen's 'Don't Stop Me Now', the film hopes to drive ticket purchases for this 21st Anniversary of Manchester Pride in turn raising vital funds for LGBT and HIV charities and organisations.
---
Something to Di for (sorry!)
As usual there will be Main Stage, featuring top local and national performers, a Cabaret Garden with your favourite cabaret, drag and musical acts, fairground rides, market stalls, dance arena and much more.
Mardi Gras will take place within a secured fenced site, with right of admission reserved.
In order to ensure the safety of all guests no alcohol is to be bought onto site. Soft drinks are permissible in sealed plastic containers.
Whilst we appreciate that this will be a disappointing decision for some, please remember that unlike many similar events Cardiff Mardi Gras remains free to all to enter and we have been guaranteed by our suppliers that there will be no increase on last year's bar prices.
Cardiff and Wales LGBT Mardi Gras – 3rd September at Cooper's Field, Cardiff
---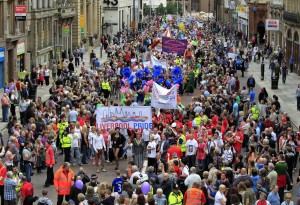 Getting Head in Liverpool
Liverpool Pride is to move its main festival site for 2011 to the city's Pier Head.
The move comes after organisers agreed that the site was more financially viable in the current economic climate and also that it was better suited to this year's 'Summer of Love' theme. Moving to the city's waterfront will allow Liverpool Pride to deliver a festival which the city's LGBT community deserve and can be proud of. Despite the main festival site being moved to the Pier Head, there will still be some activity taking place in and around the Gay Quarter. All of the Gay Bars and venues including those on Stanley Street, Victoria Street and Cumberland Street will remain open throughout the day and night for revellers to enjoy , while Gbar and Garlands are to join forces, producing a dance area that will be situated in close proximity to the Eberle Street venues.
---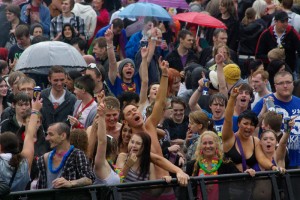 Wet Pride
Even the downpours couldn't dampen the spirits of the revelers that turned out to celebrate Northern Pride in mid- July.
The event, now in its fourth year, attracted huge crowds in Leazes Park where both young and old managed to stay dry enough to enjoy the performances from Jamie Lambert, Lorraine Crosby and the headline act Ruth Lorenzo.
'The rain just adds to the atmosphere' was Ruth's comment as she stood behind the stage, umbrella in hand, 'I just love performing in Newcastle, and the crowds are always amazing. It's all go for me, there's no stopping. I have my album coming out later this year so it's time to get on with some hard work for my fans'.
Pride organizers hailed the event a huge success. Mikey Richards, parade co-ordinator, said: "Every year Northern Pride is getting bigger and better and we hope to carry on building on that success.
"It's a celebration and we hope everyone has had a good time."
---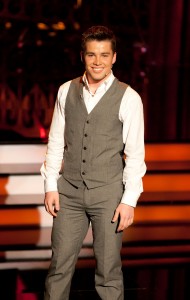 On 13th August Pride in Brighton & Hove invites you to celebrate equality and diversity, challenge discrimination and help raise funds for the local LGBT community while having an 'Out of this World' experience.
The Main Dance Tent is bigger than ever, featuring superstar DJ Danny Rampling alongside Guy Williams, Paul Heron and more. The Women's, BME and Bears tents all have new hosts, a new look and line-ups to match. For the first time in many years there will be a live stage; Pride were delighted to announce last month that x factor and Popstar to Operastar winner JOE McELDERRY will be performing, alongside Sonia, Booty Luv, Angie Brown, Brighton and Hove Gay Men's Chorus, Fixion, Vida and many more. There is also eight hours of non-stop, cabaret, a fun fair, plenty of bars, food and the exclusive Pride Members Lounge.
The decision to introduce an entrance fee for the Main Park event was not taken lightly and the Pride team have worked hard to ensure the fee reflects a fair contribution to the cost of the event. Tickets are priced at £12.50 (adult), £8.50 (under 18s) and Free for under 12's when bought with an adult ticket. Buy your ticket now online at Ticket Line, by calling 0844 888 9991 or in person at outlets around the City, in London, Southampton, Kent, Bournemouth and Milton Keynes. Look out for posters in venues selling Pride tickets.
Please support Pride in Brighton & Hove and help us to support local LGBT groups
Photo: ITV