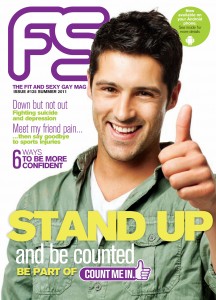 Depression
One in four people will experience depression in their lives and a fifth of gay people will attempt suicide. The latest edition of FS magazine talks to James, a 26-year-old man who tried to take his life three times. Why? Because he didn't want to be gay.
"Discovering my sexuality at a young age, I wasn't able to relate to anyone. Any gay person I saw on the television was not a representation of me," says James. He adds, "I feared society. I feared becoming gay. I was severely depressed and saw suicide as an easy way out". Luckily James gained the courage to overcome his problems and tells FS magazine how he did this. "I realised that no matter how much I blamed everyone else, how much I asked 'Why Me?' – the only person who could change my life was me."
Matthew Hodson of GMFA, who publish FS, comments; "Depression can also lead to many other risks. Men who are depressed are more likely to take risks in sex. This means you may be less likely to use condoms or more likely to have sex that you don't really want to have. If you are feeling down and taking risks that you know you shouldn't, talk to someone about it."
For advice on how to spot depression, how to help a mate that is depressed or to read James's story, see the full article "Down but not out" in FS magazine, issue 125. It's available for free in gay venues and GUM clinics across the UK. FS magazine is now available to download on your iPhone, iPad or Android device for free.