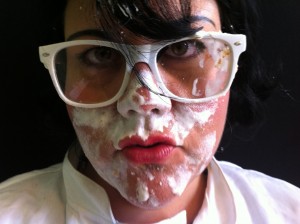 By Adam Lowe
Last month I was invited to take part in a series of workshops at Contact Theatre in Manchester, not realising that I had been unwittingly drafted into an interactive performance with one of the UK's most exciting and dangerous creatives.
How Soon is Now? was a devised performance piece created with writer, performer, DJ and former Mayoress of Camden, Amy Lamé. It was directed by misfit performance genius Scottee.
As part of the tour for her work-in-progress show, Amy Lamé's Unhappy Birthday, modern wonderwoman Amy and her best friend Scottee will be conducting outreach workshops with young writers and performers to develop the How Soon is Now? shows. I had been captured under despicable circumstances and forced to take part in this shocking (and yet fabulous) depravity, which would be the blueprint for those that followed.
The night came together as a cabaret of sorts, with the aptly-named Afreena Islam giving a striptease out of her burkha and into her normal clothes (shorts and a T-shirt), while Bekke Platt did a reverse striptease from her underwear into the burkha afterwards. Meanwhile, Philip Brankin was a Jewish tiger, prowling around for just the right gazelle to nosh on, and I was transformed into the 'Tabloid Wino'. Although it was my own idea to do this, I was nevertheless held still by many arms, as they built me a beehive out of tabloid newspapers (complete with fringe and ponytail). Then, using some left-over silver giftwrap Amy Lame had left lying around I was masking-taped into what appeared to be a 50s-style girl group dress. The end result was . . . let's say, unforgettable. I stood up and performed two poems: 'Tragic Amy's World of Pain' (a poem composed entirely of headlines and newspaper quotes about Amy, before and after her death) and 'Chipwrap Collage' (a fictional tale of two people who kill themselves with a broken pint glass, in the gutter, while being uploaded to YouTube, just for a bit of attention).
The night was fun, emotional and powerful, and I genuinely think the audience was moved. A number of people came up to me afterwards and thanked or congratulated me for my Amy Winehouse poem.
It followed with a short scratch performance from Unhappy Birthday: an interactive show-cum-birthday party, where Amy Lamé played pass-the-parcel with the audience, forced Bollocks' drag queen Sheena Blige to do karaoke unannounced, and tried to deal with her unhealthy obsession with Morrissey (who has never, ever come to any of her birthday parties, despite being invited numerous times).
Amy ate lots of cake. She wrote words on the wall with (unused) sanitary towels. She kept weighing herself. But most of all she went nuts over Morrissey, and even hacked off her hair during a hilarious dance routine set to The Smiths' broody song 'How Soon is Now?'.
All in all, it was mental—and I loved it!
How Soon is Now? and Amy Lamé's Unhappy Birthday will be touring theatres around the country soon.