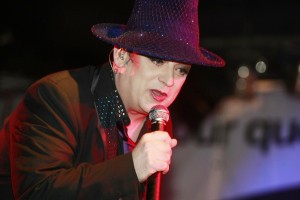 Poptastic celebrated its 15th Birthday last month with an extra special event held at The Ritz in Manchester. I must admit, I hadn't been back to The Ritz since I was a judge at the last Mr Gay UK there a few years back, and I had forgotten how massive the venue was. But it was great to be there again, especially to toast a night I'd been a fan of since I first hit the gay bars a decade ago.
Boy George, of course, was the highlight of the night. Hitting the stage at midnight, he gave a set of hits past and present, joined by an excellent band and female vocalist who performed a couple of her own solos. George had a captive audience, and it's clear to see that despite the fickle hand of fame, he was in full command—an entertainer through and through.
The crowd was an eclectic mix, with the regulars providing a strong presence, which was an especially nice touch. For anything as important as a birthday, it's nice to see the people who've come across the life of the clubbing brand getting together to celebrate. There was a lack of both tourists and students chasing cheap drinks offers, which made the event that much better in my opinion.
If this 15th birthday is anything to go by, Poptastic will only get bigger and better by the time of it's 20th.