https://mag.bent.com/non-monogamy-dating-apps/By Les Lea
Arguably one of the most controversial TV shows of last year was Spartacus: Blood and Sand. It took us on a vicious rampage though the Roman Republic where a man's blood was easily spilled and not just in the gladiatorial arena. The gory special effects, sex and foul language left certain members of the viewing public in total shock, while others were on a heart-pounding high and some with sticky groins.
Andy Whitfield played Spartacus as he moved from mere captured slave and in to the most feared of all gladiators. His story was a nonstop deluge of blood, thrusting swords, dirt, fear, corruption and revenge but for the viewer (gay or otherwise), it was also an opportunity to feast their eyes on a plethora of near (and often completely) naked beefcake. The harsh gladiator training school was the scene for some of the most homoerotic views and scenes ever to appear on TV.
Tight fitting, mucky linen jocks hardly covering their hunky, sweaty frames while they battled each other for a place in the games set the tone… and the pause button… on all the action. In the dark and dingy dungeons gay relationships between the gladiators seemed as accepted as the womanising by the master of the house… no one batted an eyelid… taking comfort in the carnage.
The whole package was just sensational and a second series was in the pipeline when its star, Andy Whitfield contracted an illness that put him out of action. Although the final episode of the show ended in a bloodbath, the clever writers came up with the idea of a prequel to show us how everyone came to be who and why they were in the situation we found them in at the beginning of the series. Spartacus: Gods of the Arena is as sexy, rude and deviously written as the first series and makes it even more certain that the franchise has not been finished with. I'm sure we can expect even more from the rampaging gladiators as they take on the might of the Roman elite.
As long as they do it in as little clothing as possible.
---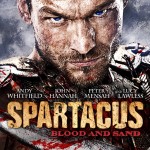 Spartacus: Blood and Sand
Forced to fight daily for his life under the brutal whip of the trainer and condemned to a life in the brutal world of the arena where blood and death are primetime entertainment, Spartacus must become more than a man and more than a gladiator to survive. He must become a legend.
This gripping depiction of one of history's most brutal eras boasts cutting-edge digital technology, CGI graphics and special effects that take you right into the battle with a captivating blend of history, action, titillation and drama. Packed with 'extras' this collection will take you even deeper into the gladiatorial mire.
Out: 16th May – DVD & Bluray –Anchor Bay Home Ents
To be in with a chance to win a copy of this fantastic DVD, just answer this simple question:
Spartacus was believed to have been a; A, Babylonian. B, Greek. C, Thracian.
---
Bent Magazine Prize Draw Terms & Conditions
1. The prize draws are open to UK residents aged 18 and over. 2. No purchase is necessary. 3. Only one entry per person is allowed and multiple entries will result in an entrant being disqualified. 4. The deadline for receiving entries for the competition is the last working day of the magazine's month. 5. Winners will be notified within 28 days after the competition closes. 6. Proof of delivery or email will not constitute proof of entering the prize draws and no responsibility will be accepted for lost, corrupted, delayed or mislaid entries. 7. The winner(s) will be the first valid entry drawn at random. 8. Bent reserves the right to substitute the prize for another prize of equal value. 9. There are no alternative cash prizes. 10. Bent Magazine's decision is final and no correspondence will be entered into. 11. When you enter a prize draw, your details will be used to provide you with updates, information and promotions from Bent and other members of APN Ltd. You can opt out at any time by following the Unsubscribe link on the bottom of every email or by sending an email to unsubscribe@bent.com asking to be removed from our mailing list. 12. By submitting an entry, all entrants acknowledge and accept these terms and conditions. By taking part in any prize draws or competitions, you agree to be bound by these rules and the decisions of Bent Magazine which are final. 13. Bent Magazine reserves the right to disqualify any entrant and/or winner in its absolute discretion for any reason and without notice.