https://mag.bent.com/singles/Blitz
Out 20th May
Jason Statham heads the cast as the tough, uncompromising and un-PC detective Brant, who is teamed with unlikely partner Sgt Porter Nash played by Paddy Considine (The Bourne Ultimatum) to investigate a series of police murders. Aidan Gillen and David Morrissey join the cast as a cop-hating serial killer and hack crime reporter. So if you like seeing Jason beating the crap out of anyone who gets in his way, you are going to like this.
---
90 fiance single lifePriest
Out 6th May
Priest, a western-fused post-apocalyptic thriller, is set in an alternate world – one ravaged by centuries of war between man and vampires. The story revolves around a legendary Warrior Priest (Paul Bettany) from the last Vampire War who now lives in obscurity among the other downtrodden human inhabitants in walled-in dystopian cities ruled by the Church. When his niece (Lily Collins) is abducted by a murderous pack of vampires, Priest breaks his sacred vows to venture out on an obsessive quest to find her before they turn her into one of them. He is joined on his crusade by his niece's boyfriend (Cam Gigandet), a trigger-fingered young wasteland sheriff, and a former Warrior Priestess (Maggie Q) who possesses otherworldly fighting skills.
---
abc iview love on the spectrumThe Pirates Of The Caribbean 4: On Stranger Tides
Out 20th May
Pirates of the Caribbean: On Stranger Tides captures the fun, adventure and humour that ignited the hit franchise – this time in Disney Digital 3D. Johnny Depp returns to his iconic role of Captain Jack Sparrow in an action-packed adventure. Crossing paths with the enigmatic Angelica (Penelope Cruz), he's not sure if it's love – or if she's a ruthless con artist who's using him to find the fabled Fountain of Youth. When she forces him aboard the "Queen Anne's Revenge," the ship of the legendary pirate Blackbeard (Ian McShane), Jack finds himself on an unexpected adventure in which he doesn't know whom to fear more: Blackbeard or Angelica, with whom he shares a mysterious past. The international cast includes franchise vets Geoffrey Rush as the vengeful Captain Hector Barbossa and Kevin R. McNally as Captain Jack's long time comrade Joshamee Gibbs, plus Sam Claflin as a stalwart missionary and Astrid Berges-Frisbey as a mysterious mermaid. Sadly no Orlando Bloom this time.
---
Tom McCarthy, acclaimed writer/ director of The Station Agent, explores the allegiances and bonds between unlikely characters with a lighter touch in his new film. Struggling attorney Mike Flaherty (Paul Giamatti), who moonlights as a high school wrestling coach, becomes legal guardian of an elderly client in an attempt to help keep his practice afloat. When the client's teenage grandson runs away from home and shows up on his grandfather's doorstep, Mike's family life and his wrestling team are turned upside down. Mike's win-win proposition turns into something much more complicated than he ever bargained for. McCarthy's deft touch balancing drama and comedy, broken hearts and poignant humanity is at play in Win Win.
---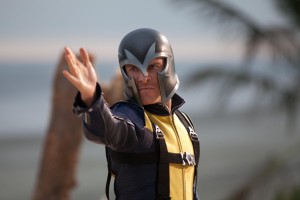 X-Men: First Class
Out 30th May
X-Men First Class charts the epic beginning of the X-Men saga, and reveals a secret history of famous global events. Before mutants had revealed themselves to the world, and before Charles Xavier and Erik Lensherr took the names Professor X and Magneto, they were two young men discovering their powers for the first time. Not archenemies, they were instead at first the closest of friends, working together with other Mutants (some familiar, some new), to stop Armageddon. In the process, a grave rift between them opened, which began the eternal war between Magneto's Brotherhood and Professor X's X-Men.
---
Award-winning director Joe Wright creates a boldly original suspense thriller with Hanna, starring Academy Award nominee Saoirse Ronan (The Lovely Bones, Atonement) in the title role. Raised by her father (Eric Bana), an ex-CIA man, in the wilds of Finland, Hanna's upbringing and training have been one and the same, all geared to making her the perfect assassin. The turning point in her adolescence is a sharp one; sent into the world by her father on a mission, Hanna journeys stealthily across Europe while eluding agents dispatched after her by a ruthless intelligence operative with secrets of her own (Academy Award winner Cate Blanchett). As she nears her ultimate target, Hanna faces startling revelations about her existence and unexpected questions about her humanity.
---
Movie Buzz
Ian Holm will be returning to the role he played in all three of the Lord of the Rings features and speculation is already leading most to believe he'll be featured in scenes alongside Elijah Wood who's returning as Frodo for the film.
Jeremy Renner is not replacing Matt Damon in the Bourne franchise, instead he'll be playing a character named Martin, an operative from a covert government program that is even more dangerous than the Treadstone brainwashing program that hatched Bourne. This marks Renner's third major franchise role since being nominated for an Oscar for The Hurt Locker as he is starring opposite Tom Cruise in Mission: Impossible – Ghost Protocol later this year and it is anticipated he may be taking over for the franchise afterward. He is also playing the character of Hawkeye in Marvel's The Avengers feature in 2012, a character Marvel would look to spin-off based on the film's success.
Kate Beckinsale has been offered the role of Lori opposite Colin Farrell in the Len Wiseman-directed Total Recall remake. No big surprise Wiseman would use Beckinsale considering she starred in two Underworld features for the helmer, and, uh, oh yeah… they're married.
Catherine Zeta-Jones is the latest big name to join Rock of Ages. She'll play the wife of the mayor of Los Angeles, an anti-rock villain created specifically for the film. Tom Cruise also stars and will be singing.
Patrick Warburton (Rules of Engagement) will play Mark Wahlberg's sexually confused co-worker in director Seth MacFarlane's teddy bear coming-to-life comedy Ted. Mila Kunis, Giovanni Ribisi, Joel McHale and MacFarlane (as the bear) round out the previously announced supporting cast. It seems only natural since Warburton, like MacFarlane and Kunis, is a long-time member of the "Family Guy" voice cast.