48 HOURS IN LIVERPOOL with Adam Lowe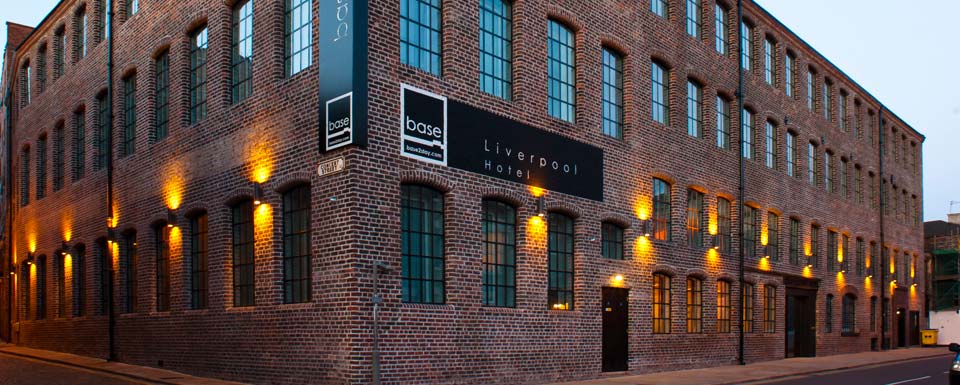 Friday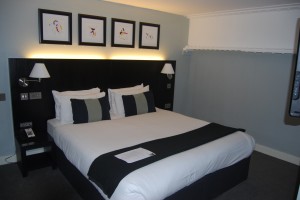 1pm – Arrival at Liverpool Lime Street. From here it's only a short mince to base2stay.
1.30pm – Arrive at base2stay. Dump the bags, freshen up and make ourselves presentable.
2.00pm – Lunch at Lunya. Liverpool's multiple award-winning Catalan restaurant is a fusion deli and restaurant, located in a beautifully converted 18th century warehouse in Liverpool One on College Lane (by Habitat and Waterstones). Lunch deals include three tapas dishes and bread, or a three-course set menu with a drink, both for under £10.
3.00pm – Shopping at Liverpool One. Everything from All Saints to Henri Lloyd is located at Liverpool One, so any gay will have a field day. Make sure you keep an eye on Liverpool-one.com for the latest discounts and offers available to shoppers. Students are also reminded to carry their NUS for discounts of up to 25% at selected retailers.
6pm – Check in properly at base2stay hotel. Grab a complimentary Fairtrade coffee or two from the Nespresso machine and head up to your room to get ready for dinner. At this point it's worth organising breakfast for tomorrow morning. The hotel doesn't have its own kitchen to keep costs down for guests, but Franklins @ FACT offer a cooked breakfast box for less than £6. Alternatively, Lunya will deliver a continental-style breakfast for £5. Compared to the price of most hotels' own breakfasts, this is a steal. Breakfast will be delivered to your room any time up to 11am.
7pm – Dinner at Bem Brasil. Bem Brasil is a traditional Brazilian churrascaria de Rodizio restaurant. The idea is that you pay a fixed fee and enjoy the continual dining experience. Fresh cuts of meat are prepared at the open-plan barbecue and carved at your table, with beef, lamb, chicken and pork served throughout the day. Make sure you try out their barbecued cinnamon pineapple as an excellent palate cleanser at the end.
8.30pm – Back to the hotel to get ready. Now's the time to try out all those new outfits you bought throughout the day. Once you've plucked and preened yourself, and maybe had a quick disco nap, it's time to head out.
10.30pm – Drinks at Lisbon. Lisbon on Victoria Street is a great starting point for your queer night out. This traditional pub has a magnificent oldschool ceiling and a friendly atmosphere.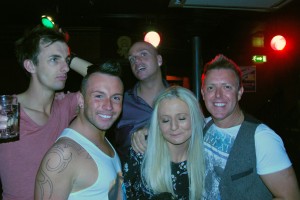 11.30pm – Dancing at The Navy Bar. With its colourful lighting, cute staff and cheap drinks, The Navy Bar makes a perfect next stop on your tour of Liverpool. Add to that the best mainstream dance and pop classics, and you won't be able to get off the dancefloor!
1am – Camp clubbing at the G-Bar Showbar. On Eberle Street, G-Bar is a much-loved local venue with spangly drag queens, a young crowd and an up-for-it attitude. The Showbar features drag DJs Lavinia, Whitney Wide-On, Sian and Doreen Kumkwik spinning out the best camp trash in Liverpool.
3am – Afterparty at Bitch Disco. Fridays see Bitch Disco roll out the big guns downstairs in G-Bar. Resident DJs include Neil James, Wayne Cuddy, Davy Kidd, Andy Matthews and Andy Mac, with house, tech, electro and G-Bar classics. Vodbulls and shots are ridiculously cheap at just £1, with bottles starting at £2. What more do you need? The club is open till 5am, which will give you plenty of time to party.
Saturday
10.45am – Wake-up call from reception. Time to throw on a dressing gown and stick the coffee on before the breakfast arrives.
11am – Breakfast from Franklins @ FACT. Time to tuck in to your cooked breakfast!
12pm – Head to Albert Dock. The walk will take fifteen to twenty minutes and will give you a bit of fresh air to
12.30pm – Visit Liverpool Maritime Museum. Absorb yourself in a bit of culture and check out the histories of slavery, piracy, smuggling and war in Liverpool. The museum features its own exhibition on gay men at sea, including a brief section on the gay language Polari.
2pm – Lunch in the Museum Dining Rooms. Surprisingly, the museum's fourth-floor restaurant appears in the Michelin Guide's top ten eateries in Liverpool. Food is only served from midday till 5pm, specialising in lunch and afternoon tea, with a menu devised by Gordon Ramsay's old friend Nigel Paul Smith. Alternatively, with Gusto, PanAm, Blue Bar & Grill, Circo Bar & Restaurant, Portico and more all located at the Albert Docks, you can take your pick from where to eat. base2stay offers guests special 20% off vouchers for selected restaurants, including a couple of places at the docks. Just ask at the reception which offers are currently available.
3.30pm – Afternoon treat at the Funky Shake Bar. If you're not already full up on cakes and clotted cream, why not pop into the Funky Shake Bar and try a shake or a healthy smoothie? Everything from Revels to a Toffee Crisp can be blended into a delicious (if very fattening) milkshake. There's also a wide selection of traditional sweets and candies.
4pm – The Yellow Duckmarine Tour. Hop on this converted WWII amphibious landing craft, which departs every 15-30 minutes. Tickets are available from the Anchor Courtyard at Albert Dock, although it is recommended you book tickets in advance and double check the departure and arrival times. The Yellow Duckmarine Tour skirts the city for half an hour, before the legendary 'splashdown', where the Duck takes to the water for the remainder of the journey.
5pm – Head back to base2stay to freshen up. You can relax, take a shower, and take advantage of the free wi-fi. Or else you can sit back and read the complimentary copy of Lern Yerself Scouse (Scouse Press) included in your welcome pack.
7pm – Dinner at Puschka. Puschka is a gay-owned quality bistro located on Rodney Street. You can expect tasty starters such as cream of cauliflower soup with truffle oil and gruyere straws, hand-dived scallops with cauliflower puree and black pudding, or potted Southport shrimps, crab claw, mace butter and toast. Mains include fine cuts of steak, Gressingham duck, pollack fillet and wild mushroom and thyme pudding. The truffle mousse, crème brulee and rhubarb and oat crumble make the perfect finish.
9pm – Drinks at The Curzon. The Curzon is Liverpool's cruisiest bar, but has a great atmosphere to visit with friends. An open-mind is a must, but you'll get to experience a genuinely friendly and welcoming bar experience.
11pm – Drinks at Pink. Known in Liverpool for its infectious radio adverts, which both entertain and annoy in equal measure, you're sure for a camp good time at Pink. Check out fabulous DJ Brenda as she works the crowd into a bubbly pink froth of gayness.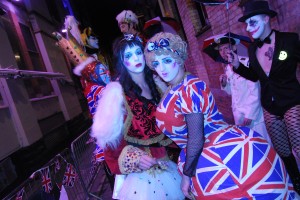 1am – Clubbing at Garlands. Garlands is legendary across the country as one of the UK's premier gay-friendly clubbing destinations. Like Federation or the Hacienda back in the day, Garlands is known as a no-holds-barred nighttime spectacular, where everyone mixes without attitude, whether gay, straight or undecided. Armies of fabulously dressed drag queens and entertainers prowl Eberle Street and lure you into their palace of clubbing excellence. Expect bright colours, a vibrant crowd and the best music in Liverpool on any weekend. There's always a queue, but good things come to those who wait, and you won't be disappointed!
Sunday
11am – Checkout from base2stay. As with their 'Arrival Base' deal, however, you can also book a room for just an hour or two later on in the day with their 'Departure Base'
12am – Brunch at 3345 Parr Street. 3345 Parr Street is a lounge bar and restaurant, housed inside the famous Parr Street recording studios. As such, expect a bohemian flavour and a creative crowd.
1pm – Wave bye-bye to Liverpool!