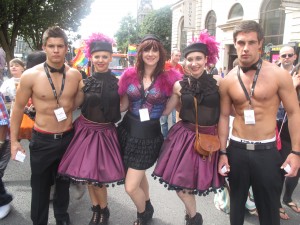 Things are certainly hotting up for Leeds LGB&T Pride on 7th August. Local venues are busy raising cash to make sure that Yorkshire's largest Pride event remains the free, fun and friendly event that people from across the country have come to know and love.
This year's glitz and glam themed event is following the successful and unique format of previous years. A massive main stage and rally on Millennium Square kicks off the proceedings from noon until 3pm. Whilst keeping tight lipped about the final line-up a number of local and national acts have been the event would not be complete without the glamour of Yorkshire's own Dame Shirley Bassey experience.
Tom Doyle for the Leeds Pride planning group says, 'We will be announcing more acts closer to the event, Leeds Pride and it's media partners are in negotiations with some fantastic headliners, and not just that we have the stars from the bars; our local venues will be putting up the best cabaret that the country has to offer – watch this space for more information.'
At 3 o'clock the parade sets off through the city streets ending at the Gay quarter in Lower Eastgate. This year's Pride will have a tinge of sadness for many who knew Darrell Hirst, Vice Chair and a leading light of Leeds Pride since its conception. Darrell passed on earlier in the year – but his memory lives on with a special trophy going to the best float mechanical or walking on the parade already dubbed Darrell's Campest Cart, there certainly promises to be much vying for this most coveted of awards.