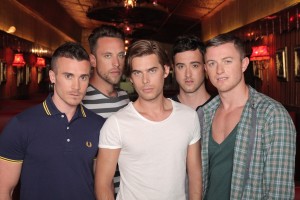 Finding your own sound in the world of pop music can be a bit of a hit and miss affair. What's in and current one minute may well be out and passé the next so let us introduce you to – Mark, Lachie, Mike, Darren and Timmy – otherwise known as The Overtones.
This relatively new male vocal group seamlessly blend classic 50's harmonies with a modern pop sensibility and are regarded as 'the find of the year' by their record company Warner Music. The band was signed to the label following a serendipitous meeting in August of 2009. After years of rehearsals, broken promises and ill fated gigs, the band were toiling as painters and decorators to make ends meet when they were overheard by a label scout while rehearsing during a lunch break.
That first fateful meeting just off London's Oxford Street proved fortuitous – the talent scout worked for Warner Music and promptly invited the lads to down tools and audition for the label. Following a series of meetings and impromptu accapella gigs for the staff, the paint brushes and overalls were hung out to dry and the band were rewarded with a multi-album deal.
The Overtones have been singing and performing together as a foursome for over five years – honing their classic sound and penning songs whilst working in a series of increasingly soul destroying jobs. The group formed their decorating company 'Classical Interiors' a year ago – figuring that this was one way of earning money that would also enable them to rehearse at the same time. Shortly afterwards the group met bass vocalist, Lachie, and the planets finally began to align; The Overtones were re-born as a five piece band and their luck began to change.
The boys have lots of exciting things in the pipeline, including their forthcoming tour! This is just the start for The Overtones.